Tomatoes And Cheese – Simple Vegetarian Fayre
Simple, straight forward but tasty ingredients can you give a wonderful, tasty dish. There really is no need to strive for complicated techniques, or cook with hard to source, not to mention expensive, ingredients. Here is a low cost and easy to make supper.
Plenty of taste, plenty of nutrition – filling and delicious. serve with baked potatoes and a green salad or favourite green vegetable. This dish is for people who love tomatoes. Flavour the tomatoes with the herbs you like. Basil or oregano go well with tomato dishes. If you have had a busy day and want some nourishing tasty food, quickly this one is hard to beat for how easy it is to make with simple ingredients.
Simple and delicious, midweek meal – quick and easy to prepare and very, very tasty
Savoury Crumbles
I like savoury crumble toppings. It is the crunchiness of a crumble that made the sweet versions, like apple crumble, so popular and a savoury version at first seems strange. I have had a root vegetable crumble many times, but this is a slightly different take on a crumble as the topping is made from breadcrumbs and pine nuts.
My first savoury crumble came from the Cranks recipe book – in the early 1980s it was my main source of vegetarian recipes and knowledge back then – there wasn't a lot else to go on. Initially it was fun to see how people were a bit nonplussed by what appeared to be a pudding being served up as a main course. It needed to be mentioned that there was no sugar involved as that crumble was similar to a traditional crumble, being made with flour and butter – as well as some nuts, cheese and herbs.
Pine Nuts, Goats Cheese And Tomatoes
The nuts in this crumble are pine nuts which are the seeds of pines. They have been eaten since prehistoric times and are popular over many parts of the world. They are probably best known for their use in pesto sauce (although pesto sauce can be made from many different ingredients), but they can add some crunch and flavour to many dishes.
I used the soft goats cheese that normally comes in a round. Get it prepacked at the supermarket or from a deli counter – which might be a bit cheaper. The soft goats cheese is better because it melts more easily into the other ingredients. Buy French, Somerset or Welsh goats cheese, perhaps depending on where you live, and of course the price and availability.
When buying your tomatoes, have a good look at the prices as tomatoes vary from between £2 and £8 per kilo. Some are sold in a pack with a price so you can't tell how much the price per kilo is -if this is the case -check its weight on the scales, usually provided by the fruit and vegetable department. The recipe suggests cherry or baby plum tomatoes but if you can get some tasty larger tomatoes that are less expensive, then slice those up instead – the choice is yours on flavour, price and availability.
Tomato And Goats Cheese Crumble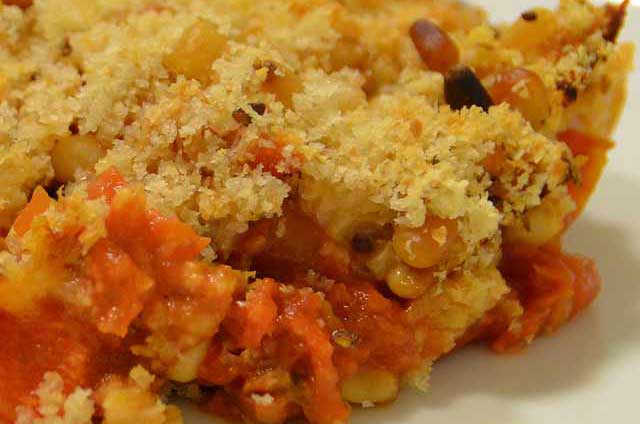 Serves 4
Ingredients
500g /1lb

Cherry or baby plum tomatoes, halved

400g / 14oz

tin chopped tomatoes

1 teaspoon

dried oregano or basil

3 tablespoons

olive oil

200g / 7 oz

soft goats cheese

50g / 2oz

pine nuts

100g /3oz

breadcrumbs, white or brown
Cooking Directions
Preheat oven to 170 degrees C
Heat the oil in a large saucepan
Add the cherry tomatoes and cook for 10 minutes
Add the chopped tomatoes and herbs, stir and heat through
simmer for another 5 minutes
Spoon half the tomatoes into an oven proof dish
Distribute about half of the chopped goats cheeseover the top
Cover with the remaining tomatoes
Add the remaining cheese
Stir the pine nuts into the breadcrumbs
Evenly distribute over the top of the tomato mix
Drizzle with a little olive oil
Bake in the oven for 20-25 minutes or until golden brown