Treacle And Other Puddings
When was the last time you had a pudding? A proper pudding rather than a cold dessert? When I was at school they made up a substantial part of school dinners.
Some were delicious – like treacle pudding or apple crumble and some were really not – like semolina. Of course these days we can't have puddings every day – too many calories, too much sugar and fat – we all know that. But as an occasional treat, puddings are lovely. For a winters day or a Sunday lunch, a warming, sweet pudding is welcome and homely – who can resist? These puddings are easy to make too and low cost
History of Pudding
It seems puddings began as a sort of sausage (think Black Pudding) but evolved because as well as a pudding being made of meat and savoury products, it also began to be used for bread, cereal and sugar. Sometime in the seventeenth century, a pudding cloth was used instead of a sausage skin and gave way to more variety of mixtures including suet with sweet additions such as jams.
Plum pudding (Christmas pudding) once contained minced meat – so the boundary between sweet and savoury, as we know it, was blurred. In the twentieth century, the pudding basin finally replaced the pudding cloth.
Puddings now come in a variety of forms and are steamed or baked in the oven. The word pudding may be used generally to cover sweet, hot desserts but we still have black pudding and Yorkshire pudding to remind us of its savoury past
Treacle Pudding And Custard
Treacle pudding is made with golden syrup, a by product of refining sugar. Sweet, sticky and gloopy, it is the only thing to use for this pudding. Once you have made it, all you have to decide is what to serve it with. The usual choice might be custard, but ice cream is good and so is evaporated milk. Yoghurt can be good too and of course cream is an option. Too much choice?
You can make your own custard or use a custard powder. Custard powder generally does not contain any eggs – just cornflour and flavouring. Some of the more premium ready made custards do contain real egg – but to find out, check the ingredients list.
This recipe is adapted from Delia Smiths Complete Cookery Book.


It is made with wholemeal flour – really delicious! It is a surprisingly light pudding and because it is made with wholemeal flour it contains more fibre and nutrients than one made with white flour.
You will need a traditional pudding basin – about 1 litre size or 1.5 pints

and a piece of foil to cover the pudding and some string
Steaming
The best way to steam is with a steamer pan – a pan below to hold the water and a pan above with holes in the bottom to stand the pudding in. However, you can also steam using just a large saucepan filled with boiling water which you stand the pudding in. The main key to all this – is don't let the saucepan run dry but keep an eye on it and top it up with boiling water where necessary.
For a larger pudding, increase the quantities to 170g / 6oz of each and use 3 eggs instead of 2.
Treacle Pudding Recipe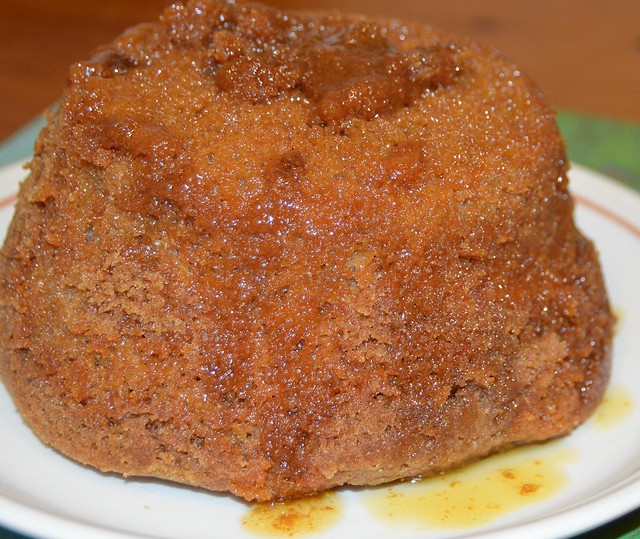 Serves 4-6
Ingredients
1 teaspoon

butter or margarine, to grease

3 tablespoons

golden syrup

110g/ 4oz

plain wholemeal flour

2.5 teaspoons

baking powder

110g/ 4oz

butter

110g /4oz

soft brown sugar

2

eggs
Cooking Directions
Grease the pudding basin
Put the golden syrup in the pudding basin
Place all the remaining ingredients in a bowl and beat thoroughly
Pour the mixture into the pudding basin, on top of the golden syrup
Grease a piece of foil and fold a pleat in the middle
Place over the pudding basin and tie securely with string
Steam the pudding for about an hour and a half
Keep checking the water level, and if necessary top up with boiling water
When cooked, remove the foil
Place a plate over the top of the pudding and then tip the whole thing up to turn it out
Scrape out any excess treacle to put over the pudding
Serve with custard, cream, ice cream or whatever you like!