Bananas With Home Made Custard
Bananas and custard is an easy dessert and best with home made custard. In an environment when the celebrity chefs get ever more complex and sophisticated and the recipes in magazines compete for new twists on ways to cook things, don't you sometimes want something simple? On an evening when you are tired and need some food to warm and nourish your soul as well as your body, but have no energy to create something, it can be to the old favourites that we return.
Short of eating a banana on its own, few puddings could be so simple as bananas and custard. And you can use custard powder or push the boat and make your own custard (it's really not very difficult, just takes a little bit of time and some good continuous stirring!).
Easy, warming, nutritious, low cost – sometimes its just lovely to keep things simple with this sweet, yummy, dessert!
I had bananas and custard as a child, including as school dinners. (I also had, and still love, bananas with evaporated milk). I think it is still regarded a bit as a nursery pudding, like rice pudding. It is sweet, and if you are making your own custard, I would go easy on the sugar as the custard sems to bring out the sweetness of the bananas.
Fair Trade Bananas
We tend to take bananas for granted these days as they are always available in the supermarket. However I wondered when they first came to the UK. It seems it was in the 1600s although they were very expensive until the 19th century. Bananas were first cultivated in south East Asia but they were also known in Africa in the 6th century.
They are now cultivated in around 150 countries across the world from China to the Canary islands. They are, of course, very good for you as they are packed full of vitamins and minerals, and more fulling than most fruit, so this is not just indulgence food. Did you know that bananas do not grow on trees? Perhaps you did. But I was fascinated to discover that banana plants are the world's biggest herb!. They are also apparently the world's most popular fruit too. How many bananas do you eat a year??
So onto bananas and custard. Easy really. Make up as much custard as you would like – and allow 3/4 to one banana per person
For Powdered Custard
Custard powder is usually made up of cornflour, sugar and flavourings – no eggs at all – which I find a little disappointing and spurs me on to make 'real' custard. However, custard powder is easy and cheerful. Make up the custard according to the instructions. The most important thing is to add the warmed milk to the custard powder and sugar paste, and not the other way around. And keep stirring and heating fairly gently to bring it to the boil.
Simply slice the bananas and pour the custard over them. The slices of bananas will be warmed by the custard
Homemade Custard
Homemade custard is little more effort than using powdered custard. The key is to keep stirring and don't let it boil. If it curdles a little, don't worry – it still tastes great!
In order to make custard, you will need to separate the eggs. You can use an egg separator or just do it be breaking the egg as near to the middle as possible and transferring the egg yolk between the egg shells until the white has all dropped into a bowl below, and you are left with a yolk.
Save the whites for a pudding such as Apple Meringue
Homemade custard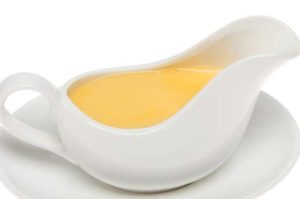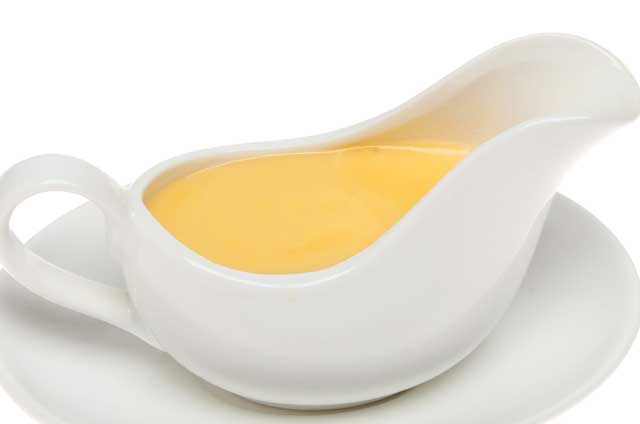 Ingredients
4

egg yolks

25g /1oz

caster sugar

2 teaspoons

cornflour

600ml

wholemilk
Cooking Directions
Bind together the egg yolks, sugar and cornflour in a large jug
Gently heat the milk in a saucepan
When the milk is nearly boiling, pour it over the egg mix
Stir thoroughly and return to the pan
Over a gentle heat, and stirring all the time, continue until the custard has thickened – do not allow to boil, or overheat