Warmer Days, Salad Days
As the warmer days of Spring give hope of summer days, you might fancy a salad rather than a soup for lunch or a cold platter for supper. Using seasonal ingredients you can experiment with what you have. This salad is based on a recipe by Mary Berry appealed to me the most.
When sunny days beckon thoughts turn to salads, picnics and eating out doors. But you can enjoy this salad anytime, even indoors when it rains!
It was recommended to me as it was very popular at a Devon cafe where they kept a collection of their favourite recipes.
Salad Lunches
Salads can be part of a main course dinner or provide an alternative to sandwiches for a packed lunch. Whether people want to watch their pennies, or know exactly what is going into the food they eat, making a packed lunch is so much better than buying a pre-packed sandwich. You can make up a large salad to keep in the fridge so it can do for more than one lunch too. Handy to dip into as a healthy snack too.
Feel free to use these recipes as an idea, rather than necessarily sticking to the exact ingredients or proportions. Salads can be a mix of ingredients – add something extra or leave something out. So long as you like it, you have a great salad!
It is lovely to have a medley of different salads together either alone or may be with a baked potato or some really lovely bread.
Find other Lunch Recipes here. Do share any of your favourite salad or packed lunch recipes to be included on the website.
Chickpeas And Pesto
Use tinned chickpeas – or cook your own by soaking dried chickpeas overnight and then boiling for around 90 minutes. You can use bought pesto – or for that extra special flavour, make your own
Serve with some green salad and some crusty bread, to mop up any dressing
Chickpea And Pesto Salad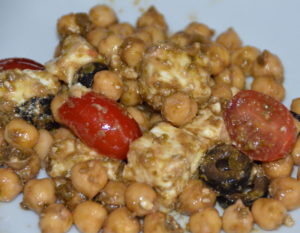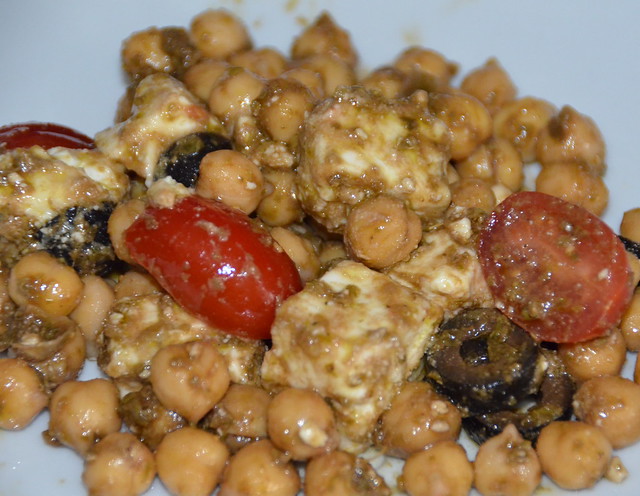 Ingredients
2 garlic cloves

peeled and crushed

1 x 400g tin or 225g / 8oz

cooked chickpeas, drained and washed

80g / 3oz

pitted black olives, sliced

110g / 4oz

feta cheese

110g / 4oz

cherry tomatoes, halved

3 tablespoons

balsamic vinegar

3 teaspoons

green pesto

2 tablespoons

olive oil

salt and pepper

to taste
Cooking Directions
Place all the salad ingredients in a bowl
Place the dressing ingredients in a bowl and whisk thoroughly to mix
Pour the dressing over the salad and stir