Delight of A Vegetable Curry With Paneer Cheese
Almost ever since I first went for an Indian meal, I ordered 'Mutter Paneer' as a side dish. It's garden peas with panneer, a mild Indian cheese. I don't know why I like it so much but the combination of the peas and cheese in a mildly spicy sauce is just delicious. I tried other vegetable dishes, but I kept coming back to this one as my favourite
Delightfully tasty, easy to make and low cost vegetable curry recipe made with easy to find Indian paneer cheese
Paneer Cheese
I had never thought to make the dish myself, and had never looked for paneer cheese in the supermarket until recently. When I came across it in Sainsbury's, I was delighted and recently made this curry as a main course dish. It has more ingredients than the side dish I had before but it makes great use of this tasty cheese. In fact all the major supermarkets sell this cheese and I am sure you can also get it from shops specialising in Asian food too.
Paneer cheese is a curd cheese, dating back to ancient times. It is an important source of protein for vegetarians in India. Paneer cheese is curdled with lime juice and vinegar, not rennet like many cheeses, so is suitable for vegetarians. It has a very mild but creamy flavour.
A Curry To your Tastes
This is a recipe which you can use as a base and make your own changes. I used a curry paste when I made it, just to make it easier.But you could do use one teaspoon each of cumin, coriander and chilli to make your own curry mix, perhaps with a teaspoon of ginger too. It really depends whether you have the spices readily available or whether you would prefer to use a ready made paste. I usually add a bit of extra cumin and you could add some chilli if you wanted it any spicier, but this isn't really a dish that to be spicy hot.
At £1.54 for 227g, paneer cheese is low cost and the whole meal, with rice is under £4 for four people. As it is so easy to make it makes a great midweek supper. It is great as an alternative to a take away curry too and so much cheaper. If you want some extras with it, serve with naan bread and may be some onion bhajii, but it really is delightful on its own. Adjust the quantities of vegetables to increase the quantities for more people.
I normally serve it with basmati rice, but you can also serve it with long grain rice.
Vegetable And Paneer Curry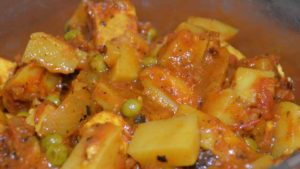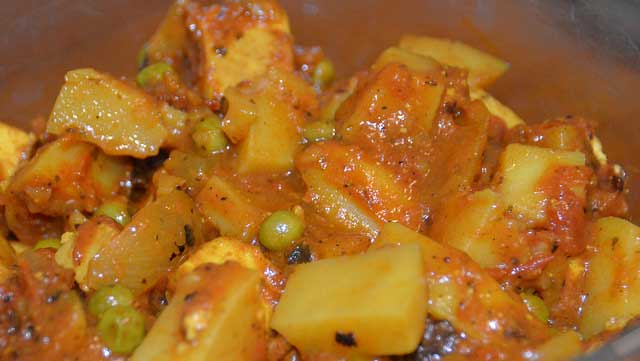 Serves 4-6 people
Ingredients
2 tablespoons

vegetable oil

227g

pack paneer cheese, cubed

1

onion, peeled and chopped

1

garlic clove, peeled and chopped

2 tablespoons

mild curry paste

500g /1lb

potatoes, peeled and diced

400g / 14oz

can chopped tomatoes

300ml

vegetable stock

300g / 10 oz

frozen peas

1

red pepper, de-seeded and chopped
Cooking Directions
Heat the oil in a large saucepan
Add the onion and fry until soft
Add the garlic
Add the potatoes and pepper
Cook for a few moments
Add the curry paste and tomatoes and stir well
Add the paneer
Bring to the boil and then simmer for 15 minutes
Add the peas
Bring back to the boil and simmer for a further 5 minutes
Check the potatoes are fully cooked and soft
Serve on a bed of rice with naan bread if liked.