Quiche – Easy Supper
Quiche makes an easy supper, quick to put together often with ingredients you have in your fridge or cupboard. Tasty goats cheese makes a very simple quiche with few ingredients with just cheddar cheese, goats cheese, milk and eggs and just a sprinkling of herbs.
It can be made in advance and is excellent for a buffet or bring and share supper – or for an easy meal cooked ahead of time. It is these sort of occasions when I tend to choose to make this flan. It packs such a punch of flavour too so people tend to love it!
This Goat's Cheese Quiche is delicious for supper with a green salad or good as part of a buffet or picnic served cold
Goat's Cheese Quiche Recipe
The quiche is made with soft goats cheese – the sort you buy in in a cylinder shape. It is easy to cut into slices to arrange in the quiche.
Goat's cheese is incredibly delicious. The baking in the oven really brings out its flavour, too. It is great served with greens such as spinach or watercress. The quiche can be eaten hot or cold but it is probably at its best cold, served with a salad or with vegetables and rice.
Much goats cheese you find is french but you can also get Welsh goat's cheese. Do buy it from your local cheese shop or deli if you can.
Goats cheese costs around £1.50-£2.00 for 100g so the whole quiche will cost around £4
Home made Pastry
I made this quiche with pastry made completely from wholemeal flour. It is a bit trickier to make, being a bit harder to handle but to be honest if it breaks up a bit when rolled out it can be patched up easily and pressed together.
I sometimes make pastry with half white and half wholemeal, but I really enjoy the nutty taste of wholemeal pastry and I think it contrasts well with the cheese and goes well with the green salad. If you prefer, do make the pastry with white flour or half and half. The article How To Make Pastry will give you more guidance on making the perfect base for your quiche.
Alternative To A Pastry Base
A different quiche base can be made with rice. It is very easy and is especially good if you are cutting down on wheat and/ or fat – or if you just want and easy ways to make a base for a quiche. Click here for How To Make A Rice Base For A Quiche
Goats's Cheese Quiche Recipe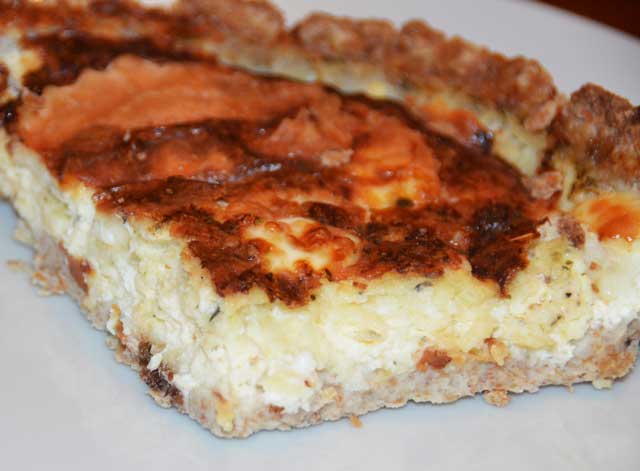 Ingredients
140g/ 5oz

wholemeal flour

70g / 2 1/2 oz

butter or margarine

4 tablespoons

water

3

eggs

110g /4oz

grated cheddar cheese

200ml

milk

100g / 3oz

goats cheese

1 teaspoon

mixed herbs
Cooking Directions
For the pastry
Rub the butter into the flour with your fingertips
Add the water gradually
With your hands mix into a dough and knead briefly
Place in a polythene bag and allow to rest in the fridge for 30 minutes

For the Filling

Preheat the oven to 180 degrees C
Grease a 7″ cake tin or similar
Roll out the pastry and line the tin
Place the grated cheese in the bottom
Best the eggs and add the milk and herbs
Pour the mixture over the cheese
Slice the goats cheese into four equal rounds
Place on the top of the quiche
Bake in the oven for about 40-50 minutes
Serve with new potatoes and green leaf salad