Quiche Rice Base Recipe For A Wheat Free Diet
Sometimes I go on a wheat free diet and seek out wheat free recipes. I actually find it far easier than any other diet I have ever done (such as low fat or calorie counting). I am not actually doing it to lose weight – more because it makes me feel better, although a little weight loss is a welcome side effect.
When you go without wheat, or have no flour, you can still have a Quiche for Supper with a rice base!
Going wheat free is easy because it is simple. When cooking there are plenty of options for wheat free recipes. When choosing food I simply discount all food including wheat – biscuits, cakes, pastries, pasta etc, I do not have to have an argument with myself as to whether there are too many calories / too much fat. It is simply an all or nothing – a bit like giving up smoking or going teetotal – but possibly easier than either of those!
Quiches For a Buffet
However it can be inconvenient. Whenever I have done a buffet dinner in the past I have always cooked quiches. Quiches are very easy to make and there is much variety in the fillings and you can cook several at a time with the same basic ingredients – pastry, eggs and cheese but some variations on herbs and fillings – Cheese and Tomato, Goat's Cheese, Roast Pepper Quiche and other quiche recipes
Using Rice As a Quiche Base
This buffet I was preparing for, came round when I was in a wheat free phase. So I thought about alternatives and remembered a suggestion a friend had made about using rice pressed down as a base – so decided to give it a try. Much easier than making pastry too!
I had a look around on the internet too and discovered plenty of examples of people doing this – although many people mixed in an egg and maybe even some cheese into the rice to bind it. I tried it without an egg and it was fine. I suspect that may be more useful if you were to use cold rice but I cooked the rice especially and simply pressed it down. The starch in the rice made it stick together OK and it made a perfect base once it was baked in the oven for for 15 minutes
I enjoyed the taste very much. It is much lighter than pastry and of course much lower fat. And you can make your favourite quiches in just the same way.
Use a Fixed Base Quiche Tin
One word of warning, though – don't use a lose bottomed quiche or cake tin. The rice doesn't hold together as solidly as pastry so the egg mixture will run through a little – and if you have a lose bottomed tin it will run right out of the tin. (Yes – I did have this happen to me!)
How To Make Quiche With A Rice Base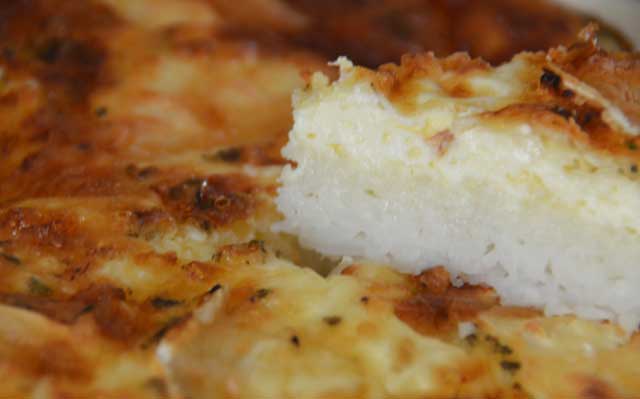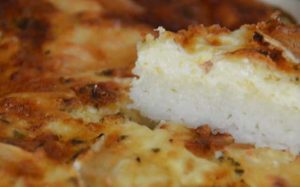 Ingredients
200g / 7oz

white basmati rice

Your favourite quiche filling

quiche filling
Cooking Directions
Place the rice in a saucepan and wash in cold water
Drain
Cover in boiling water to about an inch (2.5cm) above the rice
Bring back to the boil
Stir once
Reduce heat to a simmer
Cook for 15 minutes or until water is absorbed and rice is soft
Meanwhile grease a quiche dish or cake tin
Preheat the oven to 180 degrees C
When the rice is cooked tip into the quiche tin
Press down with the back of a spoon and ensure it is spread evenly
Bake in the oven for about 10 minutes
Meanwhile prepare the quiche filling
Remove from oven and add the quiche fillings
Return to the oven and bake following the recipe instructions