Homemade Muesli Bircher Style
This oaty muesli breakfast is easy to prepare, low cost and nutritious. It provides a fabulous start to the day as it is filling without being too heavy, and keeps you going until lunchtime. As there is no added sugar there is no 'sugar rush' which you can get from some packaged and processed breakfast cereals, but still plenty of vitamins and fibre.
Make the cereal up the night before and you simply need to get it out of the fridge and eat it it the next morning!
If you are looking for healthy breakfast recipes or an alternative to packet cereals, you may just have found it here.
Oaty Muesli Breakfast With A Friend
This recipe was given to me by Kloe, a friend of mine who likes to eat natural and healthy things. Kloe and her partner Adam now run Two Green Shoots – and offer expertise on growing your own food, foraging and garden design. She prepared it for me when I was staying with her. She told me she had been trying this amazing new breakfast she had heard about and assured me it was delicious. The day before I had introduced her to scrambled eggs with tomatoes. Don't you just love swapping recipes and ideas?
Even if the initial description doesn't make you think you are about to have a delicious breakfast, I urge you to try it if you tend to like porridge, oaty things or muesli. You can make your own combination of ingredients once you have the base and you can add fruit to your liking and may be a little yoghurt.
This breakfast is simply oats, seeds and raisins mixed together and soaked in water or milk overnight to produce a moist and delicious breakfast you can just pull out of the fridge and eat, the next morning
Alternative Breakfasts
There are other breakfasts alternatives such as boiled egg or scrambled egg with tomatoes, and although they are easy, quick to make and delicious, they do require a little more time than this recipe – and there is more washing up!. Since this breakfast is made in the bowl you will eat from there is there really is the minimum of preparation effort and clearing up afterwards! And its quicker than making porridge but just as filling and healthy!
Processed Breakfast Cereals
Packaged breakfast cereals have become such a big part of our culture and seem to be the 'normal' thing to eat for breakfast. Yet we know from many reports that many of these cereals are over processed with too much sugar and salt and indeed may be more appropriate on the dessert menu after dinner.
But cereals provide an easy way to start the day when you want something easy to prepare in the morning when you are in a rush to get to work or get the children to school.
Easy Oaty Breakfast
This oaty breakfast wins on all counts as it is prepared the night before in less than a minute, so all you have to do is take it out of the fridge and eat it, may be just adding a few fruit pieces to it such as raspberries, a chopped banana, chopped apple, dates, or whatever you like or have in your kitchen.
Oats are known as a 'slow-release' food so they help to keep your energy level and sugar levels even through out the morning. they are also associated with health benefits such as lowering cholesterol. Most importantly oats taste good and can be combined with your favourite nuts, seeds and dried fruit. Jumbo oats are best to provide texture.
You can buy different types of oats from jumbo oats and groats to oatmeal. Really which one you choose is a matter of personal preference and what is available to you at your local shop.
For 1 portion
Kloe's Oaty Breakfast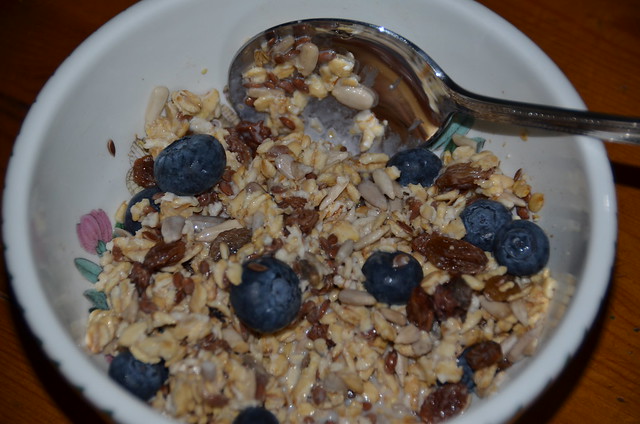 Ingredients
2-3 tablespoons

jumbo oats

1 tablespoon

sunflower seeds

1 dessert spoon

sultanas or raisins
Optional Ingredients
A few
nuts of your choice
A few seeds
linseed, pumpkin seeds etc
Serving Suggestions
dried fruit
of your choice (apricots, banana etc)
fresh fruit
any of – sliced banana, tinned pineapple, fresh berries
Cooking Directions
In a cereal bowl place the oats, sunflower seeds and raisins or sultanas
Stir to mix
Add any of the optional ingredients as desired
Pour over sufficient water or milk to just reach the top of the mix
Refridgerate overnight
Serve as it is or with fresh fruit topping
Add a spoonful or two of yoghurt if preferred