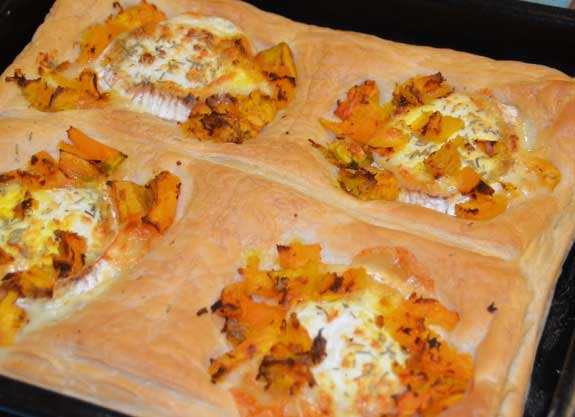 Squash All Year Round Vegetable
Squash is available all year round but the late summer and autumn time heralds the season of the squash with many varieties available.
As the summer begins to fade there are many vegetables that are becoming ready to eat and butternut, onion and crown prince squashes are amongst the best!
Butternut, Crown Prince And Onion Squash
The butternut squash is perhaps the best well known but the onion squash and crown prince squashes are perhaps even more delicious!
All are orange, bright, soft and sweet and very versatile. Of the squashes I do think that the onion squash is the most attractive to look at, but perhaps the crown prince is the tastiest! The onion squash is so called because of its shape and has nothing to do with how it tastes. These squashes are all interchangeable in recipes so you can use any type you can find.
It seems to me that squashes are a fairly recent addition to the UK diet at least as a common vegetable. I certainly never had it as a child and really came across courgettes as a teenager. Now butternut squash is a staple in the supermarkets although often has come from Argentina. If you are concerned about buying local, squashes are in season in the UK from August to January. Outside these months any squashes are almost certainly not from the UK
Preparing Squash
Squashes are best bought from your local farm shop or vegetable grower for the best flavour and variety. Supermarkets tend only to stock butternut squash and not the onion or crown prince squashes.
Squashes are great for soups and risottos but they are also lovely in tarts and quiches. They are easily cooked by halving and then removing the seeds. The squash can then be chopped into slices and baked in the oven. Once soft, the skins can be removed and they can be added to a dish as required. Alternatively they can be peeled when raw.
Squash And Goats Cheese Tart
This recipe is made quick and easy by using ready made puff pastry. It is also delicious with home made wholemeal pastry which gives it a stronger, nuttier base which contrasts well with the creamy and sharp goats cheese and the sweet squash.
When time is short however, a roll of ready made puff pastry makes an excellent base for a tart and is inexpensive, costing around £1 for 500g. I originally got the idea of doing this cheats tart with tomato and brie but it is a basic idea that you can use for any flan.
I served the flan with a baked potato and some tasty salad leaves. It was seasoned with rosemary. Fresh is great if you have it, but otherwise dried rosemary is lovely too.
If there are any leftovers – a slice can make a great addition to the packed lunch the following day!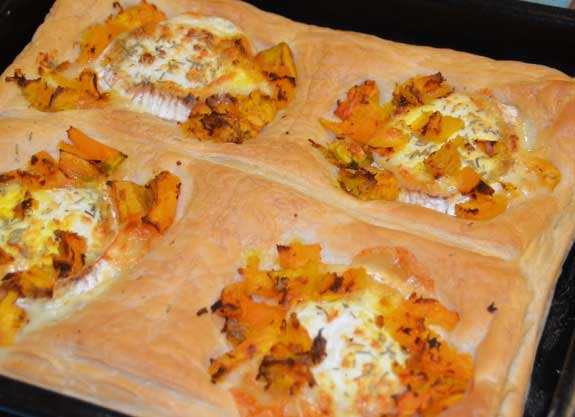 Squash And Goat's Cheese Tart
Ingredients
500

g

Ready to roll puff pastry

250

g

Soft goats cheese

1/2

Onion squash

2

teaspoons

Dried rosemary

1

tablespoon

Olive oil
Instructions
Preheat oven to 200 degrees C

De seed onion squash

Slice into 4-6 pieces

Brush with olive oil

Place on baking sheet and bake for about 20 mins

Meanwhile grease a large baking sheet

Roll out the puff pastry to fit the baking sheet

Score into 4 equal pieces

Slice goats chees into 4 equal pieces

Place a piece of cheese in centre of each square on pastry

Sprinkle with rosemary

Remove the skin from the squash and chop into small pieces

Divide the pieces equally between the four sections, arranging them around the cheese

Bake in the oven for about 30 minutes, until pastry puffy and golden brown and cheese soft and melted.

Serve hot with salad leaves and new potatoes or baked potato