Gingerbread – Many Meanings
Search on google for Gingerbread and you will get mixed results including gingerbread loaf, gingerbread men, the organisation for single parents, gingerbread houses decorated for Christmas and the Gingerbread Man folk story most of us probably remember from our childhoods or from perhaps reading to your own children (run, run as fast you can, you can't catch me I'm a gingerbread man!)
Just the mere mention of the word Gingerbread conjures up images of warming teas and fairy stories. Good thing it is so easy to make!
Gingerbread Loaf
When I think of gingerbread I mainly think of dark gingerbread cake that was often offered for Sunday tea. I also think, of ginger pudding with lemon sauce that I had at school – did anyone else have that for a pudding – I wonder! It was one of my favourites.
This recipe came from my Grandma's handwritten recipe book. I found it when doing some decluttering at my Mum's house. You can read more about it under the Date and Walnut Cake recipe.
I suspect Grandma often made this ginger loaf – so again I feel quite connected to her, reading the recipe and then carrying out the same tasks as she did long ago.
Ginger
Ginger has been in the UK diet since medieval times and was a widely traded spice and highly valuable. The gingerbread man as a biscuit, appears to have emerged in the time of Elizabeth 1. Ginger has been used to flavour cakes and sweets ever since.
It also has medicinal use for nausea or stomach upsets as well as other ailments. It is used as a tea and I enjoy Ginger And Cinnamon Tea in the winter months as it feels like 'internal central heating – marvellous when you have a cold too for its soothing properties.
The Gingerbread Man
The story of the gingerbreadman was first written in 1875 and has been a children's classic ever since, although the poor gingerbread man's sticky end is sometimes omitted in some versions apparently! In case you are unfamiliar with the tale – here is an online version
The Gingerbread Recipe (adapted)
The gingerbread method is different from other cakes and begins with melting the butter. It actually makes it a very easy cake to make. I decided to add some small pieces of stem ginger into the cake. This idea wasn't in my Grandma's original recipe and is entirely optional but I think it makes the cake more interesting. Just cut up 3-4 squares of stem ginger, quite small and stir into the mixture at the end
And the recipe states two teaspoons of powdered ginger and although this is what I added, I was very generous with my teaspoon measurements. I do use a measuring spoon for all spoon measurements but whereas I would normally do level spoonfuls on this case I did heaped spoonfuls. It makes for a good gingery taste, but is still not too strong.
I used a little less sugar than was in my Grandmothers recipe too.
You will need a 1lb loaf tin
Gingerbread Loaf Recipe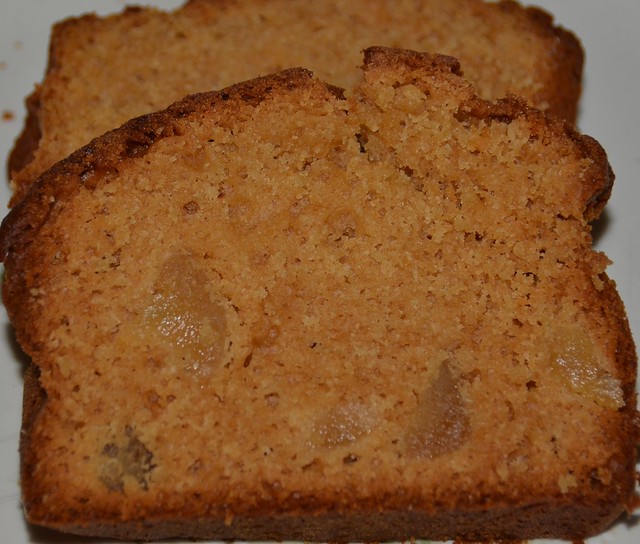 Prep time: 10 minutes
Cook time: 60 minutes
Total time: 80 minutes
Ingredients
125g / 4oz

butter or margarine

140g / 5oz

golden syrup or black treacle

55g / 2oz

brown sugar

3 tablespoons

warm water

200g / 7oz

self raising flour

2 teaspoons

powdered ginger (heaped if you like it really gingery)

1

egg, beaten

3-4 cubes

stem ginger, chopped (optional)
Cooking Directions
Preheat the oven to 170 degrees C
Line a 1lb loaf tin
Put the butter, sugar and syrup on a pan and heat gently untul the butter has melted
Remove from heat and allow to cool a little
Sieve all the dry ingredients together
Add to the wet mixture and beat hard until thoroughly combined
Add the egg and water
Beat once again
Stir in the chopped stem ginger
Pour into the prepared tin
Bake for about 1 hour
Test to see if cooked by pressing gently in the centre – if no impression is left by tour finger, the cake is cooked
Cool for about 30 minutes in the tin
Turn out onto a wire cooling tray