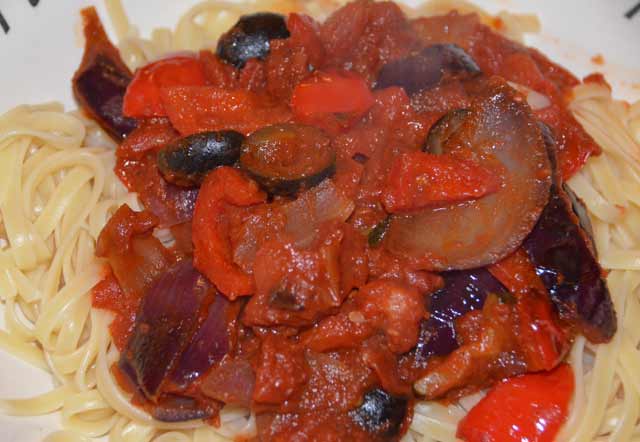 Pasta Sauce – Easy Supper
Pasta sauce recipes are perfect for times when you just want something that is tasty, quick and easy to cook. I recently cooked this recipe when I had been out for a long walk on a sunny, hot afternoon. I had planned on stuffed peppers for the evening meal but I was hot and tired when I got in – and hungry.
After a reviving cup of tea, I decided I was going to take the easy route and do pasta with vegetables in a tomato based sauce. It is always a meal I enjoy, with a sprinkling of cheese.
Better Than Shop Bought
There are now numerous pasta sauces in jars that you can buy, of varying quality and taste and in the past I have had them in the cupboard as a standby meal to heat and throw over pasta. Some of the good ones are quite expensive now, compared with the cost of making your own. Rarely now would I buy one, as they are so easy and inexpensive to make at home. As always with home made, you can make it just how you like it, with the right amount of herbs and flavourings.
When I decided to make this sauce, I knew I had a carton of chopped tomatoes and some peppers as well as an onion and some garlic (from the garden). So the recipe was laid before me.
You can adapt a tomato sauce recipe according to what you have, and what you like. Mushrooms, broccoli, chick peas, courgettes and peas are all potential ingredients. Just find what you have in your cupboards. Olives always make a good addition too.
Flavour the sauce with your favourite herbs – Basil, oregano or just some dried mixed herbs. Add some chilli for a bit of spice!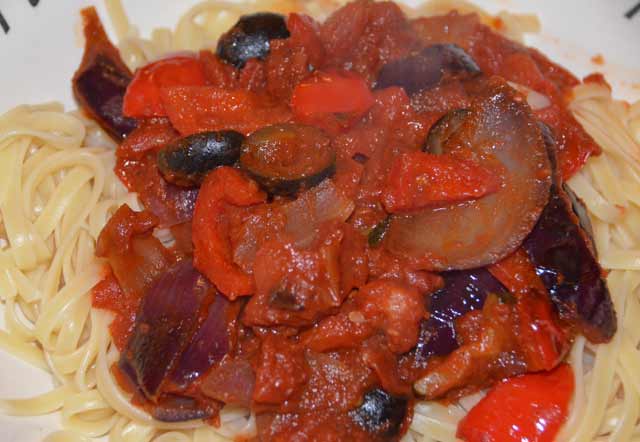 Easy Pasta Sauce Recipe
Quick and tasty supper recipe
Ingredients
200

g

pasta shapes

2

tablespoons

olive oil

1

red onion

peeled and sliced

1

pepper green or red

chopped and de-seeded

2

garlic cloves

crushed

1

400g

tin of chopped tomatoes

10

olives

chopped

1

teaspoon

dried oregano

6

fresh basil leaves

torn

Freshly ground black pepper to taste
Instructions
In a large frying pan, heat the olive oil

Fry the onion for a few minutes until soft

Add the pepper and garlic and cook for a further 5 minutes

Add the chopped tomatoes, oregano and basil

Stir in the olives

Cook on a low heat while you prepare the pasta

Place the pasta in a large saucepan and cover with boiling water

Stir, bring back to the boil and simmer for 12-15 minutes

Season to taste with black pepper

Serve by placing the pasta on a plate and spooning over the sauce

Sprinkle with grated parmesan or cheddar cheese
It really is unbelievably good!