Delicious Stir Fry
The wonderful thing about stir fry is that it is really easy and quick, taking about 10 minutes to cook and it is low cost, so it is ideal for a midweek supper and great at the weekend too! So it ticks all the boxes really! And it is very, very very tasty. It is perfect for a supper anytime and even perfect for when you can't be bothered to cook!
Pak Choi
This recipe started with a pak choi (also known as bok choy, pak choy and chinese cabbage). I had never cooked one before so bought one thinking I would look up some recipe ideas. Having done that I combined some ideas and came up with this stir-fry. It is rather delicious!
Pak choi is low in calories and high in many vitamins and minerals so there is good reason to try it. It is more commonly found at farmers markets and local vegetable schemes than in supermarkets. You will get the freshest ones that way too! They are in season in winter and are most commonly cooked in a stir fry, either alone perhaps flavoured with some ginger, or as in this recipe, with other vegetables.
Noodles Or Rice
I served the stir fry with noodles, using pre-packaged ones that can just be added at the end of the cooking of the vegetables. You could use dried noodles, or indeed rice which you would need to put on to cook before doing the stir fry.
It is a real pleasure to come home tired and end up with a really delicious meal in a matter of minutes. Somehow I think this meal would be great when you have friends round for supper too. It is good enough to impress, does not break the bank and leaves you plenty of time to spend with your guest rather than in the kitchen – which is always a plus in my book!
This really is a 15 minute meal!
Cashew Stir Fry
Prep time: 5 minutes
Cook time: 10 minutes
Total time: 15 minutes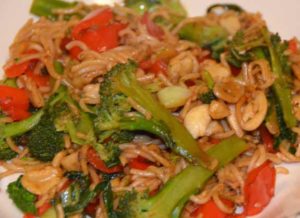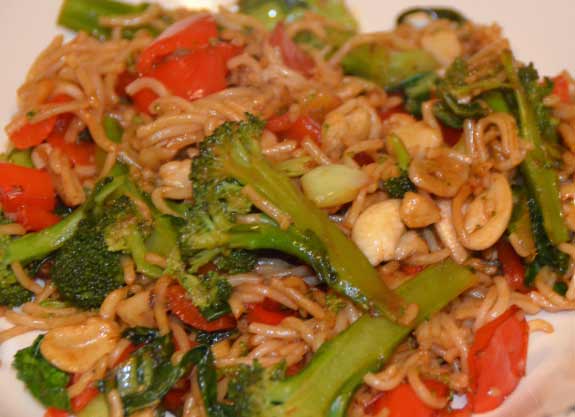 Ingredients
2 tablespoons

groundnut oil

1

red pepper, deseeded and chopped

1 inch

root ginger, peeled and thinly sliced

2 cloves

garlic, peeled and chopped

1 small

head of broccoli, chopped into small florets

1 pak choi

stalk sliced, leaves roughly torn

2 packs

ready to wok noodles

300g

pack ready cooked noodles

4 tablespoons

dark soy sauce
Cooking Directions
Steam the broccoli florets until just starting to soften
Meanwhile, heat the ground nut oil in a wok or large frying pan
Add the chopped peppers and cook for a few minutes until soft
Add the ginger and garlic and cashew nuts
Add the chopped pak choi
Cook for 2-3 minutes, stirring frequently
Add the broccoli
Stir and cook for a further minute
Add the soy sauce, stirring to mix
Add the noodles and heat through for 2 minutes
Serve immediately