Slow Roast Pork Shoulder
When you have a few people to feed and you would like to do a roast dinner, roast pork shoulder is easy to cook and is really good value feeding 10-12 people for around £10. As a roast it beats most other on price and in my opinion flavour.
Plus you get the wonderful pork crackling too!
Slow Roast Pork Shoulder makes a delicious and easy Sunday lunch. Feeds many – with leftovers!
I would even recommend it for Christmas dinner because its so good to feed many people and is much lower cost than turkey. And it is what you need on Christmas Day – a good, nourishing and tasty dinner that will fill everyone up – and be easy to cook because you already have plenty to deal with guests arriving not to mention enjoying yourself!
The meat benefits from a long slow cook so is conducive to getting the meat ready and prepared in the morning and is great with all the usual 'trimmings' of Christmas dinner – stuffing, Yorkshire puddings and roast vegetables.
If there are fewer people to feed you will have some leftovers that can make risotto, stir frys, curry and sweet and sour.
Pork Shoulder On The Bone
You can buy pork shoulder with or with out the bone. Buy it with the bone in as it creates extra flavour. Check that the fat is scored on top for crackling. If it is not scored, ask your butcher to do it – or you can do it yourself with a very sharp knife.
Once cooked the meat will just fall off the bone. This isn't a joint to get beautifully carved slices from, but you will get lots of delicious juicy meat – and some wonderfully delicious crackling.
Ideal With Roast potatoes And Vegetables
Serve with plenty of vegetables to make a full plate without huge portions of meat. Everyone loves roast potatoes, so do plenty and also include stuffing, apple sauce, gravy and your favourite vegetables, for a variety of taste and texture.
Yorkshire puddings are popular too and were used in the past as a cheap filler so less meat was needed! For extra meat cook some chipolata sausages too. These will be especially popular with the children. Apple sauce is low cost to buy – but is easily made too.
Slow Roast Pork Shoulder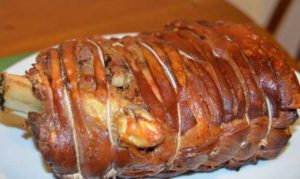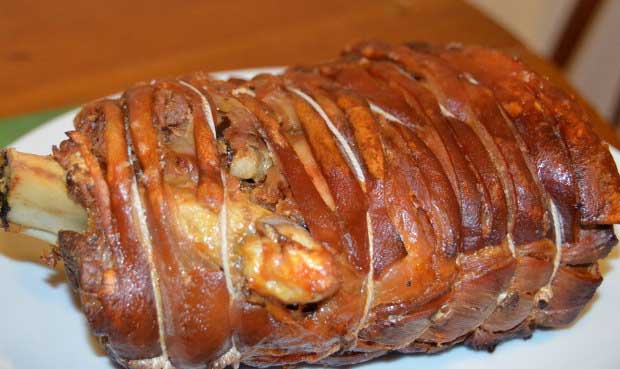 Prep time: 10 minutes
Cook time: 4-5 hours
Total time: 5 hours plus
Ingredients
2.5kg-3kg / 5lb-7lb

shoulder of pork, bone in, fat scored

1 teaspoon

salt

1 teaspoon

mixed herbs to season

1 teaspon

freshly ground black pepper
Cooking Directions
Preheat the oven to 225 degrees C
Rub salt throughly into the fat on the pork to help to get crisp crackling
Add the pepper to the mixed herbs and rub into the underside of the meat
Place fat side up on a roasting tray
Bake for 30 minutes until the fat on top is browning
Turn the oven down to 170 degrees or 150 degrees for a fan oven and bake for about 4 hours
Remove the foil and increase the temperature to 180 degrees (170 degrees C fan oven) for an hour
You can add your roast potatoes and parsnips into the oven at this point so they will be ready at the same time as the meat
Allow the pork to rest for at least 10 minutes before serving, covered with foil to keep it warm
The meat will be juicy and just fall away from the bone