Prepared Bean Salad
This Bean Salad is ideal to make up and leave in the fridge to help yourself when you are ready! I love to have salads in the fridge for lunch, snack or to go with an easy tea. Bought salads are very expensive compared to the cost of the ingredients, because of course you are paying for them to be made too. They may also have some hidden unwanted extras like sugars, preservatives or additives too!
This Three Bean Salad with vinegar dressing is so easy to make. Keep it in the fridge to go with salad or take some for a packed lunch
It is actually really easy and quick to make up your own salads from readily available ingredients. Stir together and add some oil, honey, mustard and garlic and your favourite herbs.
Three Bean Salad
Three bean salad is a simple and nutritious salad recipe. Easy to put together, you can vary the beans you use according to what you have in your cupboard, and which are your favourite beans. I like one of the beans to be a green bean and have included fresh french beans in this recipe, but you can use whatever green bean is in season. If there are no green beans, just use another pulse or even used tinned green beans.
I have used tinned kidney beans and chick peas, but you could use dried beans that have then been soaked and boiled. If you do this in large quantities, and then freeze the beans in portions, this would be much more economical.
Vinegar Dressing
The salad dressing is made up of oil and cider vinegar with further flavourings. Don't be put off if you don't have all the ingredients. Experiment with what you have to make a dressing which you enjoy. Add some of your favourite herbs too.
It is important to make this salad a few hours or even a day or two before you want it, as it is best if the beans have had a chance to marinate for at least a couple of hours before you want to eat it.
This salad would be ideal as part of a packed lunch too or for a picnic or buffet meal.
As with other salads such as the Feta Cheese, Olive and Pasta Salad the quantity you will need depends on how many other salad dishes you are serving.
If you make this bean salad, do make some comment about what you think and any variations you made to this recipe.
You will need:-
Three Bean Salad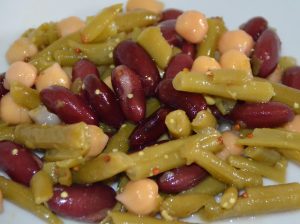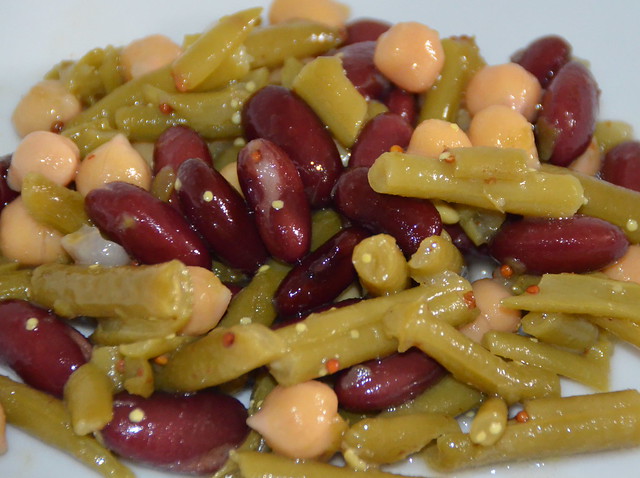 Ingredients
1 tin kidney beans

drained and washed

1 tin chick peas

drained and washed

60g / 2oz

fresh french beans

2 tablespoons

olive oil

4 tablespoons

cider vinegar

2 teaspoons

clear honey

1 teaspoon

whole grain mustard

1/2 teaspoon

chilli powder
Cooking Directions
Cook the french beans in boiling water for 2-3 minutes
Put all the beans in a bowl together and stir to mix
Make the dressing by mixing together the oil, cider vinegar, honey, mustard and chilli
Pour over the bean mix and stir thoroughly
Cover and leave to marinate for at least 2 hours
Store in an airtight container in the fridge for 4-5 days