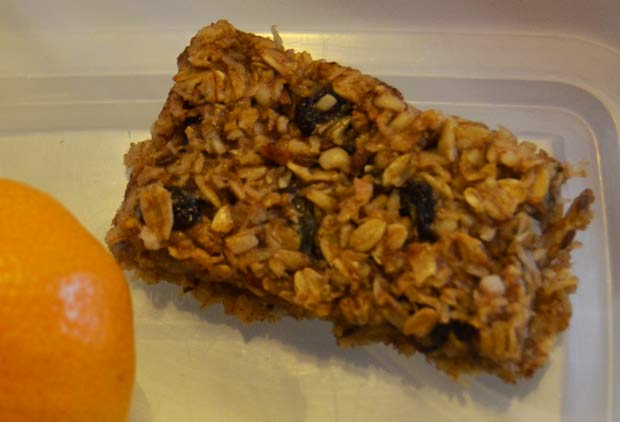 Breakfast Bars – Easy Snack
We all know a healthy breakfast is a great way to start the day, but sometimes life gets in the way and we run out of time to sit down to a bowl of porridge or a Boiled Egg.
Sometimes 10 minutes extra time in bed can seem preferable to a proper breakfast – and as a result you go to work or study hungry – even if you are working from home. Of course, the danger then is that you will eat an unhealthy and expensive snack half way through the morning instead or end up performing poorly at whatever you are doing as you are lacking energy and nutrition.
Now far be it for me to start giving a lecture on breakfast. These days I wouldn't dream of leaving the house without some food or drink because I know I would regret it before a couple of hours had gone by. However there have been times in my early working life, when I have preferred a lie in to a bowl of cereal, or I have simply over slept and left no time. As a student, life is sometimes just too irregular to always have meals on time.
A Healthy Cereal Bar
A cereal bar can be a good substitute if it is nourishing. Put it in your pocket and eat it whilst on the train or walking, or at your place of work or study when you arrive there. Whilst you can buy cereal bars in the shops, if you study the ingredients, you will find they are often high sugar and high fat and a very sugary taste. The general thought is that a high sugar breakfast is not good since it gives you a sugar high which is likely to dip by mid morning and leave you hungry and wanting more.
I have worked at producing a healthy, tasty, easy to make cereal bar that is low in fat and low in sugar. I hope you will try this recipe and feel that I have succeeded! The natural sweetness of the bananas is a substitute for sugar and their natural 'gooiness' means the bars stick together without the use of too much fat. In fact I would recommend you try reducing the sugar in the recipe, particularly if you are keen to reduce your sugar intake, and I think you will still find it sweet enough.
Cereal Bars For Breakfast – or Lunch
Make these tasty and healthy cereal breakfast bars that you can grab as you are going out of the door and you will also have a great addition to your packed lunch, a snack for when you get home and a healthy addition to a picnic
Made from slow release oats and potassium rich bananas, along with seeds and nuts they really pack a nutritional punch and will stave off the hunger pangs until lunch time.
Preparation time is just 10 minutes and cooking time 30 minutes. Great for when friends drop in for coffee and they will freeze well too!
You can vary the combination of nuts and seeds according to your taste, and what you have in the cupboard.
After you have made them, do please take time to comment below, to let me know how you liked them, and any variations you made in the recipe. I hope to be bringing some more cereal bar recipes to this website soon, but in the meantime do share any cereal bar recipes that you use.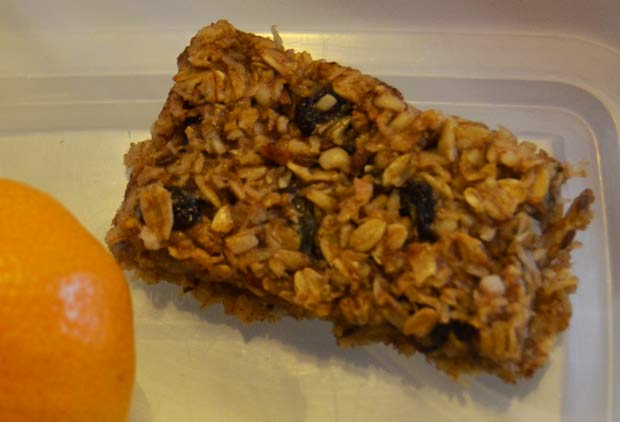 Banana Breakfast Cereal Bar Recipe
Cereal bars for breakfast on the go
Ingredients
25

g

butter

2

tablespoons

golden syrup

50

g

brown sugar

2

ripe bananas

150

g

porridge oats

1

teaspoon

cinnamon

50

g

desiccated coconut

3

teaspoons

mixed seeds

sunflower, pumpkin, sesame, linseed

50

g

sultanas

75

g

chopped nuts of your choice

pecan, hazelnut, almond
Instructions
Preheat the oven to 170C

Prepare a baking tin by greasing it with butter or lining it with baking parchment

Put the butter, golden syrup and sugar in a saucepan and melt over a low heat

Mash the banana to a pulp and stir into the melted mixture

Add the oats, cinnamon, coconut, seeds, sultanas and nuts and mix thoroughly

Spoon the mixture into the baking tin, ensuring it is evenly spread

Bake for 25-30 minutes

Cut into portions in the baking tin

Leave to cool then turn out into a cooling rack