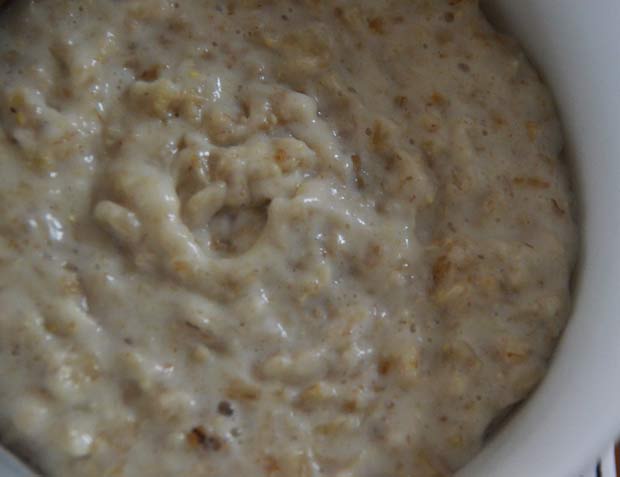 Porridge – Best For Breakfast
Judging by all the oat breakfast products on sale at the supermarket porridge is more popular than ever. There has certainly been an increase of instant, pre-measured and ready flavoured products on the market. However they certainly come at a premium price. Once you know the secret of how to make porridge, you will have no need for the expensive branded products. All you will need is packet of oats.
There is little doubt that porridge gives you a warming, nutritious start to the day that will keep you going until lunchtime!
My guests in our Bed & Breakfast certainly often enjoy a good bowl of porridge to set them up for their day!
Porridge – A Traditional Breakfast
Porridge has been around probably since medieval times and, at least in Scotland, is steeped in tradition. It does matter to some, which direction you stir your porridge in (clockwise) and to eat the porridge standing up!
It has also been a tradition in the past to pour the porridge into a 'porridge drawer' where it sets. A slice can then be taken when required.
There is also disagreement about which is the correct recipe. Should it be made with jumbo oats, rolled oats, or oatmeal? Do you make porridge with milk or water, sugar or salt or may be even honey? Should you even add a tot of whiskey!! Of course the real answer is that you can make it exactly as you like it. Topped with blueberries or other berries in season is a favourite in our house!
Is Porridge Good For You?
However you like your porridge, there seems to be little argument over the health benefits. Porridge oats are a 'slow-release' food meaning that porridge is the perfect breakfast to keep you fuelled until lunchtime. It is great for dieters or those who have an active jobs, since it tends to keep you full up until lunchtime.
It will help dieters to resist snacking because it should keep hunger pangs at bay until noon. It provides energy throughout the morning to the active worker. It is lower in calories, too than many off the shelf breakfast cereals. And no hidden sugar – you decide how much to add, if any!
High in both fibre and protein it has been proven to lower cholesterol and prevent heart disease. Of course if you are seeking health advice, you need to consult your doctor or a dietician. You can add to the health benefits by adding berries or dried fruit to your morning porridge.
How To Make Perfect Porridge
Making porridge is really easy and, in my opinion, there is no need to buy pre-packaged sachets. They are much more expensive weight for weight and are really no easier, once you have learned the correct measurement in order to make the perfect porridge.
Just buy a pack of porridge oats and measure out the quantities yourself. Find a cup or other receptacle that will hold the required amount of porridge oats. The liquid required will be roughly three times the volume of the oats.
Not only are the sachets of oats more expensive but there is considerably more packaging involved, to be recycled.
Microwave Porridge Or Hob?
The simplest method to make porridge is probably in the microwave as you can put the oats and milk (or water) in the bowl that you are going to eat from. Do remember to loosely cover the bowl with something just in case your porridge overheats. Exploded porridge all over the inside of the microwave oven is not a pleasant thing to clean off!! Keep an eye on it and do stop and stir it half way through to ensure an even distribution of heat. With a little experimenting you will get the timing just right for your microwave oven.
However some purists will say that the only proper way to cook it is on the hob. Although this results in a tasty breakfast, getting porridge stuck to the bottom of the pan is no laughing matter so it is important to heat gently and slowly, whilst stirring all the time, with a wooden spoon, to prevent the porridge burning and sticking to the bottom. Use a non-stick pan. The cooking time will vary depending on the consistency you like, and the size of the porridge oats you use. It should be around 10 minutes.
Do fill the used pan with cold water and a little washing up liquid as soon as you have served it into the bowl. This keeps the residue moist and helps to prevent it setting hard. In fact it is the avoidance of the pan washing that turns many porridge breakfasters to the microwave! With good stirring and and an immediate soaking, the pan washing up shouldn't be too much of a trial!
More Oat Recipes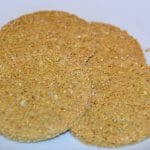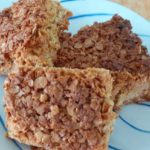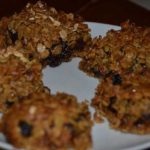 Cooking Notes
For cooking on the hob you will need a good non-stick pan. My favourite pans are the Raymond Blanc hard anodised saucepan.
Porridge Recipe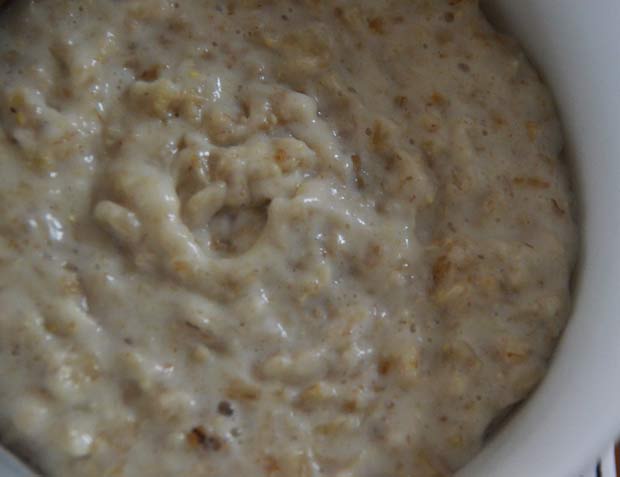 Ingredients
50g / 1.5oz

porridge oats

330ml

water or milk (or mix of both)

2 teaspoons

Honey or jam (optional)

Sliced banana

or a few berries (optional)
Cooking Directions
On The Hob
Put the oats in a (non-stick) saucepan pan with the liquid and stir to mix
Bring to the boil, stirring continuously
Simmer, gently for 10 minutes on a medium heat
Jumbo oats may take a little longer – you judge when you have the right softness and consistency
Serve in a bowl and top with honey, sugar and/or fruit
In The Microwave
Put the oats and liquid in a large bowl and stir
Cover loosely, and heat on full power for four minutes, stopping and stirring after two minutes
Stir and stand for two minutes
Add your desired topping and enjoy
Making Porridge Without Weighing Scales
Use a mug that takes around 50g of oats
Add 2.5 times the mug size in liquid
Keep the mug for that purpose alone – you don't want to lose it or break it now you have the prefect porridge mug!
Make the porridge either in the microwave oven or on the hob, following the instructions above
However you cook your porridge, serve hot with honey, jam, sliced banana, berries – or on its own!
How Many Calories In Porridge?
There are around 178 calories in 50g of Scotts Porridge Oats. There are 85 calories in 165ml of semi-skimmed milk and 0 calories in the same amount of water.
So if you make your porridge with half milk and half water the total will be 263 calories. Add a few blueberries or other fruit for some low calorie sweetness and you should still keep it below 300 calories!