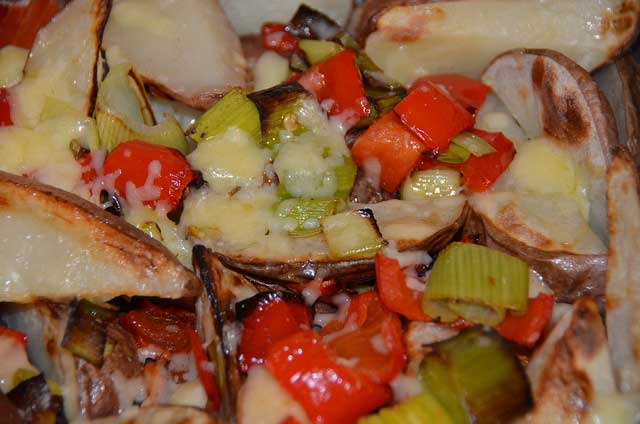 Potato Bake – Simple Supper
I love simple suppers that are tasty and require little effort – and that are low cost too! Preparing vegetables that then gets baked in the oven is good because it allows you to go and do something else whilst it is cooking. This is especially good for a time poor family.
This simple potato and vegetable supper is really tasty and you can use what you have in your fridge. Ready in 30 minutes with only a few minutes preparation time
Potatoes are often at their tastiest when they have been baked in the oven and are extra delicious when served with a medley of roasted vegetables. In this recipe I bake potato wedges separately from the rest of the vegetables and then bring them all together at the end. You have a simple, easy supper that is full of flavour
The quantities here serve two people but you can easily double it for four. You can change the vegetables you use to suit what you have in your fridge or cupboard. You could use onions, courgettes, mushrooms, cauliflowers or tomatoes. Almost any vegetable would work. You could also mix in some sweet potatoes with the ordinary potatoes.
Potato Wedges For Chips
Just as an aside I always do potato wedges now as a better alternative to chips (although good chips from a chip shop is still a great treat!) I have never been a fan of the deep fat fryer and indeed have never owned one. Bought oven chips can be OK but I try to avoid as much processed and packaged food as I can. Oven chips are often just potato and oil so can't be too bad.
But making your own potato chips tastes better especially when made with some really tasty locally grown potatoes, and are usually much more economical too.
You don't have to make wedges of course, you can cut the potatoes into chips shapes. I leave the skin on as it is tastier like that and you get more nutrition and fibre. It takes less time and of course there is less waste! Just scrub the potatoes well before slicing.
Suggested Variations
Try out different vegetables in season. Add some tomatoes and some herbs. Add some mustard or a slug of cream. This recipe can be varied in so many ways. Try some blue cheese or Mozzarella.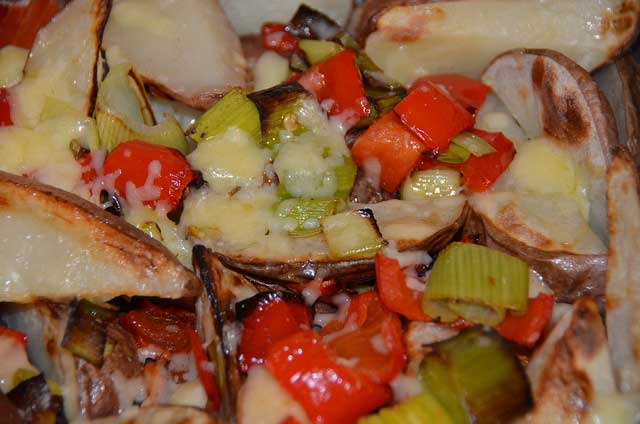 Potato And Vegetable Bake
Easy supper using seasonal vegetables and cheese
Ingredients
1

tablespoon

olive oil

500

g

potatoes

1

red pepper

deseeded and chopped

1

leek

washed and sliced

1

carrot

peeled and sliced

55

g

mature cheddar cheese

grated
Instructions
Preheat the oven to 180 degrees C

Scrub the potatoes and cut into wedges of roughly the same size

Brush with olive oil and place in the oven

Bake for about 20 minutes until a knife slides in easily

Meanwhile place the chopped vegetables in another baking tray

Drizzle with oil and stir with a spoon to ensure they are well covered

Bake in the oven for about 15 minutes

Add the vegetables to the potatoes, mix and sprinkle with cheese

Bake in the oven for a further 5 minutes until the cheese is melted

Serve immediately