Ginger Biscuits
Think of ginger biscuits and what do you think of? Ginger nuts from Grandma's or some lovely large spicy ginger biscuits made by a favourite shop or beloved friend? I certainly think these biscuits resemble the latter. They are lovely to offer when a friend comes round. It's like giving them a warm hug in a biscuit!
These ginger cookies are easy to make and not too sweet and are a comforting and delicious snack at any time of day. They are like a hug in a biscuit
These cookies would also make a lovely gift whether at Christmas or when visiting friends. Packaged in some wrapping with some ribbon, they make a very special, spicy present.
Ginger – A Very Special Spice
Warming and comforting, it soothes the soul. It is adaptable and used for so many dishes from curries, to drinks, from wine to ice cream. It is also known for its medicinal properties, in fact long before it was used as a flavouring and spice, and it is still used for its properties today.
For example, pregnant ladies who are feeling a little nauseous are advised to nibble on ginger biscuits to help them to feel better.
It has been used to alleviate stomach upsets, arthritis and the common cold. The ginger cookies are an ideal way to bring cheer to anyone suffering from these ailments.
Ginger became popular in the 1500s as a flavouring and it is rumoured that Elizabeth I was fond of gingerbread biscuits.
And ginger is a spice for all seasons. A warm ginger and cinnamon drink feels like it keeps out the cold in the winter and ginger ice cream cools you down in the summer
Ginger In Biscuits
These ginger cookies are not too sweet and delightfully gingery. They have both ginger and cinnamon in them and you can adjust the quantity according to how spicy you would like them. I have also added small pieces of stem ginger in the cookies, which is optional, but does make them extra special.
You can buy jars of stem ginger from most supermarkets. Lovely used in gingerbread too – and served as a dessert with some good vanilla ice cream!
Ginger Biscuit Recipe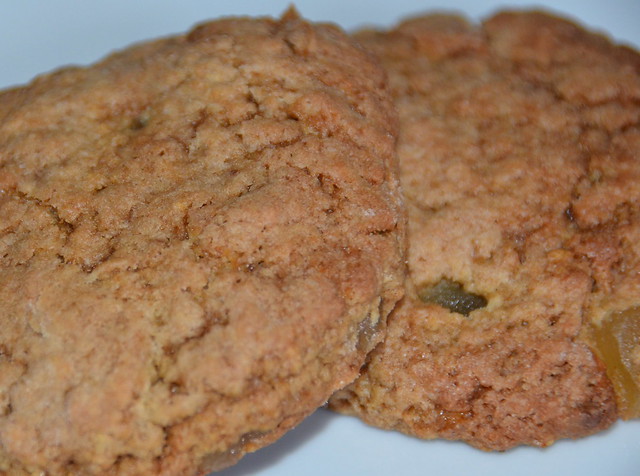 Ingredients
55g / 2oz

butter

85g / 3oz

light muscavado sugar

1 egg

beaten

170g / 6oz

plain flour

1 teaspoon

ground ginger

1/2 teaspoon

cinnamon

1/2 teaspoon

bicarbonate of soda

3 cubes

stem ginger, finely chopped (optional)

Splash

of milk
Cooking Directions
Line a baking tray with baking parchment or grease it well
In a large bowl, cream together the butter and sugar
Beat in the egg
Add the ginger, cinnamon and bicarbonate of soda to the flour
Mix thoroughly with into the egg, butter and sugar
Add the chopped stem ginger if using
Add just a splash of milk so the mixture is not too dry
Draw the dough together with your hands
Roll out on a floured surface to about 3mm thick
Cut out rounds – or a shape you like
Place on baking tray
Bake for about 15 minutes
Remove from oven and leave to cool on tray
When nearly cool transfer to a wire cooling rack
Store in an air tight container