Vegetable Crumble
Ever since I first started exploring vegetarian food I have cooked versions of vegetable crumble, and I think this is the best one so far. Loving Apple Crumble – or indeed any fruit crumble – as much as I do I think I found the idea of a vegetable crumble quite exciting! It is a really easy vegetarian recipe, filling and delicious!
I am not sure where I first picked up the idea from, some time back in the 1980s, although I think it is quite a staple of vegetarian cooking. It is best made with vegetables that retain their shape when cooked type such as root vegetables and squash.
Vegetable Crumble is a tasty and substantial vegetarian alternative to Sunday dinner but it also makes a wonderful midweek meal
Plenty Of Vegetables
The Vegetable Crumble can then be served with leafy vegetables such as cabbage, purple sprouting broccoli, brussel sprouts – or whatever you fancy! It makes a veritable vegetable feast! Talk about 5 a day – I rather think you could get 7 or 8 portions of vegetables all in one meal!
Vegetable Crumble With Cheese
The crumble recipe can vary. It can be just like in a sweet crumble, but without the sugar, but I have substituted some of the flour for oats and added some chopped nuts. I also flavour it with herbs and a sprinkling of Parmesan cheese. You can follow the recipe or try your own flavourings – try coriander or sage.
The idea to put cheese in with the vegetables, and the concept of the onion sauce came from Delia's Vegetarian Collection
. Her pie is topped with Parmesan pastry but I thought a crumble topping would be easier to make and provide more texture and crunch. It also adds the goodness of the nuts.
You really can choose your vegetables and have as many varieties as you like in this recipe – enough to fill your casserole up to about 2/3 to leave room for the topping!
Midweek Supper Or Sunday Lunch
This is simple enough for a midweek supper but yummy enough for a Sunday dinner, especially if served with Yorkshire pudding and roast potatoes! Much more economical than a Sunday joint too! Just remember that Apple Crumble might not be the right pudding to have – but there are many more choices – but then again…!!
Don't be put off by the length of the ingredients, this is a really easy recipe and takes about 25 minutes to prepare. It is then just put in the oven and baked for about an hour
*Remember that if you serve this to vegetarians, use a vegetarian Italian hard cheese, as Parmesan cheese contains animal rennet
Cheesy Vegetable Crumble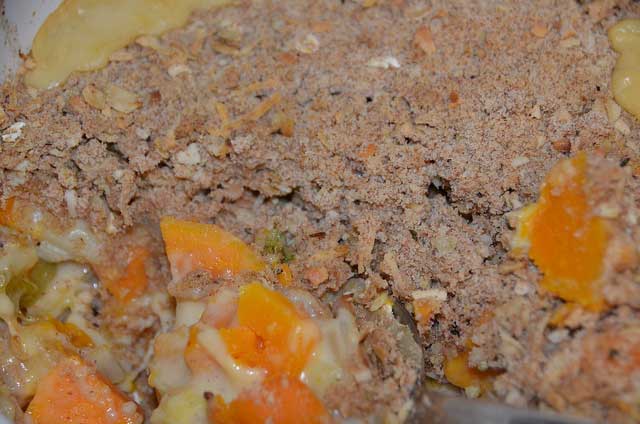 Prep time: 25 minutes
Cook time: 60 minutes
Total time: 85 minutes
Ingredients
1/4 crown prince or butternut squash

peeled and chopped

1 large sweet potato

peeled and chopped

1 large parsnip

peeled and chopped

2 medium carrots

peeled and sliced

1 large

leek, washed and sliced

110g / 4oz

gruyere cheese, thinly sliced

25g / 1oz

butter

1 onion

peeled and finely chopped

40g / 1.5oz

plain flour

570ml / 1 pint

milk

1 tablespoon

wholegrain mustard

110g / 4oz

wholemeal plain flour

110g / 4oz

oats

85g / 3oz

butter

50g / 2oz

chopped nuts

1 teaspoon

mixed herbs

25g / 1oz

Parmesan (or vegetarian equivalent)
Cooking Directions
Place the carrots, squash, parsnip and sweet potato pieces in a steamer, and steam for 10 minutes
Add the leek and steam until all l the vegetables are just soft (another 5 or so minutes)
Make the sauce
Melt the butter in a medium saucepan
Add the onions and cook gently for about 10 minutes
Add the flour and stir well to mix
Add the milk slowly stirring all the time
Add the mustard and stir well to mix in

Make the crumble

Put the oats and the flour in a bowl and mix well
Add the mixed herbs
Rub the butter into the flour, using your fingers
Stir in the nuts
Stir in the parmesan cheese (or equivalent)

Make up the Cheesy Vegetable Crumble

Pre heat the oven to 180 degrees C
Place about half the vegetables in the bottom of the casserole
Place slices of gruyere cheese over the top
Add the remaining vegetables
Pour the sauce over the vegetables
Distribute the crumble, evenly on top
Bake in the oven for about 60 minutes