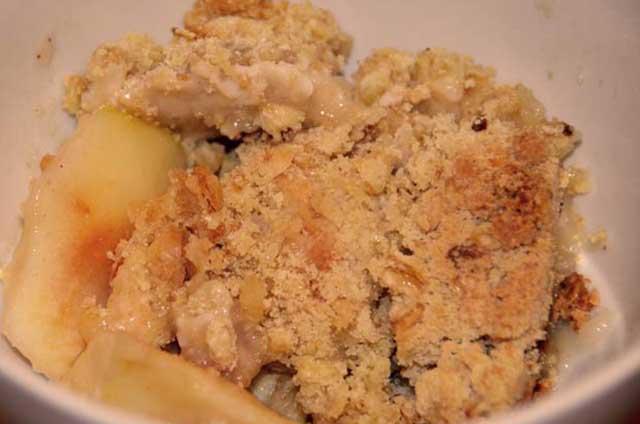 Easy Apple Crumble Recipe – Delicious!
What better pudding is there on an Autumnal day than this Apple Crumble Recipe! It is just wonderful after a morning's walk, or even a leisurely Sunday reading the papers! If you are eating it after a roast dinner, you may need a bit of a 'rest' first in order to make room and savour the taste!
Apple crumble is a pudding that reminds you of home, of long lazy Sunday dinners and time out.
Apple crumble is the delicious pudding that most often conjures up nostalgic images from home. Easy to make, it only takes 5-10 minutes to prepare and is made from the simplest ingredients.
Warming and filling, apple crumble is ideal for the winter months and of course it is in the autumn when apples ripen and are available in abundance.
The Bramley Apple
Bramley Apples have a fascinating history and the original Bramley apple tree, is still bearing fruit in Southwell, Nottinghamshire
The Bramley apple is the best sort for apple crumble, being too sour to eat straight from the tree. It retains its excellent flavour and texture when cooked. However, do use whatever apples you have as good eating apples can be delicious too, especially if collected from a local tree. Just use less sugar to take account of the extra sweetness of the apple.
Bramley apples have a fascinating history originating when a small girl planted some seeds in Southwell, Nottinghamshire in the 1800s. The original Bramley apple tree still bears fruit today and Southwell is proud of its Bramley Apple heritage.
The Crumble Recipe
The basic apple crumble recipe is so easy to make. The crumble topping recipe consists of flour, butter or margarine and sugar. However there are some variations you can bring in if you wish. You can use wholemeal flour instead of white to get more texture (and fibre!). And in my opinion butter made crumble tastes better than that made with margarine.
I sometime substitute some oats for the flour eg 75g/2oz oats and 165g / 6oz flour. Rub the flour into the margarine as instructed and the stir in the oats. A teaspoon of coriander powder to the crumble mix which adds an interesting flavour – surprisingly good and warming!
The Easy Apple Crumble Recipe
You can bake your crumble in a casserole dish or lasagne type baking dish. Do leave the casserole lid off when baking, though, or your crumble won't be crisp!
I recommend making the crumble first before you peel and slice your apples. This means that the apples have a minimum amount of time uncovered and are less likely to start to brown. Once all sliced you can add the water and sugar and immediately cover them over with the crumble topping.
The amount of apples you use, is up to you. I like a large amount of fruit in relation to the crumble, so I use 3 or 4 large Bramley apples. I like to chop the apples in quite large chunks, so there is plenty of apple texture when the apples are cooked. If you prefer a more 'mushy' texture, chop up your apples nice and small.
Don't be tempted to add more water than the recipe states. There is plenty of moisture in the apples so to add more might make it too runny. You can also add a couple of handfuls of sultanas to the apples for a variety of texture and flavour in your crumble. This gives it a kind of apple strudel quality!
Finally, the only problem you may have is what to have with your apple crumble! Traditionalists might say custard is the only option and there are plenty who would agree! However a good quality vanilla ice cream is hard to beat and some may opt for cream. Evaporated milk is also a favourite of mine, but may not be to everyone's taste. If you wish to keep fat content to a minimum choose or creme fraiche, particularly the low fat varieties.
If there are any leftovers, store the apple crumble in an airtight container in the fridge and it will keep for a few days. Reheat or serve cold.
So go on, make a wonderful pudding from seasonal and indigenous apples and enjoy!
More Crumble Recipes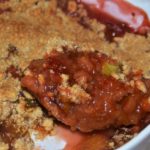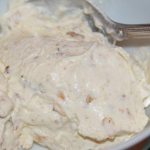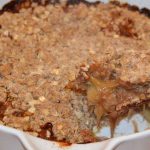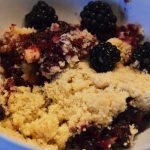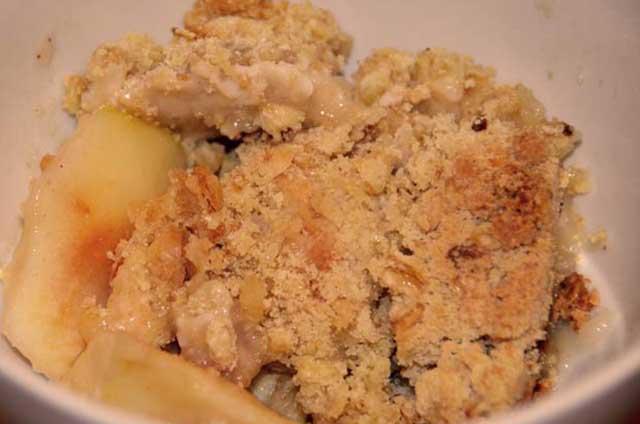 Easy Apple Crumble Recipe
Classic dessert recipe made with apples and a basic crumble topping
Ingredients
240

g

plain flour

85

g

butter or margarine

2

tablespoons

sugar

4

large Bramley apples

or other local cooking apples

3

tablespoons

water

2

tablespoons

sugar

1

teaspoon

cinnamon
Instructions
Make the crumble first (so the peeled apples do not have too long to go brown)

Preheat the oven to 200 degrees C

Place the flour in a large bowl

Using your fingertips, rub the margarine into the flour, until it is a fine crumb

Add the sugar and stir

Peel the apples and slice into chunks

Place in the bottom of a casserole or baking dish

Sprinkle with water, sugar and cinnamon

Place the crumble evenly on top of the apple

Bake in the oven for about 45 minutes or until the crumble is golden brown
Notes
Serve hot or cold with custard, ice cream, cream or evaporated milk