Ginger Biscuits
Having baked Ginger Cookies several times now, I am getting suggestions of other ginger recipes. I think ginger is so comforting and warming – and good for you!
Ginger biscuits are easy to make and lovely with a cup of tea! Fun for children to make too!
This recipe comes from the collection of recipes put together to raise money for Exeter Steiner School. It was contributed by Arabella (who has also given me recipes for Sweetcorn fritters and Slow Cooker Soup.)
On seeing my Ginger Cookie recipe she was reminded of her ginger biscuit recipe and went off to make some. The picture of her recent batch is above.
The recipe has a little story:-
Arabella says
When I was a little girl, we lived in a small village for a while and my parents became close to a much older couple. Mr and Mrs Horne lived in a lovely thatched cottage that needed a room repainting. In exchange for painting the kitchen, my Mother was given a family recipe for ginger biscuits. This was one of the first recipes I learnt as a child and know my daughter loves to make them too
There is something very therapeutic about exchanging skills or goods in kind instead of money. And food is such a lovely way to be 'paid' for a job. Many people do of course informally swap what they have. A friend of mine recently made marmalade and I exchanged a jar in return for one of my jars of chilli jam!
Mrs Horne's Ginger Biscuits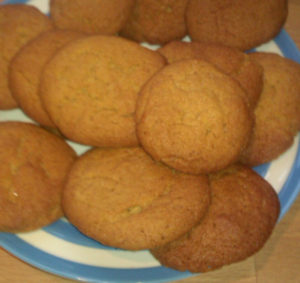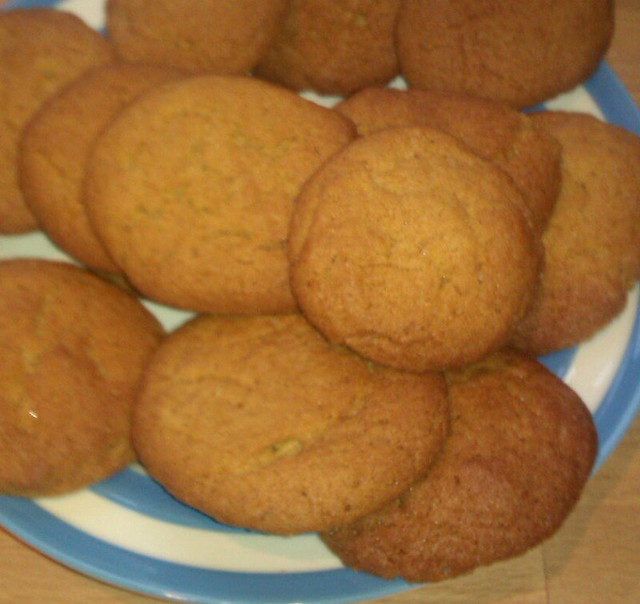 Ingredients
175g / 6oz

butter, cut into pieces

1 tablespoon

golden syrup

340g / 12oz

self-raising flour

1

egg

225g /8oz

brown sugar

2 teaspoons

ground ginger

1 teaspoon

bicarbonate of soda
Cooking Directions
Preheat the oven to 170 degrees C
Melt the butter and syrup together in a large saucepan
Add all other ingredients and mix (transfer to another bowl if cooking with children so you don't have to worry about a hot pan)
Mix until you end up with a ball of dough – if necessary, you can knead the dough with your hands until it all comes together
Grease baking trays – you may need two as the dough expands during cooking
Break off small pieces of dough and roll into balls about the size of a large walnut
Flatten slightly and place on the trays evenly spaced out
Bake for about 15-20 minutes or until golden brown
Remove from the oven but leave them on the tray to cool for a while (if you try to move them when warm they will fall apart)
When they have hardened slightly, you will be able to slide them off the baking tray and onto a wire cooling rack where they will harden and become crunchy in 15-20 minutes
Best served with a glass of milk as an after school snack! (or perhaps morning coffee – PR)