Sharing Marmalade, Home Produce And Recipes
I popped in to see my friend Rosie one day and she happened to have just made some marmalade. As I am very fond of home made marmalade, Rosie was kind enough to offer me a jar. In return I have given her a jar of Chilli Jam and Apple Chutney. Isn't there a warm feeling inside that you get from swapping home made produce?
There is something very warm and friendly about making homemade preserves and swapping produce with friends. Sharing recipes is a lovely thing to do too
Our grandmothers made home made jams and pickles as a matter of course, a skill they learned by watching and helping their Mothers. Many of the next generation failed to pick up these skills as lives got more time pressured and convenience was the watchword.
There seems to be a revival of these skills currently. Whether this is because of the love of all things vintage, or the recession – or a bit of both there is no doubt that people are enjoying making rather than buying these foods, alongside a growth of knitting, crocheting and other crafts. And swapping tips and ideas is encouraging a long lost sense of community – and spreading the warm, cuddly feeling.
Seville Oranges
Marmalade is usually made with seville oranges. These are oranges that are too bitter to eat but make excellent marmalade.
They are available in January and February. Seville oranges have natural pectin ans so you can make them with ordinary sugar. Rosie likes to make her with jam sugar, to be certain that the marmalade will set.
I asked Rosie to share her recipe which she did along with some background information:-
When it comes to making jams, marmalades, pickles and chutneys I have been using the same recipe book for 30 years. It is by David and Rose Mabey Jams, Pickles and Chutneys (Penguin handbooks)
.
They are the parents of Richard Mabey whose book Food for Free
got me into foraging at around the same time I started preserving fruit and vegetables.

Like Elizabeth David, it's a good read as it gives lots of interesting historical tit bits about each process before providing pretty fool-proof no-fuss advice on how to get the recipes right.

You will need several clean sterilised jam jars, a large preserving pan and ideally a Stainless Steel Easy Fill Funnel
Dark Coarse-cut Marmalade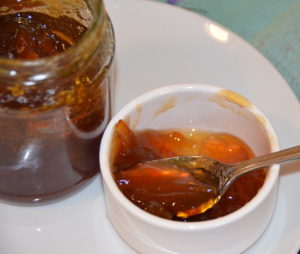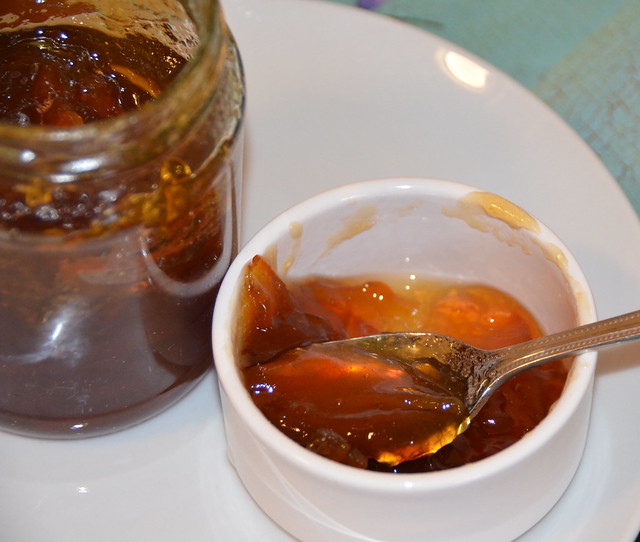 Ingredients
3lb / 1.4kg

seville oranges

1

lemon

4 litres / 7 pints

water

6 lb / 2.7kg

sugar (use jam sugar if, like me, you take a belt-and-braces approach to pectin)

2 tablespoons

black treacle

6 teaspoons

whiskey (optional)
Cooking Directions
Wash the oranges and simmer in hot water for a couple of minutes to soften the skin.
Cut oranges in half and squeeze out pips and juice.
Cut the peel into thickish shreds
Roughly chop the flesh.
Put the water in a large saucepan
Add the juice and peel
Tie the flesh and pips in a muslin bag and place in the water with the juice and peel.
Gently boil for about 2 hours until the peel has softened and the volume has reduced by half.
Remove the muslin bag of pips
Stir in the sugar and treacle until dissolved
Boil rapidly until setting point is reached. (By the way, a rolling boil looks a bit like boiling toffee.)
Test its readiness by putting a small quantity onto a cool plate: it is done if the surface crinkles when pushed with your finger. (It only takes a few minutes, so watch you don't take it past the setting point)
You add the whiskey at this point if using. It adds real depth of flavour
Allow the marmalade to cool a bit and skim off any scum.This allows the peel to spread evenly in the jars and keeps the preserve clear.
Transfer to warm, clean, sterilised jam jars and cover (wax circle directly onto top of jam, followed by cellophane cover secured with a rubber band). Use a jam funnel to make it easy
Label with date and a bit of artistry to make it pretty.