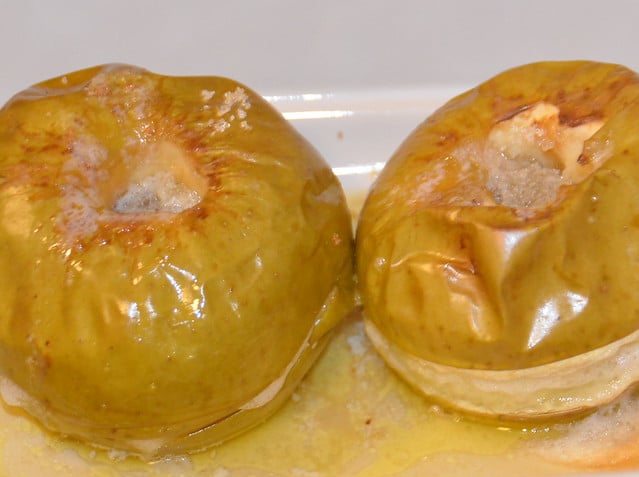 Baked Apples – A Simple Healthy Dessert
Baked apples are one of the easiest hot puddings you could make. Completely delicious, they are as welcome on a hot summers day as a cold winter evening. Perhaps only rice pudding is as easy. It is also a very healthy pudding containing vitamin C and fibre and is quite low calorie. Unless of course you are tempted to serve it with custard or cream!
Bramley apples tend to be available all year round. They are of course the very best apple to use in cooking since the they retain their texture and flavour so well. Some apple varieties go quite mushy when cooked and lose some flavour and are definitely better eaten raw. When Bramleys are baked, the apple is a lovely fluffy texture.
Oven Sharing
It is a good idea to plan cooking baked apples along with baking something else, so that you get most use from the oven being on. Whether baking bread, a pasta bake for dinner or making a cake it is always good to oven share. This cuts down your electricity bill and your carbon footprint and makes the most of your cooking time.
Preparing the baked apples is a little easier if you have an apple corer, but if you do not, a small sharp knife will do the job as well.
Try to choose apples that are roughly the same size so they will all require the same amount of cooking time. If you find apples that are too big, just share one between two.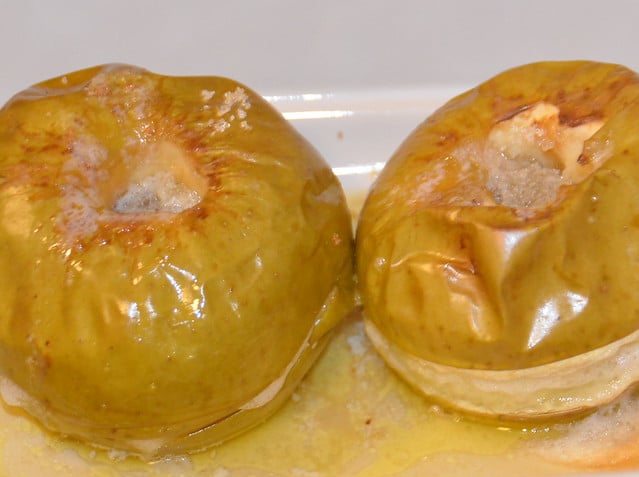 Baked Apples Recipe
Delicious and easy apple dessert recipe
Ingredients
4

medium

Bramley apples

2

tablespoons

sugar

2

tablespoons

raisins

1

teaspoon

cinnamon

adjust to taste

1

knob

butter
Instructions
Pre-heat the oven to 180 degrees C

Wash the apples in cold water

Remove the core, either with a corer or with a knife. If using a knife, make incisions around the core until you have loosened the whole core.

Whatever your method, ensure that you have removed all the hard pip cases.

With a sharp knife, score around the circumference of the apple about half way down

Mix together the sugar, sultanas and cinnamon

Divide the mixture into four and stuff each core hole with the mixture

Place upright on a baking tray

Add a small knob of butter on the top of each apple

Bake in the oven for 30-40 minutes or until completely soft

Serve with cream, ice cream, yoghurt, custard or evaporated milk