Spelt Instead of Wheat
Spelt is a good flour to try if you are reducing your wheat consumption. There are those who are not specifically intolerant but who go wheat free as part of a healthier diet to improve digestion and see if they reap any benefits. Many people report improvements to their general well being when go on a wheat free diet (not to be confused with a gluten free diet).
Spelt Flour is an ancient grain, used commonly until the last century but is once again gaining popularity for its low gluten content and its nutritional properties
I have some friends who are wheat intolerant and I thought I would try making some scones with Spelt flour and am delighted at how good they are. And I don't know if it is just psychological, but they do seem to be lighter on the stomach and easier to digest.
Spelt Flour For Baking
Even if a wheat free diet is of no interest to you it is fun to experiment with some different ingredients and try using Spelt flour, which was commonly used up until the 20th century. Although it is only recently that it is becoming more widely available it is in fact an ancient grain. People often cite that it is mentioned in the Bible!
Spelt flour can be substituted for wheat flour in most recipes and you can use white or wholemeal. When you are substituting for self raising flour, you will need to add some baking powder too. If making Spelt bread however, there are adjustments that need to be made as it needs much less kneading and less water. Here is a recipe for Spelt Bread
Spelt flour is a little more expensive than wheat flour and is usually available as organic. It's natural resistance to insects makes it more straight forward to grow organically, without the need for any pesticides.
Spelt Flour Better For You?
Whilst not gluten free spelt flour is lower in gluten and higher in protein than wheat flour. It is also higher in some vitamins and minerals as well as having good fibre content, and a low GI rating. So there are lots of good reasons for trying this recipe. But mainly that it tastes good!!
Spelt Scones With Fruit
The recipe is based on the Delia Smith scones with sultanas recipe although I have omitted the sugar. It is a simple recipe that can be prepared in minutes. Because the total time is about 30 minutes, they are easy to rustle up if you have unexpected friends round – or indeed just fancy something home baked. You can of course do your own variation – adding a different fruit or adding cheese.
And they are best of all if eaten warm so the butter gently melts! And of course they are just as good for a cream tea with clotted cream and jam (or is that jam and clotted cream??)
Spelt Scones With Fruit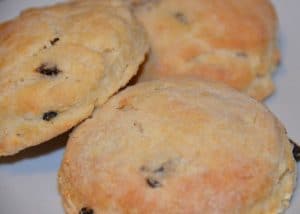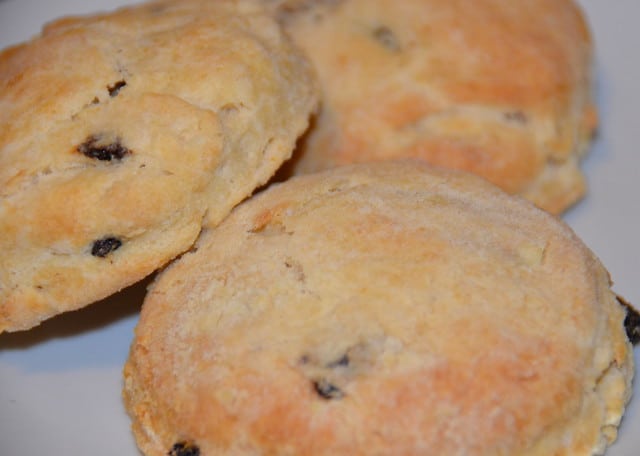 Makes 5-6 large scones
Ingredients
230g/8oz

white spelt flour

1 tablespoon

baking powder

40g/1.5oz

butter or margarine

150ml/5floz

milk

2 handfuls

raisins
Cooking Directions
Preheat the oven to 200 degrees C
Sift the flour into a large bowl
Add the baking powder and stir well
Rub the butter into the flour with your fingertips, until it looks like fine breadcrumbs
Add the raisins and stir well (add more or less depending on how fruity you like your scones)
Pour in the milk and stir with a wooden spoon until all the liquid is incorporated
Flour your hands and knead gently into a soft dough
Sprinkle a surface with spelt flour and roll the dough out to about 2.5cm
Cut out with a 7-9cm pastry cutter (use larger or smaller or shapes for different size scones)
Pick up the remaining dough and knead together to roll out again until all the dough is used
Place on a baking tray that is greased, or lined with baking parchment or a teflon baking sheet
Bake for about 15 minutes or until risen and golden brown
Place on a cooling rack
Best eaten, split and spread with butter while still warm!
Keep for 1-2 days in an air tight container – or freeze