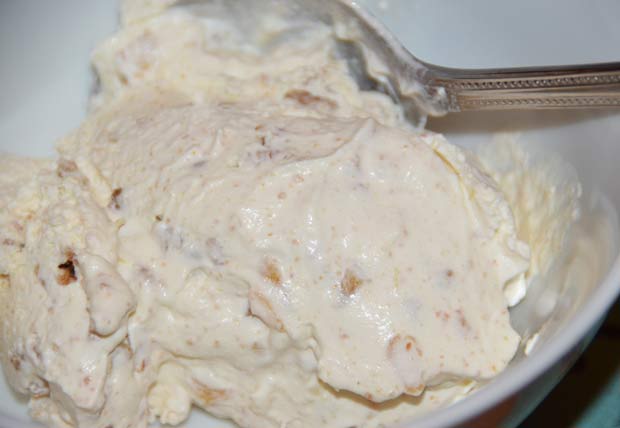 Apple Crumble Ice Cream – Real Ice Cream
There is nothing like real home made ice cream on a sunny summers day – or indeed on any day! It is completely delicious. This apple crumble ice cream recipe is almost like an ice cream sundae! It also contains quantities of health giving Bramley Apples. Containing good quantities of real fruit makes it head and shoulders above any commercially made ice ream. The total cost for a litre is around £3, much cheaper than most commercial premium ice-creams – and obviously with no artificial ingredients!
What could be better than homemade ice cream – and with plenty of fruit. Like apple crumble and ice cream all together!
It is so good to make your own ice creams. It's cheaper, more nutritious and of course you know exactly what has gone into them. The same goes for fruit yoghurts too – make your own!!
Homemade Ice Cream
I do have an ice cream maker which makes the process quicker, but all it does really is speed up the freezing process, so you can eat it sooner. If you make it without, you just have to remember to take it out of the freezer every two hours to give it all a good stir – (and you can even lick the spoon afterwards!!). If you are using an ice cream maker, ensure it is in the freezer 24 hours before you want to use it.
You could try this recipe with any type of apple, it could be a good way of using up surplus on an apple tree! You may need to use a bit less sugar if you use a sweeter apple. I have used a mix of double cream and greek yoghurt. You could use all cream or all yoghurt if you prefer. Or use a lower fat ordinary yoghurt.
When making ice cream, make sure all your ingredients are as cold as possible. Keep the cream and yoghurt in the fridge up to the point where you need to add them. The recipe includes cooking apples and cooking the crumble so make sure these have completely cooled before mixing them in with the cream and yoghurt to make the ice cream.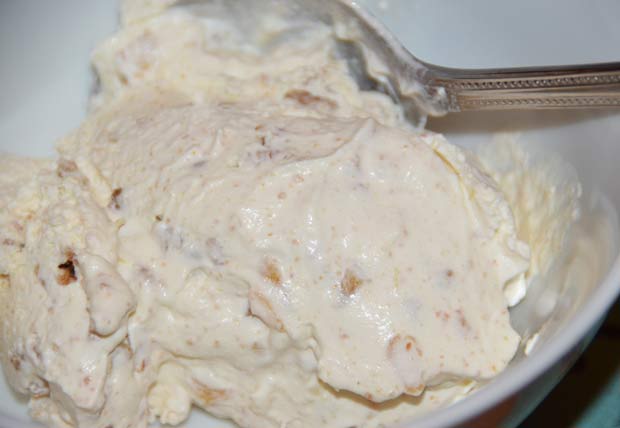 Apple Crumble Ice Cream
Delicious alternative to classic apple crumble pudding
Equipment
Ice cream make (optional)
Ingredients
2

large bramley apples - about 450g or 1lb

peeled and chopped

60

g

caster sugar

60

g

plain wholemeal flour

you can use white

30

g

butter or margarine

25

g

sugar

2

tablespoon

oats

300

ml

double cream

300

ml

Greek yoghurt
Instructions
Cook the Apples
Place the sugar and apples in a sauce pan, heat up and cook for about 10 minutes, or until soft

Leave to cool
Make the crumble
Rub the flour and butter with your fingertips until it looks like breadcrumbs

Stir in the oats

Spread out on a baking tray and bake in the oven at 180 degrees C for about 10 minuutes

Stir in the sugar and leave to cool
Make the Ice Cream
When the crumble mix and apples are cool, mix together the cream and yoghurt

Stir in the apple and crumble mixture
If using an ice cream maker:-
Start the ice cream maker going and spoon in the mixture

Keep it going until beginning to freeze

Spoon into a sealable freezable container and place in freezer for several hours
If not using an ice cream maker:-
Place in a freezable container, seal and put in the freezer

Remove every 2 hours to stir thoroughly and replace until frozen