Chocolate Orange Drizzle Cake – An Idea Shared
This chocolate orange drizzle cake recipe came about from one of those conversations you sometimes have about cooking. Sharing cooking tips and recipes is partly what this food blog is about. It is really fun to find out how other people cook and the various tweaks they make to different recipes that either sound really yummy to you – or not. And I love it when I mention something too that someone thinks is a good idea.
The idea for this chocolate orange cake, came about from a chat amongst friends, swapping recipe ideas
Because most cooking goes on behind closed doors we do not get the chance to learn how other people do things very often. And many people develop their own ways of doing things that they may not realise is unusual – we can all learn from each other
Talking Chocolate Orange Cake
A group of us were talking cakes and someone mentioned to me that they had the idea to put some melted chocolate into a cake, especially an orange drizzle cake – because then you have a chocolate orange cake! I thought that sounded great but I will be honest, I wasn't quite sure how it would work – but there is really only one way to find out!
I tried it out and here is the (delicious!) result – and it is definitely will be repeated. I based the recipe on the Lemon Drizzle Cake already on my website – but just used oranges instead.
I bought some good quality dark chocolate and melted it in a bowl over hot water and swirled some into the cake mix. They key is not to do too much stirring once you have put the chocolate liquid into the cake mix, so you end up with a marble effect. If you stir too much, you may end up with a completely light brown cake. It would still taste nice but may not look so good.
Birthday Cake
I made this as a birthday cake (for an adult), partly because it is a bit different and quite fun. I could have iced it but in my opinion too much sugar and icing can spoil a cake as it gets too sweet and sickly – so I just put some candles on the top.
Chocolate Orange Drizzle Cake Recipe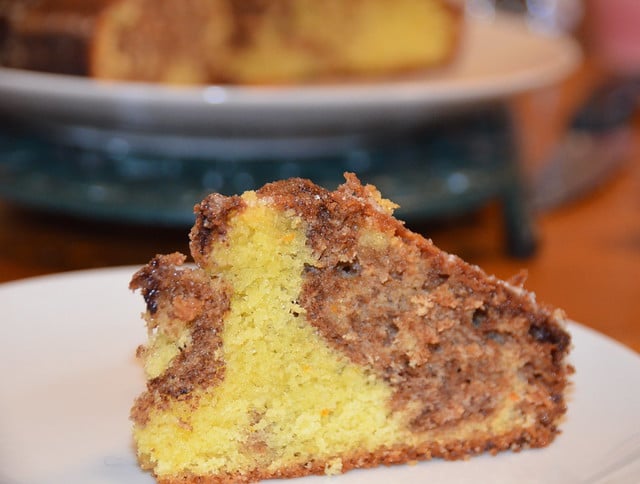 Ingredients
175g / 6oz

unsalted butter, softened

175g / 6oz

sugar

3

eggs

1 orange zest

finely grated

Juice of

1/2 an orange

175g / 6oz

self-raising flour

50g / 1.5oz

good quality, dark chocolate
For The Drizzle
1 orange

juiced

85g / 3oz

caster sugar
Cooking Directions
Preheat the oven to 180 degrees C
Mix together the butter and sugar, until it is a smooth cream
Add the eggs, one at a time, slowly mixing through
Sift the flour into the mixture
Add the orange zest and orange juice and stir until all of it is mixed
Grease a loaf tin or deep round cake tin and line with greaseproof paper
Spoon in the mixture and level the top with a spoon
Place the chocolate in a small plastic or metal bowl
Place over a saucepan of hot, nearly boiling water, stirring until it melts
Drizzle the choclate into the cake swirling as you go.
Use a metal knife to gently stir it into the cake – but do not over mix
Bake in the oven for about 45 minutes
Test to check if done by sliding a knife into the centre of the cake to see if it comes out clean; if there is any cake mix on it leave in for longer
Leave to cool in the tin

Make The Drizzle

Meanwhile mix together the orange juice and sugar to make the drizzle
Stab the warm cake all over with a fork and then pour over the drizzle – the juice will sink in and the sugar will make a lovely, crisp topping
Leave in the tin until completely cool, then remove and serve