Peanut Butter Cookies – Children's Favourite
When my children were little, I used to do a lot of baking with them and Peanut Butter Cookies were one of the favourites! I used simple recipes that they could get involved in – and produce things that they would enjoy eating! We had a wonderful children's cookery book with big pictures and simple instructions (the sort that I still like now!) The recipe book was My First Baking Book
These delicious peanut cookies are great for baking with children – but you don't have to have children to try them – adults like them too!
Recipe To Evoke Memories
A few(!) years have passed since I have baked Peanut Butter Cookies but when my (now grown up) son was home recently I was wondering what to bake. As he was tucking into a peanut butter sandwich it reminded me of the peanut butter cookies we used to make – really quite a long time ago. We used to bake them regularly and then we must have stopped at some point and I wonder why?
Anyway I was excited at the thought of making them again but I really hadn't bargained for how making them would bring back those early years of motherhood to me. The smell and texture of the dough reminded me of the whole atmosphere and the sights and sounds of those years – toddlerhood to first school days. Amazing what food can evoke! I think it is the effect food has that keeps families reuniting around a table and eating dishes that were traditional in the family
My Mother's Yorkshire puddings and her sherry trifle send me back to my childhood days as well as pickled eggs! What foods take you on a trip down memory lane?
Easy Peanut Butter Cookie Recipe
This recipe is really simple and makes really delicious cookies – for adults and children. It is easy enough for children to have a go – and most children like peanut butter. I guess these would not be allowed in the lunch box at school due to potential of people with peanut allergies, but they are great for an after school snack.
Peanut Butter Cookies
Makes 18 cookies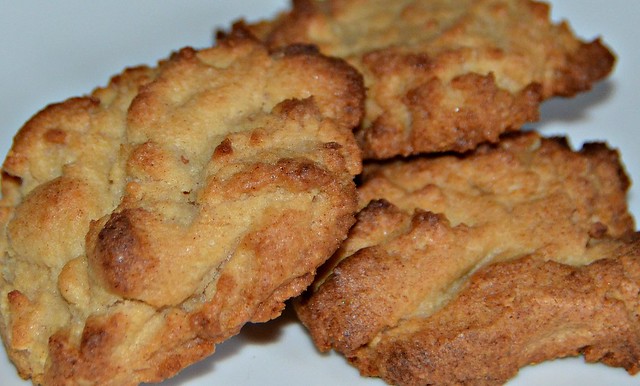 Ingredients
125g / 4oz

butter

125g / 4oz

brown sugar

140g / 5oz

peanut butter

175g / 6oz

self-raising flour

1

egg
Cooking Directions
Pre-heat the oven to 180 degrees C
in a bowl cream together the butter and sugar
Add the peanut butter and mix in
Add the egg and beat into the mix
Add the flour and mix in – it makes quite a stiff mix
Grease a baking tray or line with greaseproof paper or a teflon baking mat
Use two teaspoons to spoon on small blobs of the cookies onto the tray – you may need two baking trays (or cook two batches) – it makes about 18 cookies
Bake in the oven for 12-15 minutes until nicely brown