Bacon And Brie
A real treat for a lunch time meal or a lazy Sunday brunch is a bacon and brie roll. It is the sort of thing potentially that you might buy when you are out for breakfast or lunch but not make at home. And yet it is so easy to make at home. If you like it cold you might even make it for a packed lunch too!
I enjoy it with a large mug of tea and the Saturday or Sunday papers or good book (I get most of my reading books from the library – even the latest ones that can be reserved for a small fee. It's a great way to get your favourite books soon after publication but at no or little cost. Plus if we don't use libraries, they could be closed and that would be disastrous for many people and children)
Brie, Camembert Or Blue Cheese
It doesn't have to be brie either. Choose the cheese you love or happen to have in your fridge. It's a good way to use up any odds and ends of cheese that may be past displaying on the cheeseboard! I like it with Camembert or blue cheese. May be even some red leicester. Almost any cheese will do. In spite of my love of local food I still prefer genuine french brie rather than Somerset brie!
For the bacon I prefer unsmoked back bacon with the fat trimmed off, but you can have the bacon you most enjoy. I prefer to buy bacon from a local butcher. It really does taste better and is not more expensive than the supermarket. usually. Plus you can buy only what you need rather than being forced to buy a packet with probably 8 pieces.
A granary bap, white or wholemeal, use your favourite bread. Or even home bake some rolls! It is also wonderful in ciabatta roll. For you bacon butty treat you can use what you have to hand.
Grill Or Dry Fry
I find it easy to dry fry the bacon. I just put the rashers of bacon in a frying pan and turn up the heat. There will be plenty of fat in the bacon already, which will run out when heated. There really is no need to add any fat, even with really lean bacon. Doing this makes it healthier and lower calorie – and it is easy to wash afterwards
If you prefer to grill, go ahead.
Warm Cheese
I like my brie ripe and a little runny. In order to warm it a little for the bap, once the bacon is nearly cooked, place a slice on top of the cooking bacon in the frying pan so it warms and melts a little before placing in the bap. Place it in the bread and gently squeeze. Serve immediately with a good strong cup of tea!
What is your favourite brunch treat?
The recipe below serves 1. Just multiply each ingredient by the number of people you are cooking for.
Bacon And Brie Butty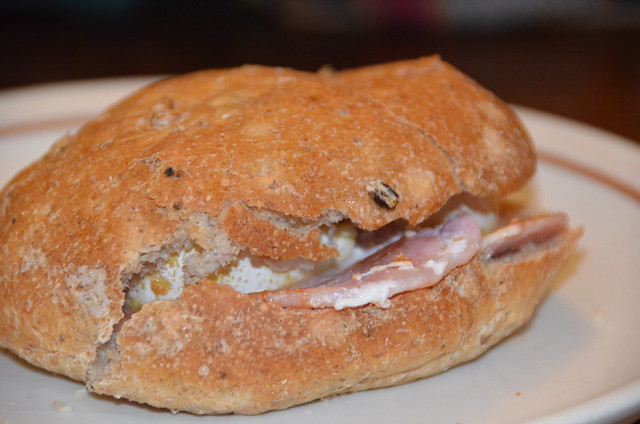 Prep time: 2 minutes
Cook time: 7 minutes
Total time: 9 minutes
Ingredients
2

rashers of back bacon (smoked or unsmoked)

2 slices

brie, camembert or other cheese

1 large or 2 small

granary, wholemeal or white baps
Cooking Directions
Place the bacon rashers in a medium frying pan
Place on the hob over a medium to high heat
Cook for 5-6 minutes turning occasionally until brown and cooked
Place a slice of cheese on top of each piece for a minute or so to let it warm and soften
Slice the bap in half
Place the bacon with the cheese in the bap(s)
Eat immediately with a large mug of tea or coffee
Enjoy relaxing with music, a good book or the papers