Freshly Baked Bread Rolls
There are few things so good as the smell of freshly baked bread! And when you make bread at home, you get the whole kitchen smelling of that sweet aroma! And home baked bread tastes so much better than the commercially cooked bread.
In fact someone commented to me recently that the expression the best thing since sliced bread is a complete misnomer! It should may be the worst thing since sliced bread!
Isn't the aroma of fresh bread baking everyone's favourite? These delicious white rolls are simple to make, low cost and make your kitchen smell as good as they taste!
Making Your Own Bread
I started baking my own bread a few years ago, initially using a bread making machine but I then became tempted to get my hands in the flour and knead some dough myself! Once I started doing this I realised how therapeutic a bit of kneading is and I was converted for life to make my own bread. OK of course I sometimes buy it when life gets in the way of breadmaking, but I do usually make my own bread.
I make Spelt Bread, Wholemeal and basic Farmhouse style white bread – and these bread rolls. You can make bread rolls with exactly the same recipe as the white loaf but in this recipe I have added milk with the water to give a sweeter, softer flavour
Takes Time – But Not Your Time
People can be put off making bread because of the time it takes. And although the process does take about 3 hours from start to finish the amount of time demanded from you is 20-25 minutes and most of that is kneading which could be regarded as time out listening to the radio or meditating while you hands and arms get some gentle exercise! Not only that, the results are delicious!
How To Make White Bread Rolls
I make 8 medium rolls with this recipe but you could make more or less depending on the size you like them to be. You can influence their shape too by putting them close together on the baking tray so that as they cook, they touch and rise upwards more. When you pull them apart, the sides are soft too. Experiment with shapes and sizes, just adjust the cooking time as smaller rolls will take less time to cook, and larger ones, more time.
Bread Making Hints
The liquid should only be tepid, warm – too hot and it will kill off the yeast
Don't worry too much about technique of kneading just push the dough down, stretch and fold – and enjoy!!
Don't worry if your dough is a little sticky to start with – it will get smoother as you knead
Knead for at least 10 minutes – you will feel the dough change and become more elastic and smooth
White Bread Rolls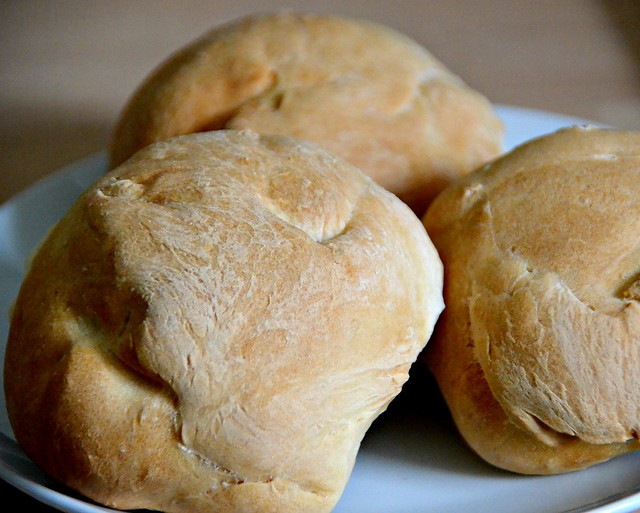 Ingredients
450g / 1lb

strong white flour

1 teaspoon

sugar

1 teaspoon

salt

1 tablespoon

olive oil

1 teaspoon

dried yeast

150ml

warm milk

150ml

warm water
Cooking Directions
Place the flour in a large bowl
Add the sugar and slat and stir to mix
Add the yeast and stir
Add the oil to the water nad milk and stir
Pour into the flour mix and stir
Combine with a wooden spoon
Lift the dough out with your hands and place on a work surface
Begin to knead by drawing folding the dough over and over, pushing it away and then folding it back
Keep kneading for at least 10 minutes until the dough is smooth and stretchy
Place in the bowl and cover with a tea towel or cling film
Leave in a warm place for about 90 minutes until it has doubled in size
Line or oil a baking sheet
Remove the dough from the bowl and knock aout the air and knead for a couple of minutes
Shape into an oblong and cut into 8 equal pieces
Shape each piece of dough into a round and place on the baking sheet
Cover with a towel and leave for about an hour to double in size
When almost ready, preheat the oven to 180 degrees C
Remove the towel and bake in the oven for about 10-12 minutes until golden brown
Remove from oven and place rolls on a wire rack to cool
Enjoy while still warm!
Will keep for a couple of days in an airtight container.