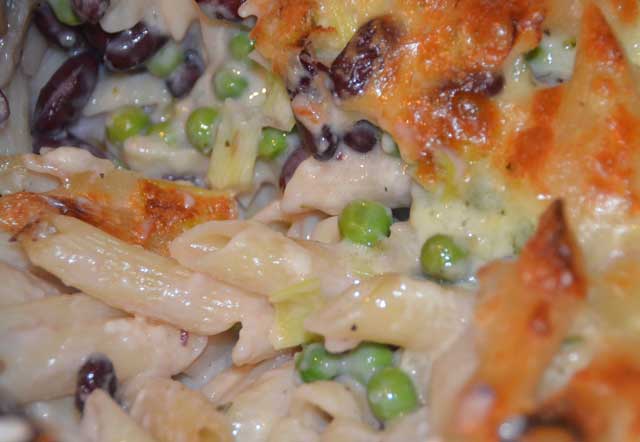 Vegetable Macaroni Cheese
Macaroni cheese is a real family favourite, but sometimes it is a bit on the heavy side – and lacking in vegetables. I often serve it with peas, especially as I love Pasta, Peas and Cheese but I cooked up this recipe to get all the loveliness of macaroni cheese but with beans and vegetables.
Store Cupboard Vegetables
This recipe uses store cupboard ingredients of frozen peas and kidney beans. And leeks but you could use onion instead.
I always have frozen peas in the freezer. They are a great standby vegetable that goes with most things. I tend to buy the packet that is the supermarkets basic or value range as I think they are just as good as the more premium brands – especially if you are putting them in stew, casseroles or pasta bakes.
Macaroni Cheese is wonderful, but this a delicious version with more vitamins and nutrients that is low cost and easy to make too
It is always a good idea to have some tins of pulses in the cupboard.
Peas – Fresh Or Frozen
Peas are one thing that I rarely buy fresh. Although home grown fresh peas are the best – and lovely raw! I have a string memory of visiting my Grandparents and being sent into the garden for a while were I was allowed to pick a few pea pods and eat the contents and I remember how sweet they tasted and what a treat it was – As good as any sweets! And I remember sitting and podding the peas with my Grandma. So they are wonderful when home grown but I rarely buy them fresh
Peas are frozen quickly and retain texture and taste, as well as their nutrients. Reading around there seems to be a general consensus that unless you grow them yourself and east them within a couple of hours of picking, frozen are tastier than fresh. Peas get taken for granted really and ar enot seen as especially health giving and yet they are high in vitamins, protein and fibre and provide a lot of nutrition
Kidney Beans
You can use any pulse in this recipe – kidney beans, chickpeas, cannellini etc. If you are using tinned beans, kidney beans are often the cheapest as they can usually be found in a supermarkets value or basics range. Full of fibre, vitamins and protein they are an excellent food.
Pasta Shapes
This recipe is best made with penne pasta but use other shapes such as macaroni, spirali or shells, wholewheat or white.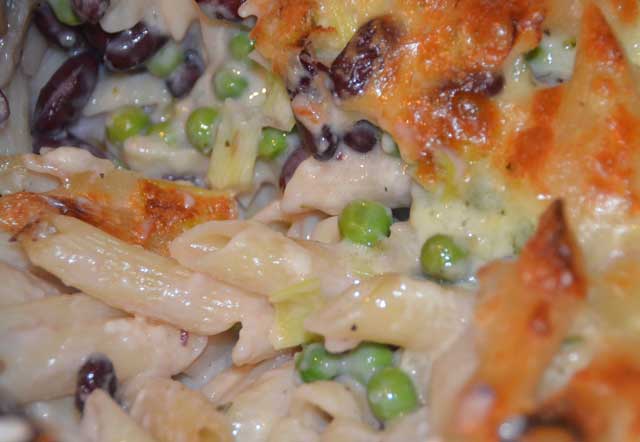 Cheesy Vegetable Pasta
Simple vegetarian pasta supper
Ingredients
350

g

penne pasta

1

leek

sliced

150

g

frozen peas

1

tablespoon

olive oil

2

garlic cloves

crushed

25

g

cornflour

400

ml

milk

1

teaspoon

dried oregano

30

g

parmesan

125

g

cheddar cheese

grated

400

g

can kidney beans

drained

salt and pepper to season
Instructions
Preheat the oven to 190 degrees C

Put the pasta in a large saucepan of boiling water and cook according to pack instructions

Meanwhile heat olive oil in a saucepan

Add the leek and fry until turning soft

Add the peas and cook for a couple of minutes

Add the garlic

Add th cornflour and stir

Pour in the milk while stirring

Keep stirring until the white sauce thickens

Season with a pinch of salt and freshly ground black pepper

Add the oregano

Drain the pasta when cooked

Stir the kidney beans into the pasta

Stir in the leek and pea sauce

Add the parmesan and half the cheddar

Place in a casserole or large baking dish

Sprinkle the remaining cheese on top

Bake for about 30 minutes until bubbling and brown on top