Blue Cheese Sauce For Pasta
Blue cheese always adds flavour to food in a delightful way. It is great for use in sauces with pasta and vegetables – giving the vegetable flavours and extra kick! It is especially good when melted in cream
Who doesn't love a good blue cheese sauce made with cream, served with vegetables and pasta?
I love blue cheese in cooking but am not so keen on it on the cheese board so it definitely needed to go into a recipe. I already have a couple of blue cheese based recipes – Cauliflower and Blue Cheese Soup is a firm favourite, but I wanted to try something new.
Vegetables In Blue Cheese Sauce
I also had a little bit of cream left from the Apple Snow I made at the weekend. Blue cheese and cream is certainly a good start to a dish and would make a good sauce. I was already thinking vegetables and pasta and knew I had some courgette and celery in the fridge. The plan was beginning to come together!
I tend to always have some celery in the fridge as it is so good to add to soups and stews. I also had some courgettes so the meal was certainly taking shape. Courgettes with blue cheese and cream was certainly sounding good with a bit of celery added too along with some onion and garlic. All served on a bed of pasta
Well this is a fabulous easy meal – all the flavours worked so well together. As for cost the whole thing would cot about £3.50 for four people. It is very tasty. It would be marvellous as a Saturday supper.
Courgettes
Courgettes do have an affinity with cheese and many courgette recipes include some. In fact I really enjoy courgettes just smothered in a cheese sauce – I believe it was how I first had them.
Courgettes With Blue Cheese Sauce And Pasta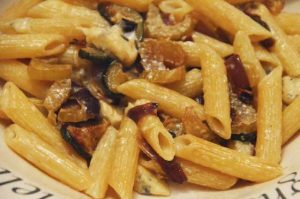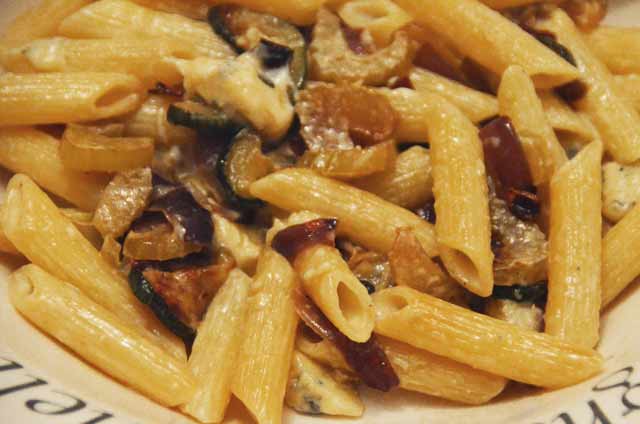 Ingredients
1 tablespoon

olive oil

1 red onion

peeled and sliced

2 courgettes

thinly sliced

2 sticks

celery, sliced

350g

pasta shapes

100g / 3oz

blue cheese

100ml

double cream
Cooking Directions
Place the pasta in plenty of boiling water
Cook according to pack instructions
Meanwhile heat the oil in a frying pan
Add the onion and fry for a couple of minutes
Add the celery and cook for 5 minutes
Add the courgettes and cook until soft
When the pasta is cooked, drain
Add the cream to the pasta and stir
Crumble in the blues cheese and stir until mostly melted
Add to the courgette, onion and celery and stir
Serve immediately