Halloumi Cheese With Rice
This recipe was actually inspired when I was travelling and looking for something for lunch. I came across a salad made from halloumi cheese and wild rice that was spiced with chilli. I decided to try to make a supper recipe with similar ingredients. This dish is meant to be eaten hot but it would also be good to have leftovers for a packed lunch the next day. Or it could be served as a salad as part of a buffet.
Halloumi Cheese is very versatile and is delicious flavoured with chilli and ginger in this easy supper recipe
Halloumi cheese is available in supermarkets and is wonderful for vegetarian dishes. It keeps its shape when cooked and adds substance and a salty flavour to many dishes. You may already have tried Stuffed Peppers with Halloumi Cheese or Halloumi Cheese With Chickpeas
Unopened, halloumi cheese keeps for many months as it is packed in brine so it is a great store cupboard ingredient.
You can even buy a kit to make Halloumi at home!
Wild Rice
Wild rice makes a lovely change from plain rice. The wild rice you buy in the supermarkets is actually a mix of rice and wild rice. Wild rice is a seed of a grass grown in North America. rather than a grain so is quite different from other rice but it cooks well with it.
You could use the rice you have in your cupboard for this recipe too.
Halloumi Cheese Recipe With Rice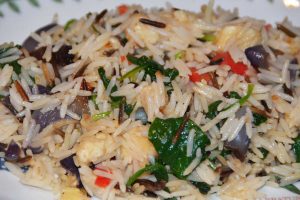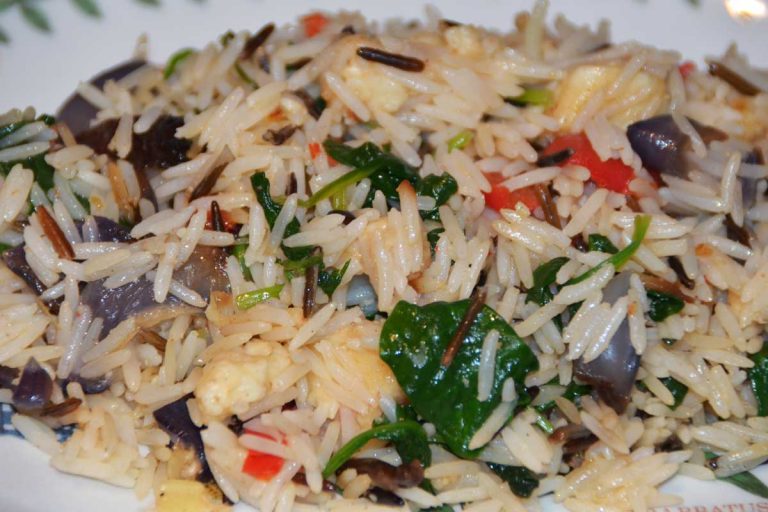 Ingredients
250g

wild rice

200g

halloumi cheese

1 large

red pepper

1 medium

red onion

150g

baby spinach leaves

2 tablespoons

olive oil

1

red chilli

1/2 inch

root ginger

2 cloves

garlic
Cooking Directions
Pre-heat the oven to 185 degrees C
Slice the onion
Slice the red pepper
Place the onion and pepper on a baking tray and sprinkle with olive oil
Bake in the oven for around 20 minutes until soft and starting to char
Meanwhile place the wild rice in boiling water and simmer for about 20 minutes
Chop the halloumi cheese into cubes
Chop the chilli and ginger quite finely
Heat a tablespoon of olive oil in a large heavy bottomed saucepan
Add the cheese, chilli, garlic and ginger and cook for about 5 minutes, stirring frequently. Add the spinach and cook until wilted
Remove the pepper and onion from the oven and chop the pepper into smaller pieces
Stir into the pan with the cheese, spinach and chilli.
Once the rice is cooked, drain thoroughly and stir into the cheese mixture.
Serve immediately