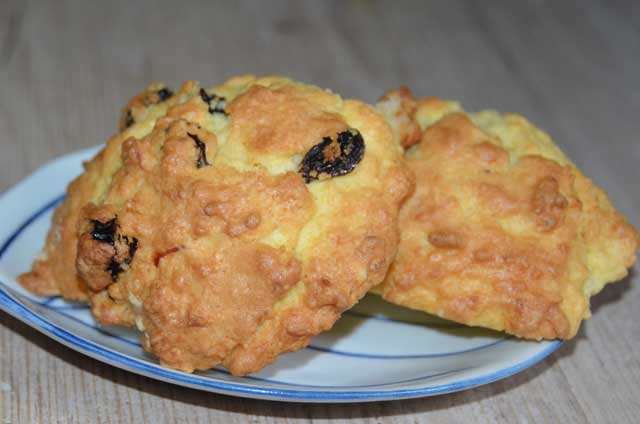 Coconut Buns Recipe
This Coconut Bun recipe is based on an entry in my Grandmother's handwritten recipe book. It is full of traditional – and in some cases long forgotten recipes. And yet I love the simplicity of most of the recipes. And sometimes they are written with scant instructions – because most people knew how to cook and there is no need to fill in every detail of how to make a cake!
These sweet buns recipe is easy and quick to make and are a more unusual treat with the addition of raisins
A Recipe Adapted
I do find I sometimes have to interpret and adapt the recipes from my Grandmother's book – not least that they use old measurements such as gills for example. And that would be an imperial gill not a US gill! That was the case in the Sultana Tea Loaf recipe.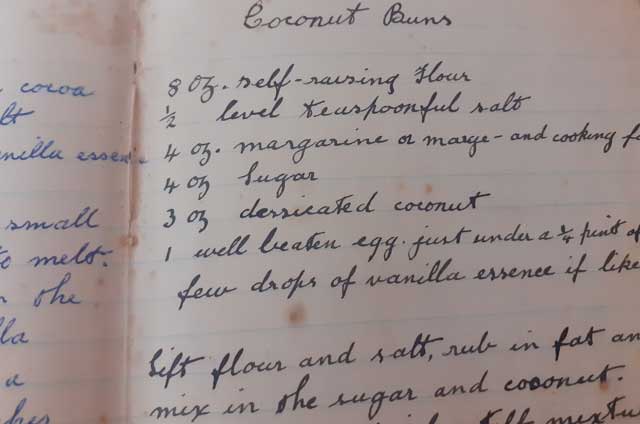 Looking around there are no really traditional Coconut Bun recipes I think so I don't know if was a common recipe of its time. There are quite a few recipes in the handwritten book that use coconut, though
A Word On Eggs
I was lucky enough to be given some duck eggs and I had heard they are very good for baking so I tried them in this recipe. Of course chicken eggs will be fine. On doing some research it seems a one to one substitution is fine . Duck eggs are bigger but they have thicker skins. Also they have more yolk to white than chicken eggs – so the liquid content ends up being similar.
Anyway the one to one substitution was fine. I also tried using them for the Lemon Yoghurt Cake with splendid results. So if you do get a chance to have some duck eggs – do give it a try.
The original recipe has only one egg and then 1/4 pint of milk. I used two eggs and just 2 tablespoons of milk, but if you are short of eggs you could use the milk option instead!
Coconut Buns With Raisins
I added some raisins to the buns as an extra moistness, flavour, sweetness and texture but you can just leave them plain. I think glace cherries would be nice but I can't seem to get hold of any at the moment!
You will need a baking tray. Grease the baking tray or make use of the silicone baking sheets
Coconut Bun Recipe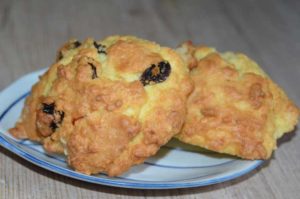 Ingredients
225g / 8oz

self-raising flour

125g / 4oz

butter or margarine

110g / 3oz

caster sugar

110g / 3oz

dessicated coconut

85g / 2oz

raisins

2

eggs, beaten

2 tablespoons

milk
Cooking Directions
Preheat the oven to 180 degrees C
Sift the flour into a bowl
Rub in the butter or margarine until it looks like breadcrumbs
Stir in the sugar, raisins and coconut
Add the egg and milk and stir into a dough
Grease a baking tray
Using two dessert spoons make a 9-12 blobs of dough – use one spoon to scoop up the dough and the other to scrape it off the spoon on to the baking tray
Bake for about 25 minutes until golden brown