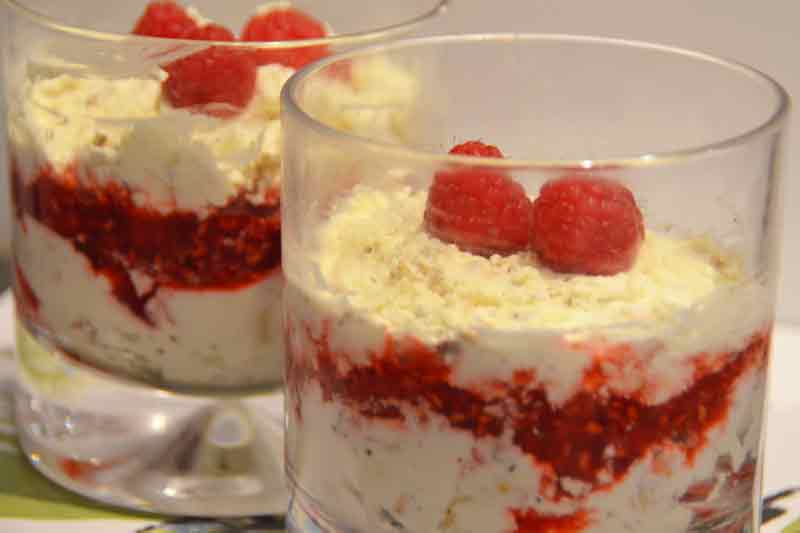 Traditional Scottish Dessert
Before I moved to Scotland I had not heard of Cranachan – the traditional Scottish dessert. It celebrates the best of Scottish ingredients including raspberries, oats, honey and whisky. If you were making a true traditional dessert you might also include Crowdie – a marvellous and ancient Scottish curd cheese. To make things simpler this recipe uses double cream instead.
Cranachan is a traditional Scottish dessert that includes all the best of Scottish ingredients – whisky, oats, cream, raspberry and honey. What is not to like!!
Cranachan is really easy to make too! Just 10 minutes putting the ingredients together and you have a delicious dessert. Great option for dinner parties – impressive and easy! You can always leave the whisky out of some portions if you have some non-drinkers amongst your guests.
It is an interesting alternative to Raspberry Fool or Raspberry Syllabub
Celebration Time
Cranachan was a dessert to celebrate the harvest of Scottish raspberries in the summer time. That of course makes perfect sense and you will get the best and most delicious ripe Scottish raspberries at that time. However this dessert is also associated with other Scottish celebrations such as Hogmanay and Burns Night supper.
As we are approaching the 25th January – the birth date of Robbie Burns – and as we can not attend a Burns Night Supper this year I decide to make a Cranachan at home to celebrate the day in style!
Vary And Enjoy!
This isn't a recipe to take too literally – take the quantities as a guide only and adapt to suit your tastes. For example you may like more (or less) whisky in your cream. Taste as you go and adjust as appropriate. If you don't have quite the amount of raspberries, or cream – that doesn't stop you making the dessert.
You can also use frozen (thawed) raspberries if you can't get hold of fresh. You can substitute other berries (strawberries, blackberries) if you don't mind going away from tradition. The same is true of the whisky – use rum, brandy or sherry.
And the presentation doesn't have to be perfect either!
Make And Eat
This is one recipe that you need to make quite closely to when you will eat it to enjoy it at its best. The oats are toasted and then folded into the cream for extra crunch and flavour. If you leave in the fridge for many hours the oats will lose their crunch. Of course you may prefer it like this – in which case go ahead!
This is fun to put together. Try finding some Burns songs or poems to have recited to you whilst you are making it. Below is My Love is Like a Red, Red, Rose – a favourite of my parents'
Serving Bowls
Cranachan is best served in a glass. I used thick bottomed whisky glasses for mine – it just seemed right. Use glass tumblers, wine glasses – or glass dessert dishes. It is good to see the layers of cream and raspberries and is part of the eating enjoyment!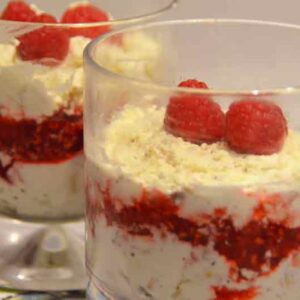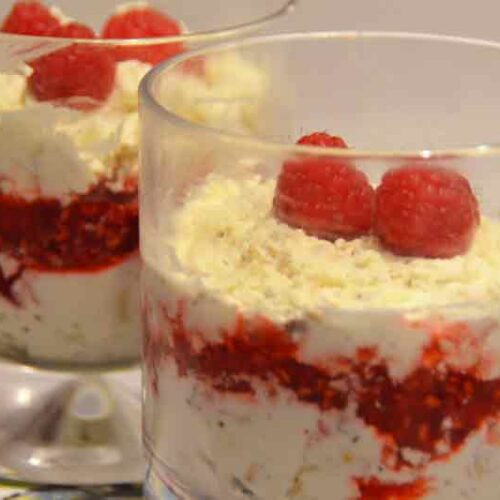 Cranachan
Traditional Scottish Dessert
Ingredients
300

ml

double cream

300

g

raspberries

2

tbsp

honey

2

tbsp

whisky

75

g

oats
Instructions
Gently toast the oats in a frying pan on the hob, stirring frequently until golden brown and smelling toasted

Whisk the cream until it is stiff

Stir the honey and whisky gently into the cream. Taste and add more if desired

Reserve a few whole raspberries for decoration

Mash the raspberries to a rough puree

Stir the cooled oats into the cream, gently

Divide the cream in half and then put an equal amount from the half into each of the glass serving dishes.

Put an equal amount of raspberries in each glass on top - using all but the reserved raspberries.

Put another layer of cream on top with the remaining cream

Top each dessert with whole raspberries.

Refrigerate. Serve within a few hours