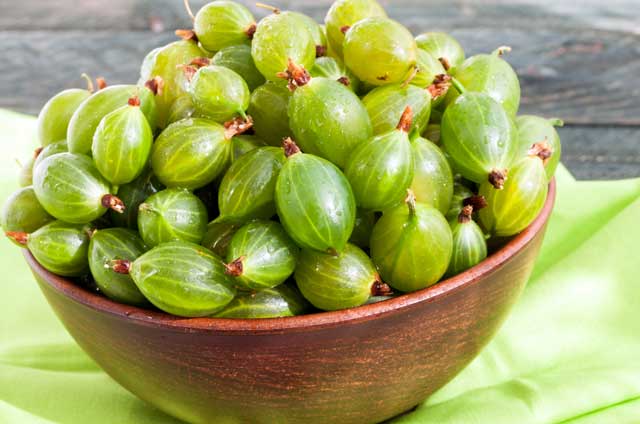 Gooseberries
Gooseberries, one of the first soft fruits of the seasonal year, are amongst Britain's oldest. They were very popular and common in the 19th century for wine, preserves, pudding and pies, but sadly their popularity seems to have waned through the years.
Happily Egton Bridge in North Yorkshire certainly keeps the popularity of the fruit alive with an annual Gooseberry show in August. Here can be found competitions for the heaviest gooseberry. There were once many shows of the kind throughout the North of England.
With the greater interest today in cooking seasonal, local fruit, it is to be hoped that the gooseberry will have a revival. As a nation we may have forgotten how to stew gooseberries, but they are still as delicious and nutritious as ever, being rich in vitamins A and C.
Whether it is gooseberry fool, gooseberry pie, or gooseberry crumble, that you prefer, they all start off with stewed gooseberries. Cook them gently and slowly until soft. They do vary in tartness, so go easy on the sugar until you have had chance to taste them.
As well as simple pudding recipes for gooseberries, there used to be recipes for gooseberries for savoury meals. For example, Gooseberries with Mackerel was very popular in Victorian times and they are also known to go well with duck and goose.
Do come back here to find further gooseberry recipes. In the meantime, if you have any favourite gooseberry recipes you would be willing to share, contact me or place a comment below.
Gooseberry Recipes