Homemade Mincemeat
When Christmas is coming, one of the easiest traditional Christmas foods to make at home is mince pies. Once you have made your own mince pies, you may never go back to shop bought. Whether or not you make your own Christmas puddings or Christmas Cakes, making mince pies is so simple and fun to do – and so much less expensive than buying them. And you can make them at short notice for unexpected visitors. After all warm mince pies, straight from the oven, are the best!
I also make my own homemade mincemeat because it just tastes so much better than anything else – and you can choose what goes into the mincemeat. It is also ridiculously easy – if you have never tried it before, just have a look at how simple it is to make – really – it takes just a few minutes to mix and stir.
What could be better to get you in the Christmas mood than a bit of baking. Whack on the Christmas tunes and get your pinny on for mince pies!
Easy To Make Mince Pies
Making mince pies is just a case of making up some pastry, rolling it out, cutting out rounds and filling them with mincemeat – either your own homemade or shop bought.
All you need to make mince pies is some plain flour, some margarine, some cold water and some Mincemeat. If you wish to make your own mincemeat, refer to the recipe here. If you are new to pastry making, this is a good, simple place to start and with some immediate and yummy results!
Christmas Spirit
So pop on your apron, find your Cliff Richard collection (Slade, the Pogues, Bing Crosby, Wizard, Band Aid, Carols from Kings, Handel's Messiah, Best Christmas Songs Ever!), turn up the volume and get cooking! Just the smell of the mincemeat will get you in the Christmassy mood.
Here is White Christmas to get you started!
Sharing mince pies, or any food, is a simple way to express some Christmas spirit through giving, especially when it is made through your own labours.
If you are struggling to think of presents to give to friends or relations, consider giving them a gift of food – especially something you have made yourself. And while you are in pastry making mood, make twice the quantity of pastry and make a quiche for tea – or to pop in the freezer as a stand by for the festive season – whether for unexpected guests or to give yourself a day off from cooking!
Cooking Notes
You will also need a mince pie tin, and some pastry cutters
Makes about 12 mince pies
Mince Pies Recipe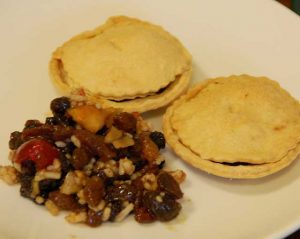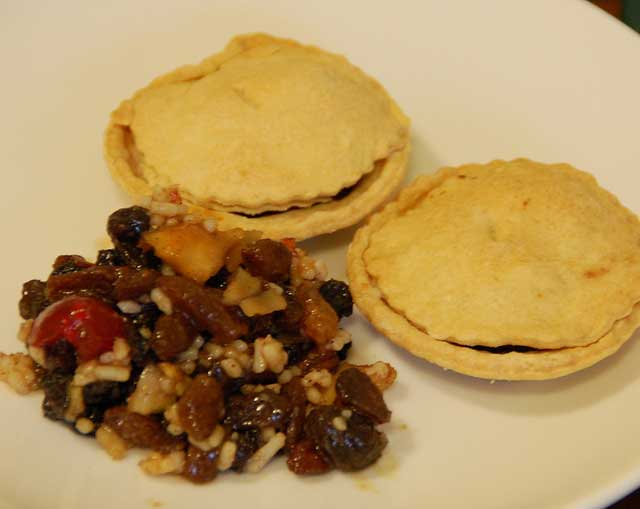 Ingredients
140g / 5oz

plain flour

70g / 2.5oz

margarine

3-4 tablespoons

water

A little flour

for dusting
Cooking Directions
Lightly sieve the flour into the bowl (sieving is worth it, for lighter pastry)
With cool hands and just your fingertips, rub the margarine into the flour as quickly, and lightly as possible
When it looks like breadcrumbs, sprinkle over the water and draw the pastry into a ball
Place in a polythene bag in the fridge for 30 minutes to 'rest'
Meanwhile, grease the tart tin with some butter
Get out 2 teaspoons for the mince meat, and your cutters
Dust the rolling out surface and the rolling pin with flour
Preheat the oven to 180 degrees C
Divide the pastry in two, with one half a little bigger than the other
Roll out the larger piece, as thinly as possible
Using the larger cutter, cut out rounds in the pastry
Place each round in a hole in the tart/mince pie tin
Scoop up the pastry, form into a ball, roll out and cut more rounds
When all the pastry has been used, get the mincemeat
Use about one teaspoonful for each pie
Scoop out the mincemeat with one teaspoon, and scrape into the pastry with the other
Roll out the remaining pastry and cut out the tops
Carefully place the tops on the mincemeat
Gently squeeze the edges to ensure the top stays secure
If using a shape just nip it where the shape touches the bottom pastry
If you want a glossy top, brush the tops with a beaten egg (I tend not to bother)
Bake in the oven for 20-25 minutes
Leave to cool on a wire rack
Dust with icing sugar if desired