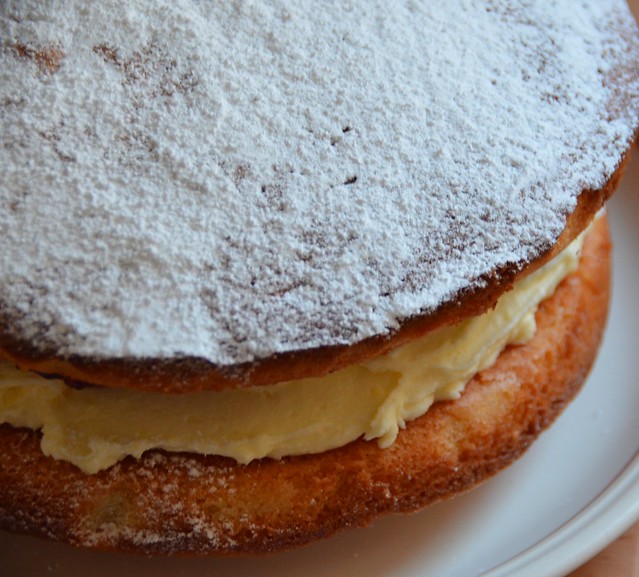 Victoria Sponge – Perfect Cake For Sharing
Victoria sponge cake is the simplest cake recipes of them all. And isn't it just sometimes wonderful to have a traditional, simple cake? Amongst friends there is a lot that can be resolved over tea and cake. Tears can be dried, problems solved and new ideas and plans hatched – all with the comfort and distraction of a well baked cake.
Fancy cup cakes have their place, Coffee Cake and Lemon Drizzle are welcome at times. But you can't beat a Victoria sponge to help you drink your tea and put a little sweetness into your life.
Tea and cake – such a simple pleasure, thoroughly delightful, and a plain cake, well made is perfect
Of course you can always jazz up your cake with a little flavouring or some real fruit. My favourite though is a filling of buttercream icing and raspberry jam and a dusting of icing sugar on top.
Or why not make it special with fresh raspberries and whipped cream?
Why Victoria?
Why is Victoria sponge so called? Well unsurprisingly, it seems it was named after Queen Victoria, who enjoyed the cake. Apparently it was a lady in waiting to Queen Victoria, the Duchess of Bedford, who started the concept of afternoon tea with cake, something the Queen soon decided to partake in as well. A recipe for Victoria sponge can be found in Mrs Beetons' cookery book.

Equal Flour, Butter, Sugar
There are some variations of the recipe around but it is still a basic cake, with equal amounts of flour, butter (or margarine) and sugar, with eggs. Sometimes made with 125g (4oz) of each and sometimes with 175g (6 ozs, the result is the same, just a bit bigger.)
Some fill it with jam only, some with jam and cream, and some with jam and butter icing. Then there are 'posher' versions which use real, whole raspberries, strawberries or other fruit. Very refreshing and delicious! I would use good quality jam, if you can, though. Or even puree some frozen or tinned fruit. You see really you can make this cake as plain or as posh as you like!
For anyone starting to learn to bake cakes, this is certainly a good recipe being the simplest cake, and the basis for most other cakes, and you should get good results.
It is good done in a food processor to get lots of air in and a smooth mixture, but a bit like kneading dough for bread, it's good to get up close and personal with your cake mixture by using a bit of elbow grease, by mixing it in a large bowl. You may feel very 1950s!
And you can lick the wooden spoon afterwards. And lets face it – having a bit of raw cake mix is one of the pleasures of baking (WARNING! – remember cake mix contains raw eggs – so not for people who should not have them such as the very young, the elderly and pregnant women)
Make sure your butter or margarine is left at room temperature for a while before commencing, as it makes the creaming process much easier if it is soft, especially if you are doing it by hand with a wooden spoon.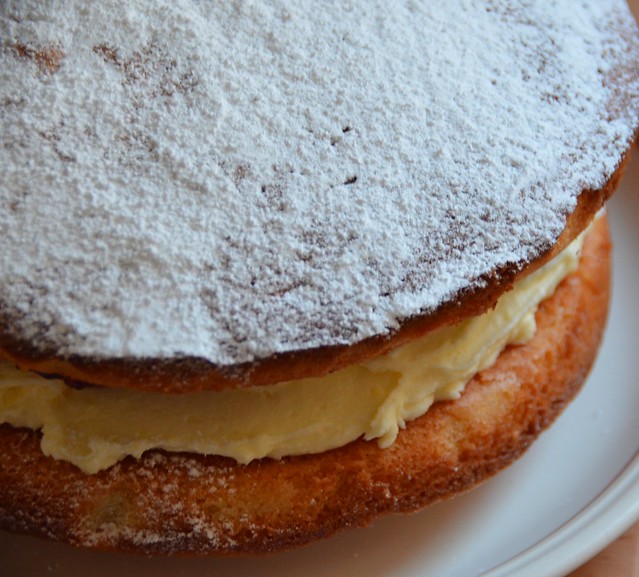 Victoria Sponge
Equipment
2 x 18cm cake sandwich tins
Ingredients
175

g

butter or margarine

soft

175

g

caster sugar

3

eggs

175

g

self-raising flour
Butter Icing
140

g

butter

softened

280

g

icing sugar
For the Filling
2

tablespoons

strawberry jam
Instructions
To Make the Cake
Preheat the oven to 180 degrees C

Grease two 18cm / 7in cake tins

Put the butter and sugar in a bowl and cream together until light and fluffy

Beat the eggs in, one at a time with a little flour, to prevent curdling

Add the reamining flour and beat well

Divide the mixture between the two cake tins

Place in the oven for 20 minutes or until the cakes are brown and springy

Allow to cool a little, then turn out onto a wire rack

Allow to cool completely
For the Buttercream Filling
Do use real butter for the butter icing for the best flavour

Using a wooden spoon or a food processor,beat the butter until smooth

Add the icing sugar and mix in well
Making Up the Cake
When the cake is completely cool, spread one side with butter icing and the other with jam

Place the jam side on top of the other sandwich

Using a sieve, sprinkle with icing sugar