Burger And Chips
Who doesn't love burger and chips? And many people may be missing it right now because of the Coronavirus lock down. Well you can make it at home!
It is much lower cost when you cook it at home too!
When looking for meals on a budget, Burger and Chips makes an easy, low cost, good value family meal – much tastier and more economical than High Street fast food
Unhealthy Fast Food?
Burgers have not had the best press in the world – it has to be said. Often seen as the root cause of obesity, and the epitome of fast food, it seems to have a lot to answer for. And yet it is a simple meal, easy to put together and tasty food on a budget. It is a crowd pleaser. Most kids are going to eat their dinner when such a menu is on offer, and even tuck a way a few vegetables at the same time.
Burgers are made with minced beef. Many dishes in the British diet are made with minced beef – think Cottage Pie, Spaghetti Bolognese or Chilli con Carne to name but a few.
So it is possible to make burgers without them being the scourge that they are often represented as in the media. They are simple an excellent easy to prepare supper. Indeed, personally I would not advocate eating meat every single day. Partly because of cost (lentils and pulses or so much cheaper than meat) and partly because of other considerations (ecological and health). However as an enjoyable, easy, low cost meal – burgers are an excellent option.
A Simple, Homemade Treat
I like to keep things simple so this burger recipe is easy to make, with flavourings of cayenne pepper, mixed herbs and garlic. You can of course, vary the flavourings to suit your own tastes, so feel free to ring the changes.
The burgers are served, traditionally, in a white 'burger' bun.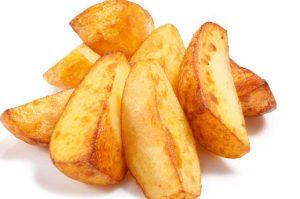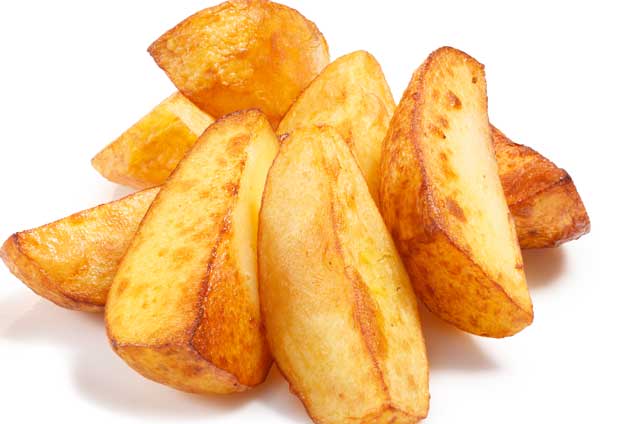 When it comes to chips, I cooked the potatoes as jacket wedges. They cook in the oven and do not require a pan full of fat. They will be lower fat than chips, as the wedges are bigger and you can control the amount of fat you add to them. But perhaps most importantly, they are really, really tasty!! Leave the skins on and you get more fibre and vitamins.
They can be cooked in the oven alongside the burgers so by 'oven sharing' you are cutting down on the total energy used. You can also go away and leave them for 20 minutes while they are all cooking, rather than having to attend an item on the hob. In busy family lives, this can be a great advantage too! Time to get something done, while dinner is cooking (or have 20 minutes with your feet up!)
Serving Suggestions
When serving your burgers – I think a slice of cheese and a slice of tomato is essential! Then a dollop of tomato ketchup. You may prefer mayonnaise or mustard – whatever your choice – just do your own thing. Blue cheese is good too!
Tip – make twice as many burgers than you will need and freeze half (raw) to make a a quick meal another day.

To Make the Chips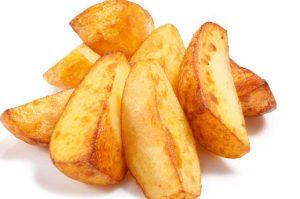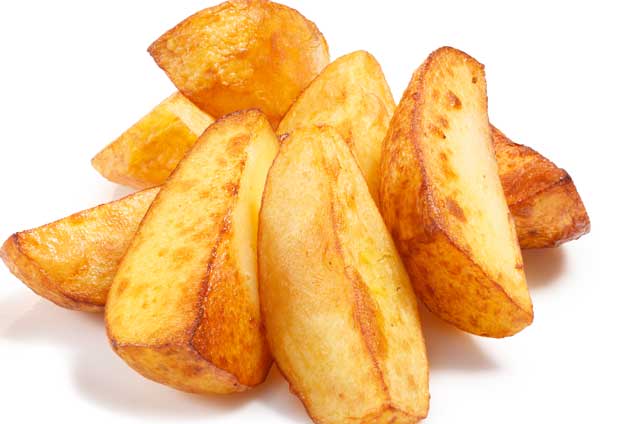 Ingredients
800g

potatoes

1 teaspoon

salt

1 tablespoon

sunflower oil
Cooking Directions
Preheat the oven to 200 degrees C
Chop the potatoes into chunky wedges of similar size
Place in a large saucepan and cover with boiling water
Bring back to the boil and simmer for 5 minutes (no longer)
Drain and pat dry on a tea towel or kitchen roll
Place the sunflower oil and salt in a large bowl
Put the potatoes in the bowl
Stir and shake to coat the potato wedges
Place them in a roasting tray and bake in the oven for 30 minutes
To Make Burgers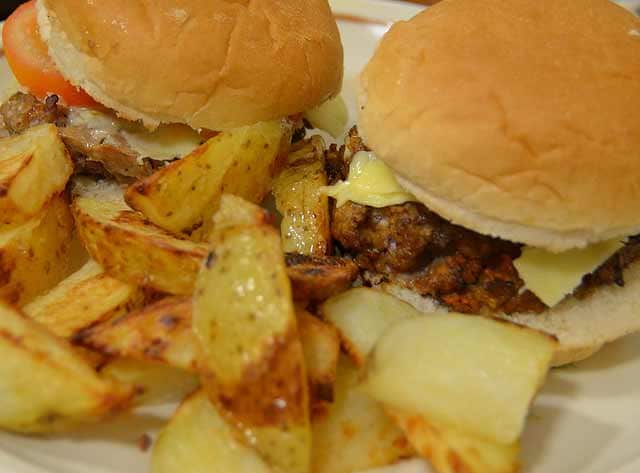 Ingredients
400g

minced beef

2 small onions

finely chopped

1 medium

free range egg

1/2 teaspoon

cayenne pepper -or-

1 teaspoon

chilli powder

1 teaspoon

mixed herbs

Pinch

of salt

1 dessertspoon

tomato purée

2 garlic cloves

peeled and crushed

4

cheese slices

1

tomato, sliced

4

white baps
Cooking Directions
Put the beef, onions, egg, garlic, tomato purée, chilli or cayenne and salt in a bowl
Stir to mix thoroughly and with clean hands squash together and break into four even burgers
Shape each one into a round burger shapes
Lightly grease a baking dish
Place the burgers in the dish
Bake in the oven for about 25 minutes, turning once
When ready, slice the white baps in two
Place in each a burger, slice of cheese, slice of tomato
Make tomato ketchup and mayonnaise available to add.
Serve with some salad leaves or baked beans