Variation On Lentil Bake
Lentils are very versatile and its easy to make variations on Lentil Bake. Red lentils are a readily available, low cost nutritious food that can be used in some many ways and with lots of different flavours and ingredients. Red lentils need no soaking and can be cooked in about 20 minutes, ready to use. This particular recipe was born out of some leftover blue cheese and some apples.
It's good to experiment with leftovers both to reduce waste and to produce some wonderful meals!
We all have bits of cheese and small amounts of vegetables leftover in the fridge sometimes so its much better to use them than throw them away, particularly if you are on a tight budget. Great at Christmas time when that huge piece of stilton is losing its appeal!
The apple offers some sweetness and moisture.
Easy Family Supper or Packed Lunch
The bake is lovely as an easy dinner served with potatoes, either boiled, mashed or baked and a green vegetable or salad. They are also great with some chutney on the side. If you have any leftover they are good for a packed lunch, as they can be sliced and eaten cold. They are easy to put in a sandwich box for a filling and tasty lunch and a great alternative to a sandwich.
You could use a different cheese in the bake such as cheddar or goats cheese or other left over cheese especially if it is past its best for the cheese board. This recipe is easy to make as it is just 5 minutes preparation time and then 30 minutes in the oven.
Lentil and Blue Cheese Bake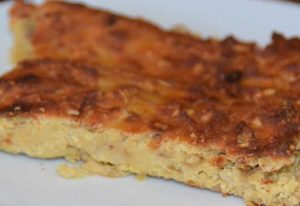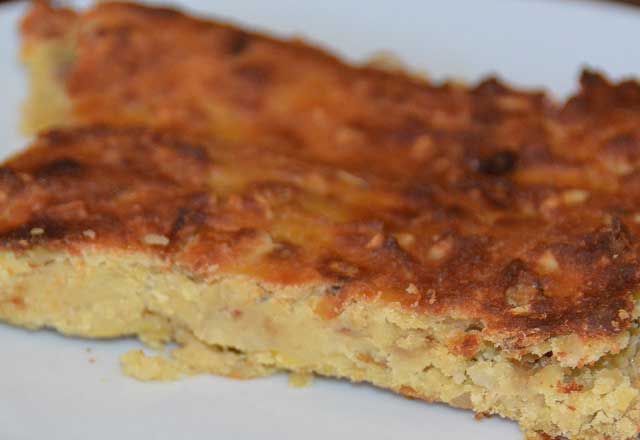 Prep time: 10 minutes
Cook time: 30 minutes
Total time: 40 minutes
Ingredients
2 tablespoons

olive oil

125g / 4 oz

red lentils

1 onion

peeled and finally chopped

2 cloves

garlic, peeled and finally chopped

1 apple

peeled, cored and chopped

1 teaspoon dried rosemary

or sprig of fresh rosemary

85g / 2oz

chopped mixed nuts

2 tablespoons

oats

70g / 1.5 oz

blue cheese
Cooking Directions
Cover the lentils with water and boil until soft and most of the water has been absorbed. This should take about 20 minutes
Pre heat the oven to 180 degrees c
Meanwhile heat the oil in a frying pan
Add the onion and cook for a few minutes
Add the garlic and apple and cook for a further few minutes until the apple is soft, striking often
Add the rosemary
Add the apple and onion mix to the lentils and stir well
Add the oats and nuts and stir
Crumble in the cheese
Grease a baking dish
Spoon the mixture into the baking dish – it will be a soft texture.
Ensure it is evenly spread
Bake in the oven for about 30 minutes until golden brown