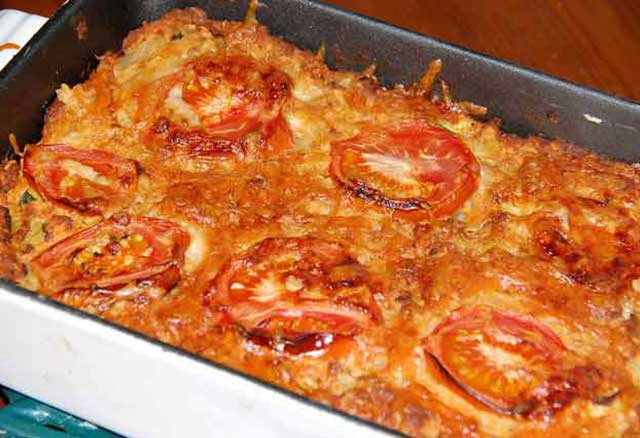 Lentils – For a Low Cost Meal
Lentils are a fabulous low cost ingredient in many quick and easy meals. They are extremely versatile and can be used in many different ways. As people continue to feel the pinch with incomes staying the same or falling in real terms, many families are on the look out for easy and nutritious, low cost meals.
This lentil bake recipe is cheap to make at around £2.50 for four servings and it is very quick and easy too. And if you are cooking for one or two people and the extra portions will keep easily in the fridge or freezer to be reheated when required – or even be used in a packed lunch the next day!
Lentils are low cost and highly nutritious and can be used in many tasty dishes. Lentil Bake is a great way to feed a hungry family, easily and economically
One of the best ways to save money on your food bills is to use pulses as a main ingredient. At just over £1 for 500g of lentils, each pack will make two meals for four at least and maybe more.
Red lentils cook in 15-20 minutes and they are low in fat and calories, and high in protein. You don't have to be a vegetarian to try them. In fact you can always mix them with meat in a stew so that the meat goes further.
What Are Lentils?
Lentils are a legume, the seed from the lentil plant and has been part of the human diet since prehistoric times.
They grow in pods on the lentil bush and are produced in the United States and in Canada as well as Asia and the Mediterranean. The bush is about 16 inches high. In fact they may have been one of the very first cultivated plants.
Because they are dried, they have a long shelf life, so there is little danger of them being wasted – another aspect that makes them economical. And they are available all year round. Red and green lentils are most commonly sold although brown and other colours are available.
Split red lentils cook more quickly and are mushier than green lentils. Green lentils hold their shape better in stews and soups. Which lentil you use for a recipe depends on the type of dish you are creating.
Green lentils make a good meat substitute in a dish such as Vegetarian Lasagneand red lentils are good where a softer texture is sought such as this Lentil Bake dish.
Lentil Bake – Low Cost, Easy Supper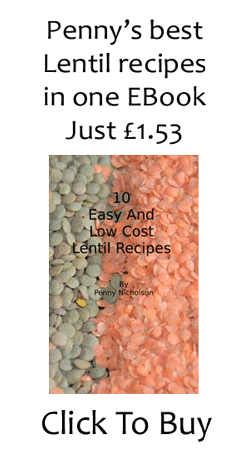 Not only is this recipe low cost and delicious it is very easy and quick to make. So if you are coming in from work – or for whatever reason have limited time for preparation, this dish is ideal. It only requires two pans to make and then it all goes into a baking dish and into the oven.
Serve with baked potatoes to make the most of the heat while the oven is on, along with salad or your favourite green vegetable
The recipe also uses courgettes which are plentiful in late summer. At other times of year use mushrooms, leeks, broccoli or even frozen peas, instead.
Tomato on top makes a great finish and adds an extra flavour and texture but it can be omitted when tomatoes aren't in season.
More Lentil Recipes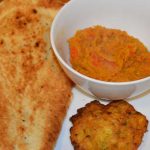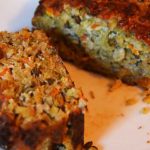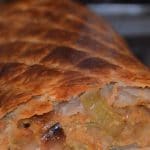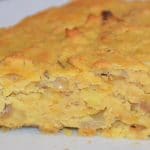 Cooking Notes
You will need a baking dish
Serve hot with baked potatoes and a green vegetable or salad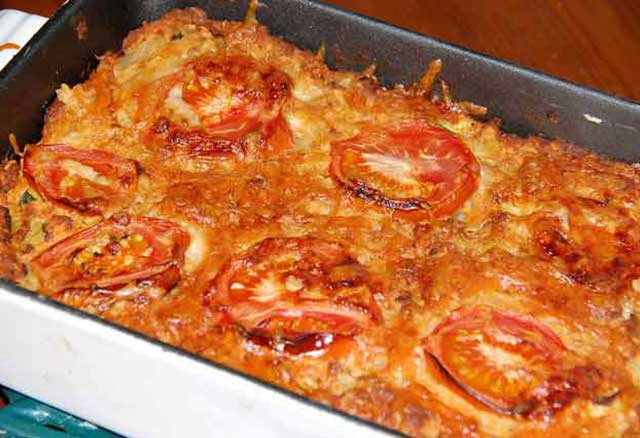 Easy Lentil Bake Recipe
Easy supper using red lentils
Ingredients
125

g

red lentils

2

tablespoons

olive oil

1

small onion

peeled and chopped

1

garlic clove

peeled and crushed

1

small courgette

chopped

55

g

rolled oats

1

teaspoon

dried mixed herbs

1

egg

beaten

100

g

cheddar cheese

grated

1

tomato

optional
Instructions
Pre heat the oven to 180 degrees C

Place the red lentils in a saucepan and cover with boiling water

Bring back to the boil and simmer gently, for 10-15 minutes until soft, adding more water if necessary

Stir occasionally to prevent the lentils sticking to the bottom of the pan

Meanwhile, heat the olive oil in a large frying pan

Cook the onion until soft

Add the garlic and courgette

Continue cooking for a few minutes and then lower the heat

Add in the cooked red lentils

Sprinkle in the dried mixed herbs

Add the oats

Stir in the egg and 3/4 of the cheese

When all is thoroughly mixed in place in a baking dish

Sprinkle on the remaining cheese

Slice the tomato and place on top, if using

Bake in the oven for about 30 minutes