Easy Ice Cream Recipe
Being frugal and caring about both budget and the environment, it is important not to let any food go to waste. When there are leftovers it's a great opportunity to see how they can be used up in a creative and delicious way!
Vegetable and meat leftovers can often be put into a soup or a risotto, or may be used in a pasta dish. With sweet things it may not be so easy.
Homemade ice cream is so delicious, fun to do and no artificial flavourings! It's a low cost luxury dessert!
Sweet Leftovers – Use In Ice Cream
After making Kate's Easy Fudge, I found myself with nearly a whole tin of condensed milk.
Coupled with a whole unopened carton of single cream that had not got used over the festive period and with a 'Use By' date rapidly approaching, my thoughts turned to ice cream.
Homemade Ice Cream
I very much like to make my own ice cream. The lower cost commercial ice cream does tend to come with lots of additives and I am often suspicious of the ingredients that make it softer. The premium brands are lovely but as well as being expensive, they too can harbour lots of additives.
Ice cream should have simple ingredients – cream and / or yoghurt, fruit, sugar and may be nuts, fudge or sultanas – or may be made with condensed milk! I felt a recipe coming on!
Simple Ice Cream
I have to confess, I have an ice cream maker. The sort you put in the freezer and has a paddle that does the stirring for you as it freezes the contents.
This ice cream starts by melting the sugar so it caramelises it. It is the first time I have done this. The key, I think, is to do it over a low heat and go quite gently. I use soft brown sugar. It took a little while but I soon had a brown liquid. From this point on, gentle heat and constant stirring is important.
Once the sugar and banana was almost all liquid I took it off the heat and poured it into another bowl to allow it to cool more quickly. Once cooled but still warm I added the milk and cream as they would cool the whole mixture down anyway.
Banana And Fudge Ice Cream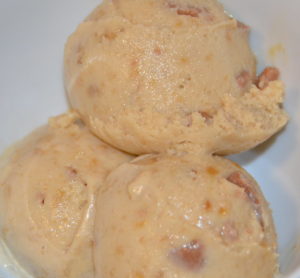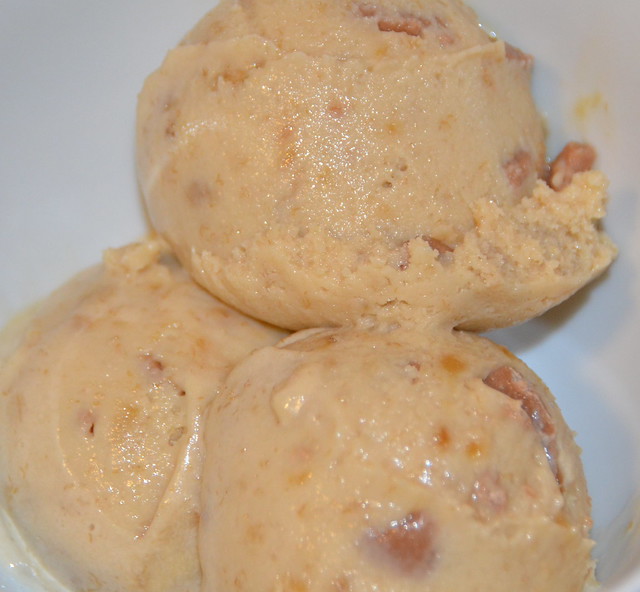 Prep time: 30 minutes
Ingredients
100g / 4oz

soft brown sugar

2 medium

bananas

400g

can condensed milk

1 tablespoon

lemon juice

284ml carton

single cream

1 tablespoon

brandy (optional)

2-3 pieces

fudge chopped small

handful

sultanas (optional)
Cooking Directions
Put the sugar in a heavy bottomed saucepan
Over a gentle heat, melt the sugar, stirring occasionally, until brown liquid
Chop the banana and add to the melted sugar until soft
Remove from the heat and allow to cool – it will quicker if you transfer to a new bowl
Add the condensed milk and cream to the banana mixture and stir well
Add a spoonful of brandy, if using
If using an ice cream maker, start it going and pour the mixture into the maker
Add the fudge pieces and sultanas once the mixture starts to thicken
Continue until the the ice cream is softly frozen
Transfer to a container and place in the freezer
Otherwise, pour the mixture into a shallow plastic box and freeze until slushy (about 2-3 hours)
Beat the mixture with a fork, then stir in the fudge pieces and sultanas. Freeze again overnight.

Delicious!!