Cauliflower Cheese
Most people love cauliflower cheese. In fact I would not be surprised if it is one of the most popular ways to cook cauliflower. It is warming, comforting and nutritious. So the idea of a cauliflower cheese soup, was intriguing and delightful to me. It offers all the flavour of the main dish, in a cup or a bowl. It makes a lovely, sustaining lunch. Definitely one to put in your thermos to take to the office, a warming, sustaining break from studies or a lovely soup to share with friends.
Cauliflower Cheese Soup is a delicious liquid version of the classic dish. All of the flavour and comfort but a bit lower in calories and fat
Beginners Cookery Book
I found this soup recipe in Jamie's Ministry of Food: Anyone Can Learn to Cook in 24 Hours
a cookbook aimed at beginner cooks and encourages people to learn a recipe and then pass it on. Even if a few more people are cooking now than before the book came out, it has done well and according to the reviews, many people find this book really useful regularly cooking many of the recipes.
This soup works, as many soup recipes do, as a recipe for beginners as it is so easy and quick to do and creates wonderful flavours and is very nourishing. It's not a bad idea to double the quantities and have some more for another day. All the beginner recipes I am creating are for two people. They are aimed at cooking for one or two people
Cauliflowers
Cauliflowers are available pretty much all year round. If you can, do buy them from a local supplier either from the Farmers Market, local green grocer or farm shop as they will be fresher and have travelled far fewer miles than from the supermarket. You will also be supporting the local economy.
The addition of a spoonful of mustard is what makes this soup special, so do not miss that out. I like mustard added to both Cauliflower Cheese and Macaroni Cheese too. I used whole grain mustard. Do use a mature cheddar cheese too because the stronger flavour means you can use a little less.
Check out Cauliflower recipes for lots more ideas on how to cook cauliflowers. There is more to the cauliflower than Cauliflower Cheese!
Cauliflower Cheese Soup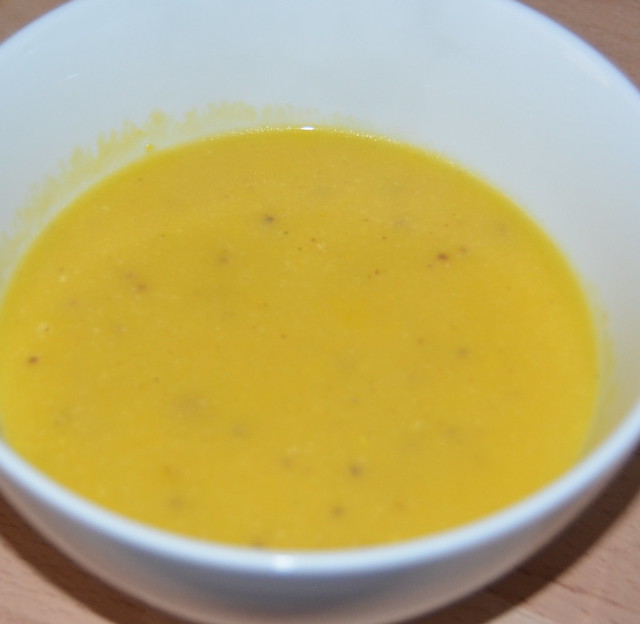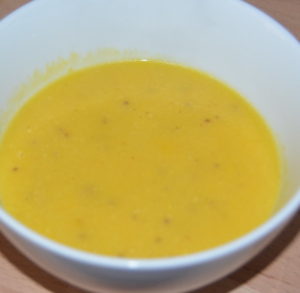 Ingredients
1 tablespoon

sunflower oil

1/2 medium

cauliflower, broken into florets

1 small

onion, peeled and chopped

1 medium

carrots, peeled and sliced

2 cloves

garlic, peeled and crushed

500ml

vegetable stock

1 teaspoon

mustard (English, Dijon or wholegrain)

plenty

freshly ground black pepper

50g / 1.5oz

mature cheddar cheese, grated
Cooking Directions
Heat the oil in a large saucepan
Add the onion and fry for a few minutes until soft
Add the carrot and garlic and cook for a couple of minutes
Add the cauliflower
Add the stock
Bring to the boil
Turn down the heat and simmer for about 15 minutes, until all the vegetables are soft
Place in a liquidizer or use a hand blender to make the soup smooth
Return to the pan and reheat
Add the mustard and stir
Remove from heat
Add the cheddar cheese and stir
Serve with good crusty bread