Easy Lentil Bake Recipe
I love lentils which is entirely apparent from the number of lentil recipes on this website and my Ebook – 10 Easy And Low Cost Lentil Recipes
Lentils are low cost, easy to cook and very nutritious. If you are on a tight budget, lentils can give you lots of recipe options with a good variety of nutritious meals at low cost.
Amongst the most popular lentil recipes are Easy Lentil Bake and Lentil Bake with Blue Cheese. So here is a spicy lentil bake recipe as a variation on these dishes. The lentil bakes require a short time of preparation and then goes in the oven, leaving you to get on with something else – or rest! They are ideal for filling, warming midweek suppers.
This lovely, delicious lentil bake with red lentils is spicy and warming. Made with lots of vegetables it is low in fat and nutritious
This bake is still quite soft when it is cooked so won't really come out in slices – but it is really delicious almost like a cross between a dhal and a lentil bake.
Red Lentils
Red lentils are ideal for bakes as they go quite soft and mushy when cooked so are great to combine with other ingredients. They are the quickest and easiest to cook, requiring no prior soaking. Just be careful when you bring them to the boil as they can easily boil over – potentially losing some of the measured water leaving not sure how much more to add! Once they come to the boil, turn down the heat quickly and watch they don't boil over.
You can vary the vegetables you use, depending on what you have and what you like.
Serving Suggestions
Serve the bake with boiled potatoes, or potato wedges and some salad or some lovely green vegetables. Alternatively a piece of nan bread would go well with the bake.
Spicy Lentil Bake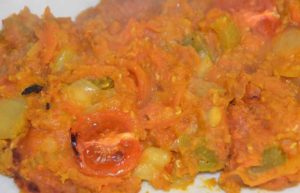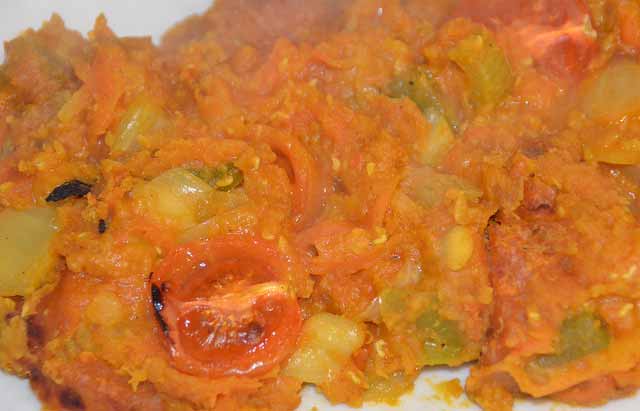 Ingredients
200g / 7oz

red lentils

500ml

water

1 tablespoon

vegetable oil

1 medium

onion, peeled and sliced

2 sticks

celery, sliced and diced

1 green pepper

deseeded and chopped

1 large (or 2 small)

carrots, peeled and grated

2 teaspoons

cumin seeds

2 teaspoons

garam masala

1 teaspoon

tumeric

1/2 teaspoon

chilli powder

pinch

salt

1 tablespoon

tomato purée

3-4

cherry tomatoes, cut in half
Cooking Directions
Place the lentils in a saucepan
Pour over 500ml water
Bring to the boil and simmer until soft an mushy (about 15 minutes)
Meanwhile heat the oil in a large frying pan
Add the onions and cook for a few minutes until soft
Add the cumin seeds, celery and pepper
Cook for a further 5 minutes
Add the grated carrots
Add the lentils
Add the turmeric, garam masala and chilli
Add the tomato purée in 2 tablespoons of hot water
Place all the ingredients into a baking dish
Place the tomatoes on top of the bake
Bake in an oven at 180 degrees C for about 30 minutes