Spring Rhubarb Tart
In the Spring, rhubarb appears in the shops and supermarkets and people think of Rhubarb Crumble – well I do anyway! And rhubarb crumble is indeed delicious! But if you want to use a seasonal product, you do need lots of ways to cook it. So here is a really easy way to cook up a delicious dessert with only a few minutes preparation time and at low cost. This costs about £2.00 for four people – depending on where you buy your rhubarb….
Nutritious Rhubarb
Supermarkets are often the most expensive places to buy rhubarb at often around £5.00 a kilo whereas if you look in your local food stores and green grocers you may well find it for less – and it may be locally grown.
In the past I have often had a rhubarb plant in the garden. They are quite attractive with the large leaves and it is wonderfully satisfying harvesting the rhubarb for a wonderful pudding
Rhubarb is high in vitamin C, calcium and fibre. It also contains vitamin K. Low in calories and fat it is good to have it as part of your diet.
Rhubarb And Custard
Of course people often think of rhubarb and custard when they think of rhubarb – and not only as a dessert – there are the iconic sweets and that wonderful cartoon utilising that old rivalry between cat and dog and narrated by the late, great Richard Briars. If you are over a certain age, the theme tune probably reminds you of getting home from school!!
Here is a taster if you have a spare 5 minutes of fun and joy….
Rhubarb And Ginger
Rhubarb and ginger goes very well together and I have used that wonderful partnership in this recipe. I buy jars of stem ginger for the Gingerbread recipe, ginger scones and ginger cookies so I usually have some in the cupboard. You can make this without the ginger but I do think it adds a really good flavour
The idea for this easy rhubarb tart is really from the savoury Brie and Tomato Tart and squash and goats cheese tart made with bought puff pastry as a base. Rhubarb cooks so easily that it is ideal for this sweet dessert dish, too.
You will need a baking dish something like this Master Class Baking Tray / Oven Tray, Non-Stick, 24cm x 18cm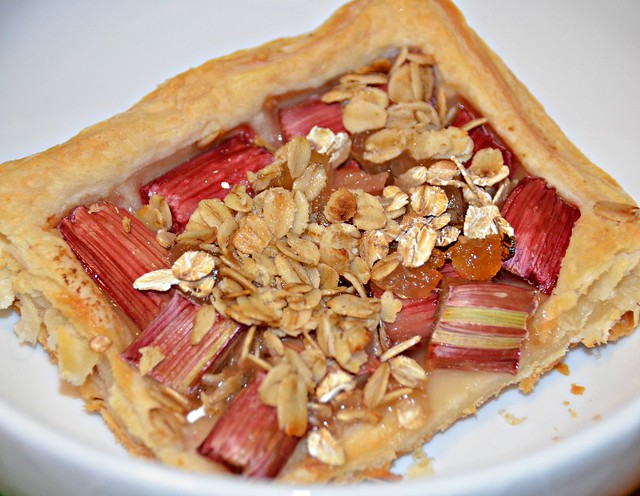 Easy Rhubarb Tart
Easy rhubarb dessert recipe
Ingredients
250

g

Ready-made puff pastry

4

sticks

fresh rhubarb

4

teaspoons

brown sugar

4

teaspoons

chopped stem ginger

2

teaspoons

butter

4

tablespoons

rolled oats
Instructions
Prehreat the oven to 180 degrees C

Roll out the puff pastry on a floured work surface to fit the size of your baking tray

Score a line width ways and lengthways through the middle to form four equal squares

Chop the rhubarb divide equally between the squares

Add a teaspoon for ginger and spread over the rhubarb

Sprinkle each square with a teaspoon of sugar

Sprinkle the oats evenly on top

Dab each square with a little butter

Bake in the oven for about 40 minutes until the rhubarb is oft an dthe pastry is cooked

Serve with cream or ice cream