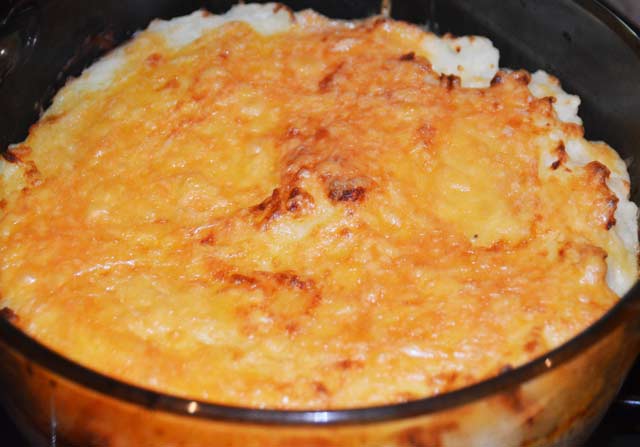 Cheesy Bake
Cheese Potato is one of the easiest and cheapest comfort foods I know. I first started to love it at school when it was regularly served as a main course with vegetables. It is really low cost too – under £1 for four people – depending on what you pay for your potatoes and cheese.
Easy make, cheap recipe that is warming, filling and very tasty. Serve with your favourite vegetables
I either buy potatoes at a green grocers where locally grown, unwashed potatoes are very low cost or buy a bag from the supermarket that is on its use by date, so reduced even though the potatoes are still perfectly good. I got a 2.5kg bag for just 40p recently.
Most supermarkets do some offer in the more mass produced cheddar cheese and also on their won brand cheese and for cooking this is fine. If you can get it reduced – even better. Cheese can be frozen too – although it does tend to be a bit more crumbly when it is defrosted.
A Very Easy Recipes
Sometimes I am unsure whether to put such easy recipes on my website – I wonder if anyone will be interested as they may all know how to do it. However I am also reminded that it is about having ideas and answering the What's for Dinner question – especially when you are tired and can't be bothered to make much effort.
I also find that sometimes I can forget about favourite recipes I have cooked in the past – and it is good to be reminded of some good simple meals – with some guidance as to how to do them. I think that in the world of celebrity chefs – cooking has got too complicated.
So I kind of apologise if you find this recipe too simple to be included, but have also think it is justified. I would love to hear your opinion….
Potatoes
When really hot, mashed potato keeps its heat well so it is very warming and filling. Potatoes have had a mixed profile in the past. In the seventies it was considered off limits to anyone wanting to lose weight but ever since the F Plan diet (remember that?) of the eighties it has become a dieters friend.
It is also high in vitamin C, Vitamin B6 and fibre and is completely fat free (thank goodness because we love to add butter and cheese!).
It is the starch in potatoes and the fibre that keeps you feeling fuller for longer.
Cheddar
Cheddar cheese needs to be eaten in moderation and if you love the flavour buy mature or extra mature cheddar to get the full benefit for a smaller amount. The cheese supplies the protein in this dish as well as calcium.
Cheddar can be bought for a number of different prices and I tend to use the low cost, mass produced variety for this dish. I think it can be worth buying artisan West Country cheddar for the cheese board and I am sure it would make cheese potato taste even more tangy and delicious – clearly it is your choice which you buy. If you can get some excellent cheese at a reduced price that may be your best option
I know there is concern that some mass produced cheddar cheese is hardly good enough to bear the name cheddar but while people need to seek out low cost food, the taste of mass produced cheddar is certainly good enough for cooking with.
Vegetables To Serve
To get a more balanced meal and plenty of vitamins, serve this with your favourite vegetables. Sweetcorn, peas and carrots all go well in my opinion as do cauliflower or sprouts. Just boil or steam the veggies you love. Baked beans – home made or from a tin – would also go well
Of course you can serve cheese potato as a side dish to a meat or vegetarian dish – just halve the quantities of the cheese potato recipe
NB If you want to increase the fibre and vitamin C – only wash but do not peel the potatoes. I like to have the skin in mashed potato – but not everyone does – the choice is yours…
More Potato Recipes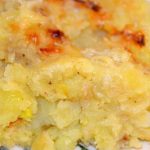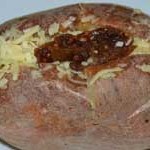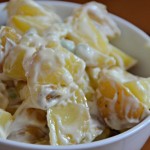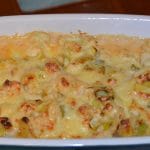 Cheese Potato Bake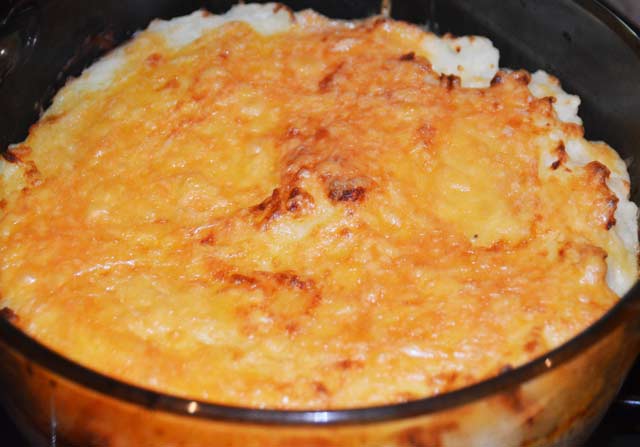 Ingredients
4 large

potatoes

100g

cheddar cheese, grated

100ml

milk

25g /1 oz

butter

butter

for greasing
Cooking Directions
Wash the potatoes and peel if desired
Chop each potato into 5 or 6 pieces
Place in a large saucepan and cover in boiling water
Bring back to the boil and simmer for 15 minutes or until potatoes are throroughly cooked
Preheat the oven to 180 degrees C
Drain and pour in the milk and add the butter
Mash with a masher until smooth
Place about 2/3 of the cheese in the mash and stir in
Spoon into the casserole or baking dish
Sprinkle on the remaining cheese
Bake in the oven for about 25 minutes until golden on top
Serve immediately with plenty of black pepper