Cooking With Dates
Dates are one of the oldest cultivated fruits apparently – dating back 8000 years. Well if a food has been popular that long – there must be something good about them!
I love dates on their own (they are a good alternative to a bag of toffees – being sweet and slightly chewy and with far more goodness in them!) There are 23 calories in a date so if you do eat them as a sweet, don't go mad! Better than any toffee you get some iron, potassium and fibre as well as some important vitamins – all in one little date
Dates can make a good alternative to sweets with the added benefits of fibre and vitamins – and they are also great in this low fat cake
In the past I associate dates with Christmas as you often get a box of figs and a box of dates at Christmas time to eat as they are. This is probably less common now but I think most people over a certain age may know what I am talking about!
Buying Dates
Available in health food shops as well as supermarkets they are easy to find. Dates are something that can be packaged n many different ways – chopped dates or whole dates and for snacking or cooking. The same product is sold in different ways and the price can be under £5 a kilo to over £10 for effectively the same thing. If you have a wholefood shop near you that sells dates lose than they maybe cheap.
Baking With Dates
I love things made from dates. Date and walnut cake has been a popular recipe on this website and this is an even simpler date cake. It has no fat in it and just one egg and only a little added sugar as the dates are sweet already. Other date recipes include Flapjacks With Dates and Banana, Date and Walnut Cake as well as Oat and Date Slices
This recipe requires chopped dates. You can buy them chopped or buy them whole and chop them yourself. They are easier to chop when cold so pop them in the fridge a few hours before you need them.
Easy Date Cake Recipe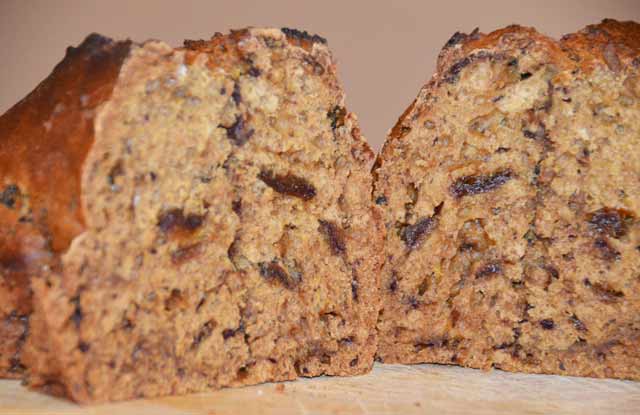 Ingredients
225g / 8oz

chopped dates

300ml

boiling water

225g / 8oz

self-raising flour

1 teaspoon

bicarbonate of soda

25g / 1oz

sugar

1 egg

beaten
Cooking Directions
Line and grease a 2lb loaf tin
Put the dates in a bowl
Pour the boiling water over the dates and leave to soak for 30 minutes
Preheat the oven to 180 degrees C
Mix together the flour and bicarb of soda
Add the sugar and stir
Roughy mash the dates with a potato masher (do not drain off the water)
Add the egg and stir
Mix in the flour, bicarb and sugar mix
Put the mix in the prepared tin
Bake for 40 minutes
Leave to cool in the tin for five minutes, then turn out and allow to cool on a rack
Slice and serve by itself or spread with butter