Beany Curry Recipe
A vegetarian curry for when you need a simple home cooked curry. When it comes to curries I don't consider myself an expert – in fact it is an area where I would like to enhance my skills. However it is hard to beat a Friday or Saturday night curry. Alternatives to cooking one yourself are either disappointing (supermarket ready meals ) or delicious but expensive (takeaways from restaurants)
The supermarket takeaway ones often have quite poor quality ingredients – both the meat and the vegetables so although you get the curry taste, it somehow misses the mark in overall satisfaction! The best way is to cook one at home, and if you want a really low cost curry than beans, pulses and vegetables are the best way forward.
When a curry is this easy to make, and this low cost, you can have it just whenever you just get that I want a curry feeling
Favourite Vegetable Curries
I already have several veggie currys on my website, that are firm family favourites. The chickpea and potato curry has been a quick and easy recipe often requested by the family for years – fabulous for Friday or Saturday night. The Vegetable and Paneer Curry was a tasty attempt to reproduce a favourite Indian restaurant dish and Egg and Lentil Curry is simply delicious.
A Curry Food Blogger
When looking for some inspiration for good curries – I would recommend The Curry Guy – a food blogger who is just all about currys. The recipes are non fussy – so anyone can have a go and produce a really tasty curry….
I liked the idea of his kidney bean curry – but I used kidney beans and chickpeas – and added some red pepper because I love red pepper in curries. The curry guy suggests using pinto beans instead of kidney beans too.
I used a bought paste for this recipe but hope to revisit it soon using the spices as advised by the curry guy! But I now his philosophy is similar to mine – make changes, experiment, use what you have. Just be inspired by a recipe as a basis for what you will cook then do your own thing!
I did use the suggestion in the recipe to puree the chopped tomatoes (if you don't have passata)
Cook Ahead
This is an ideal cook ahead meal to prepare in advance as it is so easy to reheat. Keep in the fridge for up to days or freeze for some time in the future.
Easy Beany Curry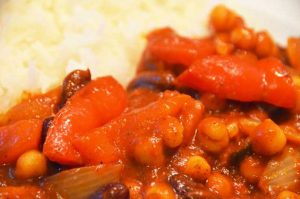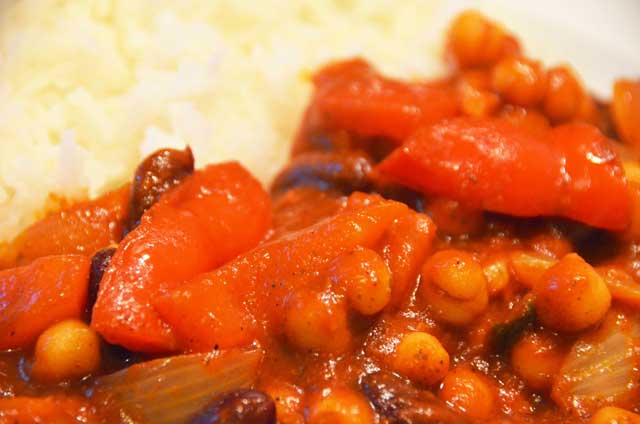 Ingredients
1 tablespoon

olive oil

1 onion

peeled and chopped

1 red pepper

deseeded and sliced

2 cloves garlic

peeled and chopped

1 x 400g

chopped tomatoes

1 x 400g

kidney beans, drained

1 x 400g

chickpeas, drained

1/2 jar

curry paste

rice

to serve
Cooking Directions
Heat the olive oil in a large heavy bottomed frying pan
Add the onion and fry until starting to soften
Add the chopped pepper and fry for a few more minutes
Add the garlic
Blend the chopped tomatoes in a blender
Add to the onion, pepper and garlic
Add the kidney beans and chickpeas
Stir in the curry paste
Cook for at least 10 minutes
Keep simmering gently until the rice is ready