How To Cook Spring Greens
Spring Greens came in my vegetable box this week – something I have never bought or cooked before. Spring greens are young spring cabbages – light and leafy with no heart but lots of lovely nutrition and flavour – as I discovered!
This is an easy and delicious way to use this nutritional, seasonal vegetable in a way that all will love. Great for a light lunch, or a starter for a dinner party
You can of course lightly boil or steam spring greens or add shredded leaves to a stew at the end of cooking time or in a stir fry.
But I as it happened I was not cooking a meal for a couple of days where I could use them – and spring greens need to be cooked within a day or two after picking as they wilt and yellow quite quickly if left.
Fresh, Green Soup
I also had some broccoli that needed using up so I decided to make some Spring Greens and Broccoli Soup. It is really very easy to make and very nutritious. It tasted so lovely. There is none of the bitterness that you can get from greens, it is delicious, being sweet and fresh.
The wonderful thing about soup is that you get all the nutrition from the vegetables as you sue the liquid they are boiled in. In spite of eating this soup in the summer months, it fits because of its fresh green colour and its light summery taste. Serve with some lovely crusty bread for a lunch or light supper – or as a starter for a summer dinner party.
Spring Greens Soup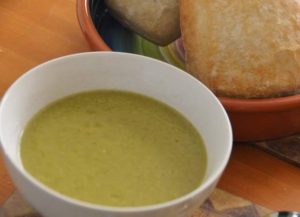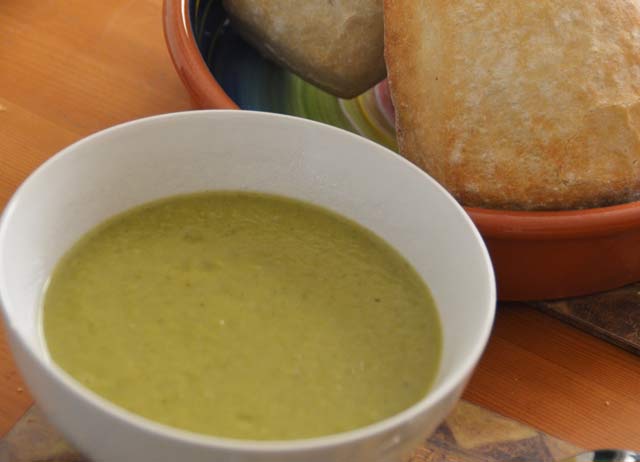 Ingredients
1 tablespoon

olive oil

1 onion

peeled and chopped

2 celery sticks

chopped

1 small head

broccoli, chopped (stalks included)

4-5 leaves

spring greens, leaves torn

30g / 1 oz

butter

good pinch

freshly ground pepper

700ml

vegetable stock
Cooking Directions
Heat the oil in a large heavy bottomed saucepan
Add the onion and fry for a a few minutes
Add the celery and stir and fry for 1-2 minutes
Add the broccoli and cook for a further 2 minutes
Add the butter and allow to melt, stirring
Add the spring greens and cook until wilted
Add the stock, bring to the boil and simmer for about 20 minutes until the vegetables are soft
Whizz in a blender until all liquid
Return to pan to reheat
Serve with crusty bread
More Soup Recipes