Christmas Cake Recipe
Spend more time relaxing with your family this Christmas by preparing the food well in advance using these handy recipes.
Christmas is the most wonderful time of the year, and is the perfect time to bring all the family together. So with everyone in one place, you'll want to spend as much time as possible with them, not hiding away in the kitchen slaving away over the food. Won't you?
Easy Christmas Cake Recipe
The key to a stress free Christmas is to prepare as much as you can in advance recipes so you can sit back, relax and enjoy more time with your guests, with the assurance that you're already for Christmas. This Christmas Cake recipe was shared by Just Ingredients – an online company supplying wholefoods, herbs and spices directly to your door
This essential festive spiced and fruity cake can be prepared well in advance. You can even make it with months to go! It is really easy to make too!
Easy Christmas Cake Recipe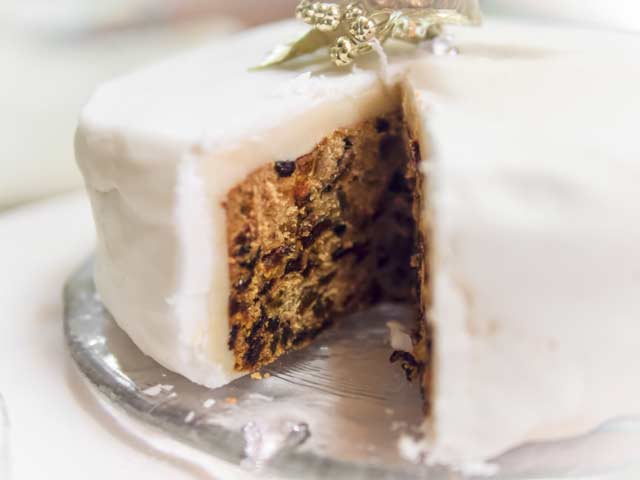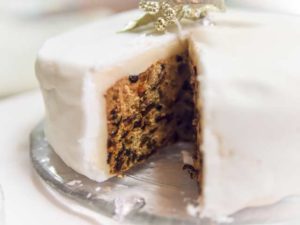 Ingredients
1kg / 2lb

mixed dried fruit

250g / 8oz

butter

200g / 7oz

brown sugar

175g / 6oz

plain flour

100g / 3.5oz

ground almonds

100g /3.5oz

flaked almonds

150ml

of a spirit of your choice (brandy or sherry works best)

2 teaspoons

mixed spice

1 teaspoon

ground cinnamon

1 teaspoon

vanilla extract

1/2 teaspoon

baking powder

1/4 teaspoon

ground cloves

1 orange

zest

1 lemon

zest

4

large eggs

Extra brandy or sherry

for drizzling on baked cake
Cooking Directions
Place the dried fruit, zest, butter, sugar and alcohol in a large pan
Stir well over a medium heat until combined well and boiling.
Lower the heat and allow the mixture to simmer for 5 minutes or so.
Decant the mixture into a large bowl and leave to cool. Leave this for around half an hour to cool.
While the mixture cools preheat the oven to 150°C or gas mark 2.
Line a 20cm cake tin using greaseproof paper, and surround the outside of the tin with two layers of newspaper. You can secure this with string.
Add the rest of the ingredients to the fruit mixture in the bowl. Stir all the remaining ingredients in, making sure there are no lumps of flour.
Place in the prepared tin.
Use a spatula or spoon to level the mixture off so that is fills the space and is level.
Place the cake mix in the oven and cook for 2 hours.
Remove the cake from the oven and poke a few holes in the top. Be careful as steam may come out.
Drizzle with a good splash of alcohol and set to one side.
After it has cooled, peel off the surrounding paper and wrap the cake in cling film. This can keep for months, but we'd recommend topping it up with alcohol every fortnight or so.
Then just before Christmas ice and decorate if you wish.
Other Christmas Recipe Ideas
Chocolate Cake
– For those who aren't a fan of classic Christmas cake make a chocolate cake. This will be a sure favourite with those with a sweet tooth.
Mince Pies
– Prepare mince pies but before baking wrap them up in cling film and put them in the freezer. These will keep up to 3 months and you simply have to pop them in the oven at Christmas. Make your own mincemeat too!
Christmas Muffins
– These delightful fruit and brandy cakes can be made quickly and are great as a cake or a pudding
Pickled Veg, Chutneys and Jams
– Do you always stock up on condiments at Christmas time? Well you can create homemade versions this year that are prepared well in advance.