Special Mincemeat Recipe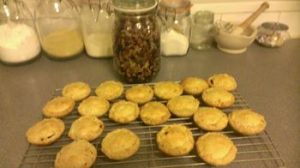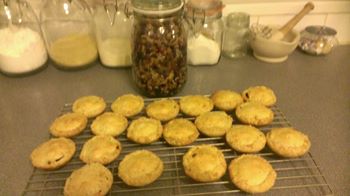 Ted has been a fan of the
Traditional Mincemeat Recipe for several years but his wife does not enjoy sultanas or currants. So Ted being the wonderful man that he is has devised another special mincmeat recipe for Connie using blueberries and cranberries – her favourite dried fruits.
Mincemeat doesn't just have to made from raisins and sultanas. Try this special mincemeat recipe with cranberries and blueberries to ring some changes this Christmas
This has now become a tradition in their household. Ted has been kind enough to share the recipe – I wonder if it will be added to many other people's Christmas time favourites as a result! Traditional food is always welcome since it brings back memories of Christmas past but twists on Traditional recipes keep things fresh – and create new memories along the timelines!
If you do try out this twist on the Traditional recipe, do drop by and comment on what you thought – and let us know of any further delicious changes you made!
If you wish to make your mincemeat into pies here is the Mince Pies Recipes. Or try Mincemeat Flapjacks
Please note there is no sugar in this recipe – it is a deliberate omission as the fruit, especially the glace cherries, adds enough sweetness.
Ted's Special Cranberry Mince Pies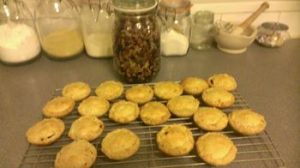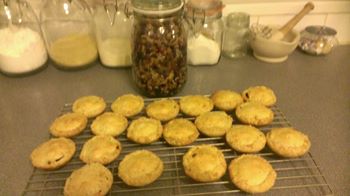 Ingredients
450g

dried cranberries

200g

dried blueberries

100g dates

chopped

100g

dried apricots, chopped

200g

glace cherries, chopped

75g

flaked almonds

2

small apples, peeled and chopped

200g

mixed peel

100g

vegetarian suet

1 tablespoon

mixed spice

1 tablespoon

allspice

2 teaspoons

ground nutmeg

90ml

brandy
Cooking Directions
Place all the ingredients together in a large bowl
Stir well with abig wooden sppon, cover and leave to soak and mingle for 12 hours
Meanwhile prepare some sterilised jars complete with labels
Carefully place the mincemeat into the jars

Ideally store away for a couple of weeks (or more) before use – but it can be used straight away

Make Homemade Mince Pies – or Mincemeat Flapjacks
If you like this recipe, you may want to subscribe to Penny's Recipe's newsletter and get the free Meal Plan – 7 family meals for under £30